The Army is Not the NFL
A retired Marine gunny argues that women should not be in the infantry since they're not in the National Football League.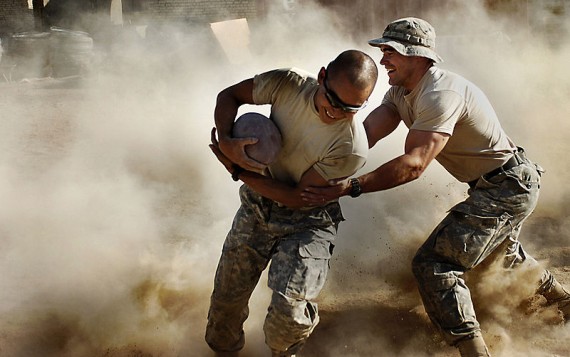 Jessie Jane Duff, a retired Marine gunny, argues that women should not be in the infantry since they're not in the National Football League.
TIME ("So When Are Women Joining the NFL?"):
Should the National Football League allow women on the playing field? After all, they can kick and carry a ball, and professional football is one industry in which women are sorely under-represented, to say the least.

It's not that likely to happen, is it?

The reality is Americans would be horrified to see a 220-pound strong safety drive over a female wide receiver running toward the goal line. There's simply too great a disparity in body mass and strength between NFL players and women, and the physical demands are too great.

Amazingly, what is common sense on the football field has now been completely abandoned on the battlefield.
There are 32 NFL teams, each of which have 53 roster spots–58 if you count the practice squad. That's 1856 players. They represent something like 7 standard deviations from the norm. Which is to say, it's a really selective group.
To be sure, the infantry are a tough bunch. But we need tens of thousands of them.  So, there are probably some number of women who can cut the mustard.
The elite units, the Rangers and Marine Recon and the like, have higher standards still. There are likely damned few women who can meet the grueling physical demands; after all, not many men can, either. Even so, the odds are better than securing one of the 64 or so strong safety spots in the NFL.
Duff goes on:
As a woman and a 20-year veteran of the Marine Corps, I know first-hand how difficult combat field operations are.

I carried in excess of 100 pounds of gear over difficult terrain for 10-15 mile marches throughout my 20-year career. This was done only with an M-16 rifle or pistol, not with the additional ammunition or heavier weapons our ground units carry. The fatigue was extreme and it was difficult to imagine how an infantryman overcame the difficulty of field movement for weeks or months at a time.

Under current policy, women in the Marine Corps are held to a less-rigorous physical standard due to the obvious physical differences. It's a physiological fact that women have less upper body strength compared to men—yet the physical demands of combat won't change.
A rather significant chunk of the male population couldn't do it, either. No doubt, a greater percentage of men than women have the physical makeup to do it. But it doesn't really matter what the general distribution of talent among the sexes is since we select infantrymen at the individual level. The key, then, is setting meaningful standards and demanding that soldiers and marines meet them before being assigned duties they can't carry out. As individuals.
Currently, women have higher rates of discharge for medical disability that prevents them from finishing their enlistment, or re-enlistment. Stress and muscular deterioration in women comes on faster and harder due to the heavy gear and physical duress in the field environment.

Muscle atrophy, hip displacement, and arthritis in knees and joints are common ailments. Spinal compression occurs from long periods of heavy combat loads.

This is the hard reality of how extended field time and intense physical standards take their toll. Women's bodies simply aren't designed for the fatigue of field operations with heavy field gear and weapons on less muscular body frames. (For an example, read this eye-opening article by Captain Katie Petronio, who details the long-term physical damage she endured supporting Marine Corps infantry as a combat engineer).
This is a much more compelling argument. But, surely, there's a more useful screening mechanism available than sex? There has to be some sort of neuromuscular screening available.
Sure, a small number of women will meet the requirements and complete training. How will combat units adjust for these statistical outliers? What is reasonable accommodation when it comes to showering or relieving oneself?
The same way units deployed to the field manage these things now?
Even our civilian society allows for non-compliance when an accommodation requires unreasonable demands upon the employer. (The elephant in the room in the question of sexual abuse, which is already a seriously and heavily-documented problem in the services; it's hard to imagine how this new policy won't exacerbate that problem.)
Surely, we're not going to use the fact that some men commit crimes as an argument against the presence of women? The answer to sexual abuse is a strong leadership climate and severe punishment of offenders, not segregation of the sexes.