The Army's Leadership Problem
Tim Kane continues his campaign against the US military's antiquated personnel system.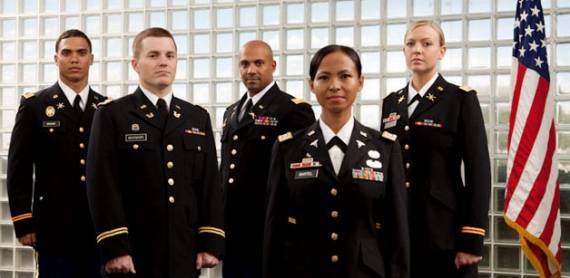 In "How to lose great leaders? Ask the Army," Tim Kane continues his campaign against the US military's antiquated personnel system. He notes that we lose too many of our best officers and that we could retain many of them if we changed the way we manage their careers.
 In truth, military officers are only volunteers for one day: the day they sign up. Afterwards, they're treated with the same kind of inflexible, coercive management that has defined militaries since history began. No electronic "job boards" list openings for the thousands of available jobs in the Army, Navy, Air Force and Marines. No junior officers know where their next job assignment will be, or if it will fit with their interests, strengths and talents. And no commanders are trusted to directly hire the subordinates they feel their teams need.

Rather, junior officers are generally limited to rank-ordering the base locations they prefer. Commanders are limited to making a "by-name request" of some officers, but this is more often than not ignored by higher-ups. Labor supply is coordinated with labor demand by large bureaucracies that haven't changed much since Harry Truman was president in the 1950s.

Why does this nonsensical and anachronistic approach persist? The mantra from the central planners in the bowels of the Pentagon has always been that the "needs of the military come first." That's dumb. Smart organizations in the private sector have learned that putting employees' needs first—ahead of corporate ones—only seems unproductive to short-term thinkers. Just look at the way Silicon Valley companies pamper their talent because of how it helps to maximize the bottom line. Compulsion just won't work in today's labor market.

[…]

To create a "total volunteer force," I believe the Pentagon needs to radically reform. That will mean giving commanders, rather than bureaucrats, hiring authority. It will require the Pentagon to establish a job board which allows qualified officers and enlistees the freedom to apply for any open position. And it will mean instituting substantive evaluations that recognize merit more than seniority.

Finally, there should be no more "force shaping" with incentives paid to soldiers who retire early. Rather, there should be a free market that lets officers leave if they cannot find a military billet and allows former officers to return to the ranks if a commander will hire them.
What's interesting is that Kane is describing a system that the military has been using for decades, with reasonable success, for managing its civilian employees. While there's too much cronyism and inbreeding in the system, DoD civilians have much greater flexibility than their uniformed counterparts. They can advance their careers by volunteering for assignments in places few want to go. They can homestead in the DC area, establishing roots in a community, while moving from job to job. And they can rapidly advance up the ranks if they've got the talent, work ethic, and connections.
In some of his earlier work on this issue (see "Why America's Best Officers Are Leaving") Kane used the example of my former classmate, John Nagl, a star officer who got out at 20 years for life in the private sector rather than stay in and put on a general's stars. Despite graduating at the top of his West Point class, earning a Rhodes Scholarship and a PhD, being the principal author of the Army-Marine Corps counterinsurgency manual, and success leading men in two combat tours, he was at exactly the same rank as the most mediocre officers of his cohort and facing the prospect of uprooting his family yet again to wherever the Army told him to go. He instead became a senior fellow and soon president of the Center for a New American Security, an influential think tank, and served on presidential advisory boards.  Peter Munson, a Marine major who's leaving after sixteen years—four short of retirement eligibility!—documents the same frustrations (see "Military's Lock-Step Promotion System").
No matter how good an officer is, he has to wait his turn. It's possible to get selected one year "below the zone" for major and lieutenant colonel, but that still means spending 16 years in uniform before reaching middle management ranks. The 1988 year group that John and I were part of is just now seeing its first people pinning on the single star of a brigadier general—25 years into their careers.
By contrast, two of my Atlantic Council colleagues were general officer equivalents (members of the Senior Executive Service) in their early 30s, less than a decade into their careers. and advising presidents and cabinet secretaries by 40. To be sure, they're extreme outliers, not the norm. Both had Ivy League masters degrees, a tireless work ethic, deep mastery of their subject matter, and outstanding interpersonal skills.  But the point is that it's possible for superstars to rise very quickly everywhere in the government but the uniformed services, where a strict seniority system operates until roughly the quarter century mark. (One can rise from one-star to four-star rank more rapidly than from captain to major.)
While the system works pretty well for the civil service, I'm not sure it translates perfectly into managing officers.
For one thing, there are boxes that officers need to check and all of them take time.  A combat arms officer in the Army, for example, needs to lead a platoon, command a company, serve some staff time, command a battalion, and command a brigade before he's ready for promotion to the general officer ranks. Even if he just served 18 months in each billet, that's 7-1/2 years. Additionally, while we may have gone overboard with professional military education, there's the need to complete the branch-specific basic and advanced courses, command and staff college, and the war college. That's roughly 4-1/2 years, bringing us to 12 years if everything falls into place perfectly. Add in another few years if you also want the officer to be competent in a functional area (e.g., Logistics, Operations, or Foreign Area Officer) outside their basic branch.   I don't see any way of short-cutting that and produce effective general officers.
Beyond that, I worry about cronyism and path determinacy. Officers who come from large commissioning sources—the service academies and large land grant institutions—would have a huge advantage in finding their first job over peers from small schools. And they may never recover from that, since those who got the plum assignments in the 82nd Airborne Division and other large, prestige units would start their careers with a better crop of mentors who could bring them along with them. To be sure, some of that happens now. But the centralized nature of the promotion system gives a more-or-less equal chance to young officers based on their class ranking and other more-or-less objective measures.
Despite some trepidation, however, substantial movement in the direction Kane recommends simply makes sense. Our culture has changed radically and the best young leaders simply aren't as amenable to giving up total control of their lives to their employers as they were decades ago. Nor, incidentally, is that a bad thing for the military; the nature of modern warfare is such that it no longer rewards following orders above all else. Furthermore, the nature of military families have changed. It's been more than a generation now since officers could expect their wives to dutifully pack up every two to three years and set up camp somewhere new. Not only are an increasing number of military spouses men, but most male officers now marry college educated women who expect to have careers of their own. It's simply unreasonable to expect spouses to put up with constant disruption of their own careers to serve "the needs of the Army."