The Backlash Against the Biden Backlash
After a flood of stories saying the former Vice President is unsuitable for the modern era, the inevitable pushback is happening.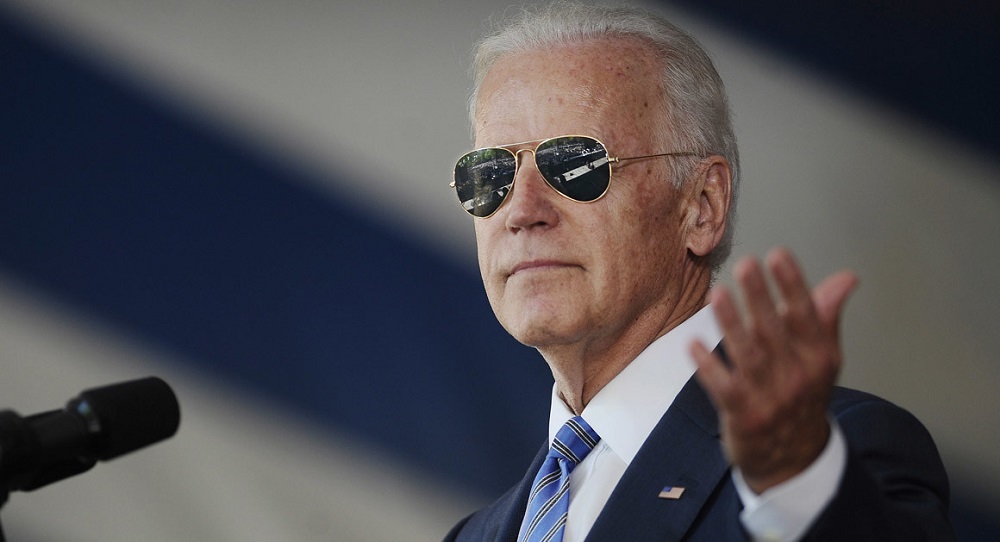 The Hill ("Pelosi: Accusations against Biden don't disqualify him"):
Speaker Nancy Pelosi (D-Calif.) said Monday that a pair of allegations of inappropriate kissing and touching against former Vice President Joe Biden should "not at all" disqualify him from the 2020 race.

"No. No, I do not," Pelosi told reporters when asked if she thinks the allegations from two women are disqualifying.

"I don't think that this disqualifies him from being president," she said while walking to the House chamber. "Not at all."

Pelosi declined to say whether this could damage Biden in a potential 2020 bid.

The comments came after a second woman, Amy Lappos, accused Biden of inappropriately rubbing noses with her at a 2009 fundraiser in Greenwich, Conn.

Her claim followed a complaint from former Nevada legislator Lucy Flores, who said Biden kissed the back of her head while holding her shoulders during a 2014 event in Nevada when she was running for lieutenant governor.

Biden on Sunday said he did not believe he had acted inappropriately while offering "countless handshakes, hugs, expressions of affection, support and comfort" on the campaign trail.

"If it is suggested I did so, I will listen respectfully. But it was never my intention," he said.

On Monday, a spokesperson for Biden also pushed back strongly at what he described as a "cottage industry of lies" against the former vice president that include photos that have been misconstrued or misinterpreted, according to Biden's camp.

Stephanie Carter, the wife of former Defense Secretary Ashton Carter, highlighted one photo in a post on Sunday that shows Biden with his hands on her shoulders. She said the photo had been "misleadingly extracted" from a longer moment at her husband's swearing-in ceremony and that the former vice president had been offering his support to her.

"I won't pretend that this will be the last of that picture, but it will be the last of other people speaking for me," Carter wrote in a post on Medium.
Axios' Mike Allen ("2020 Democrats, establishment figures split over defense of Joe Biden"):
Following two accusations of inappropriate touching against Joe Biden, a number of Democrats — including those who worked with him in the Obama administration and before — are coming to the defense of the former vice president, describing him as a warm, grandfatherly figure who would never be intentionally malicious.

Why it matters: As Biden edges closer to announcing a 2020 presidential run, his alleged history of inappropriate behavior has come under scrutiny. Both of Biden's accusers have said Democrats cannot condone his behavior while condemning President Trump's treatment of women, and have urged the party to pick another candidate or risk losing to Trump in 2020.

What they're saying:

Biden: "In my many years on the campaign trail and in public life, I have offered countless handshakes, hugs, expressions of affection, support and comfort. And not once — never — did I believe I acted inappropriately. If it is suggested I did so, I will listen respectfully. But it was never my intention."
Former national security adviser Susan Rice: "I have worked closely with Joe Biden for many years. In my experience, he is warm and affectionate with women (and men). But never have I found his actions inappropriate or uncomfortable. I have always appreciated his kindness and warmth. Most importantly, I know Joe Biden to be a dedicated ally, champion and defender of women and all of our rights. There is no one I would rather be with in a foxhole. He is one of the most decent, honorable men I have been privileged to work with."
Sen. Tom Carper (D-Del.): "He's made it clear his intent was never to make people uncomfortable or any kind of harm. Delaware is a very friendly state. Delaware is a state where its leaders hug people, men, women young and old. We kiss babies. We do it in public. … It's also important to always put ourselves in somebody else's shoes and ask how I would want to be treated."
Sen. Dick Durbin (D-Ill.): "Joe Biden is a friend and a seasoned veteran when it comes to political campaigns. I know nothing about the allegations that I also read this morning as well. I think all of us should take such allegations seriously and with respect. I took Joe Biden's statement to say just that exactly. … Certainly one allegation is not disqualifying, but it should be taken seriously."
Sen. Chris Coons (D-Del.), on an infamous picture of Biden touching his daughter: "She did not think of it as anything. All three of my kids have known Joe their whole lives."
Sen. Dianne Feinstein (D-Calif.): "The Joe Biden that I have known for 25 years is a warm and friendly human being. He didn't mean it as anything other than that. And I guess, there has never been a problem before. … He's a tactile person, he grabs you, he holds your arm — that kind of thing. … I don't think they're disqualifying. I think obviously there are people that don't like it, and I think that's what's changed and what that message is, is hands off."

The other side: 2020 Democrats, who may face off against Biden in the primaries, have been seemingly less willing to give the former vice president the benefit of doubt.
Buzzfeed's Katherine Miller makes an interesting argument ("Everyone Already Knows How They Feel About Joe Biden Touching Women"):
Biden supporters have been reviewing "photographic documentation" of a 2014 campaign event where Lucy Flores, a former candidate, said the former vice president kissed her, which made her uncomfortable. Presidential candidates have talked about whether they "believe" Flores. "Who Is Lucy Flores, the Woman Accusing Joe Biden of Kissing Her?" asked a New York Times headline over the weekend. Reporters write in the passive voice — "the appropriateness of Biden's physical behavior toward women is now being questioned" — like scrutiny emerges from the ocean. In an email subject-lined "A Note on Recent Coverage," Biden's spokesperson described Stephanie Carter and Sen. Chris Coons as "reclaiming" her and his daughter's stories, respectively, from false internet narratives about how they'd been made uncomfortable by Biden.

It's like people are trapped in some AI simulation of how a #MeToo story works, and must play out the program. This orbits but never touches the core issue here:

Everybody already knows what they think about Joe Biden putting his hands on people, because we've all seen this happen in public. We've seen Biden kiss people at public events! We've all had years to think about it! Does anyone need a photograph of Lucy Flores and Joe Biden to know that, at some point, somewhere, over the last 40 years, someone might have been uncomfortable because the situation wasn't quite right?

But the current system still isn't ready to handle a well-known, gray-area subject like this. As she said on TV over the weekend, Flores didn't consider it sexual harassment, she just was uncomfortable, and we all know what she means.

Because Biden's behavior is so well known, and falls somewhere on a bell curve between "disqualifying" and "perfect," this one actually comes back around to what you, the individual reader, think. Is the way Biden comports himself bad? Bad but minor? Overblown? A natural thing for an effusive politician? Depends on the situation? You already know your own heart on this subject, which makes any story written from a neutral perspective ("some Democrats are saying it's a problem; others are not") weirdly hollow at the core, and distant from the actual core issue of social mores ("is this a problem, and if so how much of one?") that reported coverage can't quite answer.

Presidential politics can flatten your personality and career into a singular theme, and it's tough to know beforehand which it will be. People now talk about the Clarence Thomas-Anita Hill hearings, not the Robert Bork ones. They talk again about Biden voting for the Iraq War, not becoming a dove after the vote, like they did when he might oppose hawkish Hillary Clinton in 2016. And now people are talking about Biden always grabbing people like he's Richard Dawson hosting Family Feud in 1978, not being the guy behind the Violence Against Women Act, like they did when he was vice president. Times change! And as Biden waits and waits to decide whether he's running for president, people fill that void with signs that he just doesn't fit anymore.

So rather than unearthing a dark scandal of process questions, Flores basically kicked the door in on a deferred debate.
Miller is largely right about this and, indeed, the array of quotes Allen collected demonstrates this. People who aren't running against Biden are likely going to judge this on how much they liked Biden before the latest allegations.
Still, times do indeed change. Behavior that was seen as perfectly normal in 1999 can be positively cringe-worthy from the perspective of 2019. I think that Biden, like Al Franken, genuinely champions women's interests. Neither are misogynists. But both abused their power in ways that made women uncomfortable—by acting in ways they never would have considered appropriate with men in similar situations.
Biden's statements on the matter thus far show that he doesn't understand that. That he's just a guy who likes to touch people and comes from a culture where people like to touch people is largely irrelevant. So is his lack of intent to make women he touched uncomfortable. He made them uncomfortable.