The Barry Bonds Verdict
Another celebrity trial shines a light on our bizarre justice system.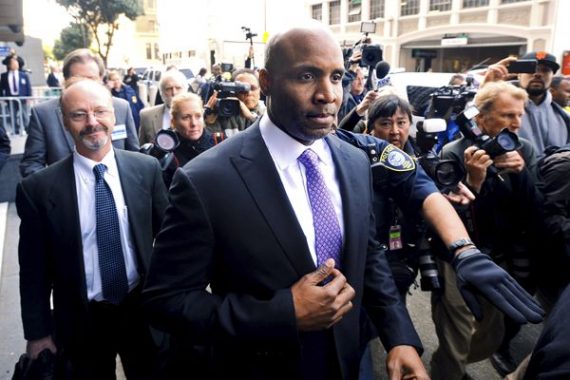 Barry Bonds was found guilty yesterday of obstruction of justice–which most analysts considered the weakest of the charges against him–but no verdict was reached on the three perjury charges, so a mistrial was declared on those counts.
Those hoping the trial would end whatever doubt there was about whether Bonds used steroids were disappointed. As ESPN put it,
Just like the whole Steroid Era: We'll never really know.

Even the one charge that left Barry Bonds a convicted felon didn't specify steroids.

Instead, a federal court jury found the home run king guilty of obstruction of justice Wednesday for giving an evasive answer under oath more than seven years ago. Rather than say "yes" or "no" to whether he received drugs that required a syringe, Bonds gave a rambling response to a grand jury, stating: "I became a celebrity child with a famous father."

The decision from the eight women and four men who listened to testimony during the 12-day trial turned out to be a mixed and muddled verdict on the slugger that left more questions than answers.

U.S. District Judge Susan Illston declared a mistrial on the three charges that Bonds made false statements when he told a grand jury in December 2003 that he never knowingly received steroids and human growth hormone from trainer Greg Anderson and that he allowed only doctors to inject him.

Defense lawyers will try to persuade Illston or the 9th U.S. Circuit Court of Appeals to toss out the lone conviction. Federal prosecutors must decide whether it is worth the time and expense to try Bonds for a second time on the deadlocked charges.
As I've noted before, I didn't think this merited trying Bonds a first time.  The results on the three outstanding charges are interesting:
Amber, a 19-year-old blonde woman who was the youngest juror, said the final votes were 8-4 to acquit Bonds of lying about steroids and 9-3 to acquit him on lying about HGH use. The panel voted 11-1 to convict him of getting an injection from someone other than his doctor, with one woman holding out, she said.
It's rather odd that  4 people were convinced on steroids, 3 on HGH–and 11 agreed he was getting injected with something!
Regardless, while I fully comprehend that a hung jury is not the same as an acquittal, I don't understand philosophically why–with the exception of mistrials caused by malfeasance on part of the defense–the state's failure to convict shouldn't be the end of it. Forcing a defendant to undergo a second trial while prosecutors get a second bite at the apple sure seems a lot like double jeopardy. That's especially true for defendants who aren't mega-wealthy superstars like Bonds. Simply enduring the financial burden of a second trial would be devastating for most.