The Beginning Of The End Of America's Longest War
Last night, the President basically announced that America's longest war had entered it's end game.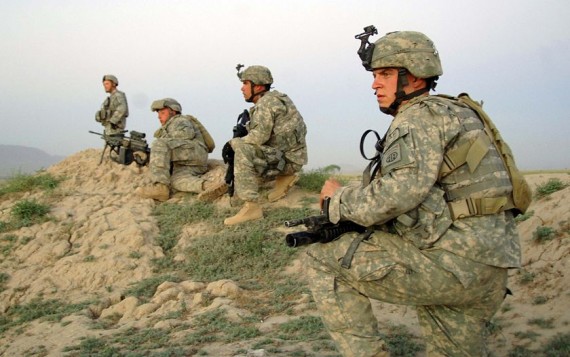 Last night, in a brief address to the country, President Obama announced the beginning of  a change in strategy in Afghanistan that will lead to a drawdown of 33,000 troops by the end of 2012, and a handover of control to the Afghan military by 2014:
WASHINGTON — President Obama declared Wednesday that the United States had largely achieved its goals in Afghanistan, setting in motion a substantial withdrawal of American troops in an acknowledgment of the shifting threat in the region and the fast-changing political and economic landscape in a war-weary America.

Asserting that the country that served as a base for the Sept. 11, 2001, attacks no longer represented a terrorist threat to the United States, Mr. Obama declared that the "tide of war is receding." And in a blunt recognition of domestic economic strains, he said, "America, it is time to focus on nation-building here at home."

Mr. Obama announced plans to withdraw 10,000 troops from Afghanistan by the end of this year. The remaining 20,000 troops from the 2009 "surge" of forces would leave by next summer, amounting to about a third of the 100,000 troops now in the country. He said the drawdown would continue "at a steady pace" until the United States handed over security to the Afghan authorities in 2014.

The troop reductions, which were decided after a short but fierce internal debate, will be both deeper and faster than the recommendations made by Mr. Obama's military commanders, and they will come as the president faces relentless budget pressures, an increasingly restive American public and a re-election campaign next year.

Only hours after Mr. Obama spoke, President Nicolas Sarkozy of France said on Thursday that he would also begin drawing down the 4,000-strong French contingent in Afghanistan.

"Given the progress we have seen, France will begin a gradual withdrawal of reinforcement troops sent to Afghanistan, in a proportional manner and in a calendar comparable to the withdrawal of American reinforcements," Mr. Sarkozy said in a statement issued by his office, Reuters reported.

Mr. Obama, speaking in businesslike tones during a 15-minute address from the East Room of the White House, talked of ending America's longest war and of the painful lessons he thought could be taken from it. While justifying the nation's decade-long commitment, he talked of "ending the war responsibly" and warned of the perils of overextending the military by sending large numbers of soldiers into combat. He acknowledged that huge challenges remained before an end to the conflict that has cost hundreds of billions of dollars and 1,500 American lives.

The withdrawals would begin winding down the military's counterinsurgency strategy, which Mr. Obama adopted 18 months ago. Administration officials indicated that they now planned to place more emphasis on focused clandestine counterterrorism operations of the kind that killed Osama bin Laden, which the president cited as Exhibit A in the case for a substantial American troop reduction.

"We are starting this drawdown from a position of strength," Mr. Obama said. "Al Qaeda is under more pressure than at any time since 9/11." He said that an intense campaign of drone strikes and other covert operations in Pakistan had crippled Al Qaeda's original network in the region, leaving its leaders either dead or pinned down in the rugged border between Pakistan and Afghanistan. Of 30 top Qaeda leaders identified by American intelligence, 20 have been killed in the last year and a half, administration officials said.
The reaction to the President's speech has been about what you'd expect, although interestingly enough the field of Republicans vying to replace him is split on their reaction to the speech, and the President's new strategy:
Obama's former ambassador to China, Jon Huntsman, did not even wait until the speech began to put out a statementcalling for steeper troop drawdowns as part of "a focused counter-terror effort which requires significantly fewer boots on the ground than the President discussed tonight."

"We need a safe but rapid withdrawal which encourages Afghans to assume responsibility, while leaving in place a strong counter intelligence and special forces effort proportionate to the threat," Huntsman said. "The War on Terror is being fought against a global enemy, and it is critical that we have the resources to fight them wherever they're found."

But former Minnesota Gov. Tim Pawlenty argued that Obama was going too far, saying he found it "deeply concerning" that the president called for the United States to "responsibly end these wars."

"He said we need to end the war, quote unquote, responsibly. When America goes to war, America needs to win," Pawlenty said in an appearance on Fox News after the East Room address.

Rick Santorum, in a statement, also charged Obama with being unfocused on winning in Afghanistan, and said withdrawal was politically motivated.

"President Obama speaks of winding down our engagement in Afghanistan, but he does not emphasize the need for victory," Santorum said. "Every American wants our brave men and women home safely, but we cannot let those who've given the last full measure die in vain by abandoning the gains we've made thus far."

Former Massachusetts Gov. Mitt Romney staked out a middle ground, arguing against "an arbitrary timeline."

"This decision should not be based on politics or economics," Romney said. "America's brave men and women in uniform have fought to achieve significant progress in Afghanistan, some having paid the ultimate price. I look forward to hearing the testimony of our military commanders in the days ahead."
On the punditocracy side, The Washington Post's Jennifer Rubin called the speech irresponsible:
President Obama gave a speech tonight that was aimed at re-election — not victory in Afghanistan. In doing so, he made clear that he doesn't much care whether we accomplish our mission (making certain Afghanistan is not a safe haven for terrorists); his mission is ending a war so we can spend more money domestically. "It is time for nation building here at home," he announced. Hearing that line, Rep. Nancy Pelosi (D-Calif.) must have been smiling broadly.

The number of troops to be withdrawn, 10,000 by year's end, is not in and of itself disastrous. But what undermines our effort is Obama's insistence that, thereafter, according to a strict timetable, we will steadily reduce forces and be out entirely by 2014. But what if conditions on the ground change? What if it took until 2015? Forget about it. His key date is 2012, when he plans to have brought out the full 33,000 troops that manned the surge. Oh, and there's an election that year.

(…)

We are about to see who is serious about victory — yes, victory is the aim, not setting the speed record for retreat — and who is not. The president, as Bob Woodward put it, has been a reluctant commander in chief. Tonight he proved to be an irresponsible one.
Commentary's Jonathan Tobin calls the speech a victory for the enemy:
President Obama's announcement tonight he is ending the U.S. troop surge that helped stabilize the war in Afghanistan was a fulfillment of his 2009 promise the U.S. offensive would end this summer.  At the time, Obama was rightly praised for his decision to re-commit to fighting the Taliban and al-Qaeda in Afghanistan and his refusal to allow that country to drift back into the control of the Islamists. But by sending the enemy a message America could be waited out, the president also gave them hope. Today, that hope is being renewed. The withdrawal of the surge forces against the advice of our military commanders may wind up breathing new life into the Taliban cause. If, as a result of this decision the Taliban regains the ground it lost since the surge, then we will look back at this speech as a victory for America's enemies, not a political coup for Obama.
Rubin and Tobin are being foolish, as is Tim Pawlenty, when he said this last night on Fox News:
"Bill, I thought his speech tonight was deeply concerning. Look how he phrased the outcome of this war. He said we need to end the war 'responsibly.' When America goes to war, America needs to win. We need to close out the war successfully. And what that means now is not nation building. What it means is to follow General Petraeus' advice and to get those security forces built up to the point where they can pick up the slack as we draw down."
The drumbeat coming from the right in reaction to this speech seems to be that we need to stay in Afghanistan until we've achieved "victory," but they are never clear on what "victory" actually means. The initial attack on Afghanistan in October 2001 was in retaliation for al Qaeda's attack on the United States, and the fact that the Tailban were sheltering the terrorists who had attacked us. The goal was to destroy al Qaeda's operational capability in that country and, in the end, depose the Taliban who had taken up arms in defense of the terrorists. To a large extent, those goals were achieved long ago and we've spent much of the past five years or so fighting to protect the corrupt government of Hamid Karazai from domestic opposition, which includes the Tailban and those tribal leaders who have allied with them. Meanwhile, al Qaeda has taken up residence in Pakistan, and has inspired satellite groups in Yemen and Somalia. Some of the men who fought alongside the Taliban and with the Iraqi insurgents are now fighting to overthrow the government in Libya, a fight we are aiding them in for reasons that nobody has clearly explained.
How, precisely, are American national interest being served if we continue committing ourselves to a mission that really involves trying to bring political stability to Afghanistan, a tribal society with a 23% literacy rate and a history of resisting efforts by outsiders to "civilize" them (just ask Alexander the Great, the British Empire, and the Soviet Union)? Conservatives who favor continued engagement in Afghanistan are never able to answer that question coherently. Instead, they usually just point to Iraq and say "we did it there, we can do it here." What that argument forgets, of course, are the tremendous social, economic, and political differences between those two countries. A strategy that "works" in one country — and i would submit that the jury is still out on the ultimate success of our misadventure in Iraq — will not necessarily work in another. More importantly, even if there was a strategy that would "work" in Afghanistan, it wouldn't necessarily be worth it to go forward with it. There are bigger problems facing us, from Pakistan to Yemen to Iran, and getting bogged down in the Afghan quagmire serves no purpose whatsoever.
The President's decision to begin the process of disengaging from Afghanistan is long overdue but nonetheless welcome. We've done everything we can do in that country over the past ten years, it simply isn't worth sacrificing more blood and treasure on a country that may be beyond fixing.
Here's the President's speech in case you missed it:
Visit msnbc.com for breaking news, world news, and news about the economy