The Burger And Fries Summit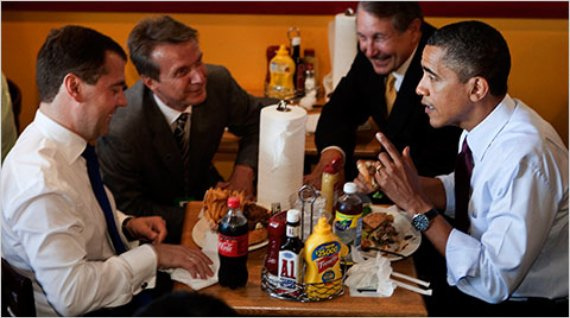 It's another indication of just how much the world has changed in the past 25 years that the Presidents of the United States and Russia spent lunch at a burger joint in Northern Virginia:
So what is it with Ray's Hell Burger? Could it be winning the White House Burger Battle?

Let's ask the president of Russia. We know President Obama is a fan.

On a sweltering summer day in Washington on Thursday, Mr. Obama passed on lunch from the White House chefs to take his Russian counterpart, Dmitri A. Medvedev, across the Potomac to Ray's, a hamburger joint in Arlington, Va.

Mr. Obama might almost qualify as a Ray's regular: he and Vice President Joseph R. Biden Jr. went there on a surprise lunch run last year.

Mr. Obama had a cheddar cheeseburger with onions, lettuce, tomato and bread-and-butter pickles, with a bottle of iced tea to wash it down. Mr. Medvedev also ordered the cheddar burger, but he added jalapenos, onions and mushrooms, and paired it with a bottle of Coca-Cola.

Translators stayed close at hand to keep the conversation going as the two world leaders sat down to eat in shirt sleeves (Mr. Obama even unbuttoned his cuffs). They all walked out afterward to cheers from the other patrons.
According to White House reporter Mark Knoller's Twitter feed, though, the translators didn't get to eat. That's just not right.