The Bush Tax Hikes
On this day in 1990, President H.W. Bush broke his "No new taxes" pledge.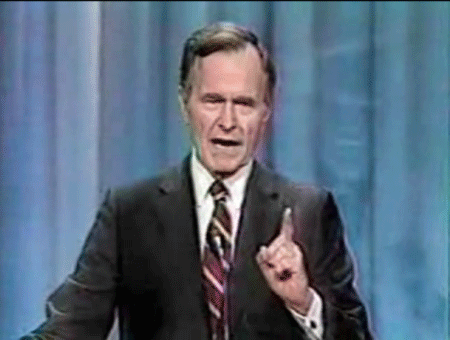 Taegan Goddard reminds us that, on this day in 1990, President H.W. Bush reached a budget agreement with Congressional Democrats on the budget.
Less than a month later, Saddam Hussein invaded Kuwait and Bush would go on to preside over a major military victory that pushed his approval ratings into the 90s. And then to get trounced in the 1992 elections by an unknown governor with a zipper problem.
While a minor recession was a major reason, many assign a large share of the blame to this budget deal. Most significantly, he reneged on his famous promise from the 1988 Republican Convention: "Read my lips: No new taxes." This ultimately hurt him deeply with his base, leading to a primary challenge from Pat Buchanan and the strange third party candidacy of Ross Perot.
This morning, I noted that Republicans should remember the consequences of the 1996 budget showdown with Bill Clinton that resulted in reversing his fortunes. But I suspect Republican leaders in Congress are far more worried about the lesson of the 1990 budget deal. The Tea Party wing, especially, will be very angry if they give in even a little bit on taxes. And President Obama appears willing to risk the collapse of America's economy to force them to either do that or raise the debt ceiling.