The Christie Speculation
The grass is always greener on the candidate not running (or something like that).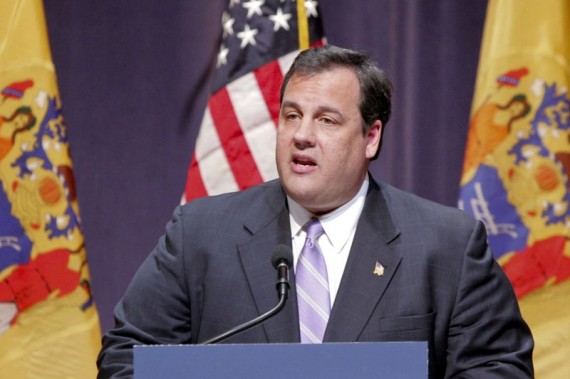 The dissatisfaction in some corners of the conservative commentariat continues to simmer over the slate of GOP candidates  (yes, I am looking at you, Bill Kristol), and hence the hankering for some Chris Christie builds.
Over at The Corner, Robert Costa writes:
Former New Jersey governor Tom Kean, who has known Chris Christie since he was a teenager and remains an informal adviser, tells National Review Online that the governor is "very seriously" considering a presidential bid.

"It's real," Kean says. "He's giving it a lot of thought. I think the odds are a lot better now than they were a couple weeks ago."

Christie remains undecided, Kean says, but is listening closely to pleas from party leaders. The chance for a "Jersey guy" to rise, Kean says, is not something Christie has sought. But now, with the field up for grabs, he is actively mulling a late entry.

"More and more people are talking to him," Kean says. "He's getting appeals from major figures around the country." Kean, for his part, is also encouraging the first-term Republican to jump in. "He is the best speaker I may have ever heard in politics," he tells me.

"In an era when most people suspect that politicians read polls and then tell you what they think, people don't believe he's that kind of a fellow," Kean says. "He tells you what he thinks, period. We like that around here."
First, telling people what one thinks is not the issue, as one has to both tell people what one thinks and have said people like what is being told to them.  Any number of politicians tell people what they think (off the top of my head:  Ron Paul, Ralph Nader, Dennis Kucinich, and Bernie Sanders) and yet their forthrightness does not get them all that far in terms of national politics.   Candor for candor's sake is not as much the unvarnished good that so many make it out to be.  The fact that Christie can be blunt clearly  makes him appealing to those who like to gush over him.  But I am at a loss as to why that trait alone is supposed to make him so desirable, as bluntness can cut multiple ways (i.e., it can offend people as well as energize them).   Indeed, the notion that Christie can just come in and be a brash bulldog seems to be the main reason people like him, but winning the nomination, let alone the presidency, takes a bit more than that.
Second, it is always amazing as to the degree to which politicos and pundits can act like That Guy Not Running is the answer.  It is as if it is forgotten that part of the reason that That Guy is so appealing is because his/her last name is Not Running.  Once That Guy changes his/her last name to The Candidate, the criticisms come (as do the opportunities to make mistakes, as Governor Perry has demonstrated).  Further, in Christie's case, I have to wonder as to the degree to which a New Jersey governor is going to be well positioned to take control of a party that is exceedingly southern in its orientation of late (granted, Romney has similar issues to deal with as well).
Third, it wasn't that long ago that That Guy was Rick Perry.  This is interesting only insofar as it shows how easy it is for a candidate to appear to be The One (if I may use the phrase) when the candidate is not actively involved in the campaign.  When one is That Guy, usually one enters the race with high numbers (what being the savior and all) and one only can go down from there, at least in the short run, when people actually find out what the candidates stands for.
Having said all of that I would note that 1)  Perry is still in pretty good shape as a candidate and 2) it also makes sense for party activists to be trying to figure out, at this stage, their best options for November.