The "Crisis Election" Canard
Once again people are saying that 2012 is an election year akin to 1860 or 1932. Once again, they are wrong.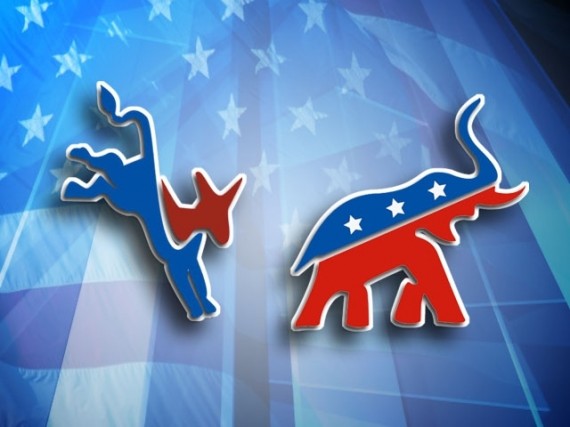 Returning to a theme that we've actually seen several times before, Peggy Noonan asserted on Friday that the 2012 elections are a "crisis election" on a par with the elections of 1980 or 1932:
The 2012 presidential election is unusual. It is a crisis election like 1932 or 1980, with the American people knowing we're at a turning point and knowing that who we pick now really matters. But crisis elections tend to bring drama—a broad sense of excitement and passion. We're not seeing that this year. We're not seeing passionate proclamations from supporters of one candidate or the other that their guy is just right for the moment, their guy is the answer. I'm speaking of the excitement of deep belief: "FDR will save the day." "Reagan will turn it around."
Ironically, after that opening paragraph discussing how this is a "crisis" election, Noonan spends the rest of her column trying to ponder the reasons why neither the major party candidates nor the American people appear to be treating this as if it were such an election, and she comes up with this:
[P]eople know that what America needs right now is the leadership of a kind of political genius. Second, they know neither of the candidates is a political genius.

That's why it seems so flat when you talk to voters or political professionals.
This kind of reminds me of the point that James Joyner made some time ago when he pointed out that no candidate for President seems Presidential until they actually become President. In any event, though, it's the "crisis election" meme that interests me, because it's a theme that I've seen, mostly from the right, for months now. To listen to some of these people, you'd think that the 2012 Presidential Election is as crucial to the survival of the Republic as the Election of 1860, or that it will determine the future course of the nation as definitively as the elections of 1800, 1828, 1860, 1932 and 1980 did.
Steven Hayward takes the argument that Noonan laid down, and adds this:
Let me double down on Noonan's public memo to Romney and his campaign: there's a Reagan-style landslide sitting on the table for you if you can figure out how to step up and grab it.
I've seen this argument that Romney has the potential to win the election by a landslide from several conservative bloggers in recent weeks, but I've honestly got to say that I don't see where it's coming from. Yes, the economy sucks and it's not likely to improve very much between now and November. Yes, the President's approval ratings are under 50% and, on the economy, even lower. And, yes, poll after poll has shown for the past three years that the American public remains pessimistic about the state of the economy and the direction of the country. However, we live in a highly polarized political environment where large segments of the public have essentially already made up their minds about who they are going to be voting for. Based on the available evidence, it seems fairly clear that the 2012 election is going to be close no matter who wins. If Obama wins, it's likely be by a smaller Electoral College and Popular Vote margin than he had in 2008, which would be an historical oddity in itself. If Romney wins, it's likely to be by the slimmest of Electoral College margins. The idea that the circumstances exist for the kind of landslide we have not seen since Reagan defeated Mondale in 1984 is just wishful thinking unsupported by any evidence.
Getting back to the "crisis election" meme, though, Daniel Larison makes this point:
Perhaps the American people don't see the election as a "turning point" at all. If they don't, they would be right. Once we get past some of more the obvious disagreements on foreign policy, this is an election contested by two candidates in general agreement about the size and domestic role of government. Rhetoric about the Ryan plan notwithstanding, does anyone believe that Romney significantly differs from the "big-government conservatives" of the previous administration on the role of government? Of course not.
It goes even further than that, of course. If Obama wins, all of the available polling evidence tell us that he's going to face a House of Representatives that is still controlled by the Republican Party. Quite possibly, he may also end up with a Senate that has a narrow Republican majority or, at the very least, an even narrower Democratic majority than we have at the moment. If Mitt Romney is elected, and even if the GOP does gain majority control of the Senate, it will be a razor-thin majority that will rely for its support on the votes of at least one (Murkowski) and possible two (Angus King) Independents. With the cloture rules likely to remain in effect, this means that President Romney will still have to deal with the Democrats just as Obama would have to deal with the Republicans. Under these kind of circumstances, the idea we're going to see revolutionary change without some kind of political compromise being made is simply utopian absurdity.
And yet, there are those on the right who tell us that if Barack Obama is re-elected the Republic is doomed. As I noted on New Year's Day, that is simply absurd:
Except perhaps for Aaron Burr and John Breckinridge (the candidate who came in second in the Election of 1860), I can't think of a single major party nominee in our history who it could be fairly said would have been a grave danger to the Republic had they won the election. The only purpose that engaging in such rhetoric serves is to rile up the partisan masses, and while that's a grand old American tradition (just look at the politics of the 1820s or late 19th Century for proof of that) it seems as though we've entered an era where the partisan nature of campaigning has made governing itself impossible. If you believe your opponent is not just wrong, but evil and a threat to the nation, then compromise is impossible. The fact that it isn't true doesn't really matter.

Re-electing Barack Obama won't mean the end of America. In fact, if recent history is any guide it's quite likely that a second Obama Term will be even more of a let down for his supporters than the first one has been
To some extent, of course, one can chalk much of this talk up to election year rhetoric. I've been following Presidential elections since 1976 when I was in 3rd Grade (yes, that early) and each one has included people saying that said election was the most important election in American history. Obviously, each time we vote for President we influence history, and it's impossible to say how history would have been different if a losing candidate had won actually won a given election. Even taking that into account, though, it seems rather obvious that the 2012 contest between Barack Obama and Mitt Romney isn't nearly as definitive as the partisans on either side would like us to believe. Re-electing Barack Obama will not lead to American becoming a replica of a European welfare state. Electing Mitt Romney will not turn America into some Dickensian version of the perverted vision of Laissez Faire capitalism that the left likes to scare people with.  We'll muddle along for the most part, and we'll either figure out  how to work out the partisan differences that exist regarding fiscal and economic policy, or won't and we'll face the consequences in the not-too-distant future. That is certainly important, but to be quite honest it's a fate that we will reach if we fail to act properly regardless of which man occupies 1600 Pennsylvania Avenue on January 20, 2013.