The Death of Cursive Writing?
Johnny can't write, either.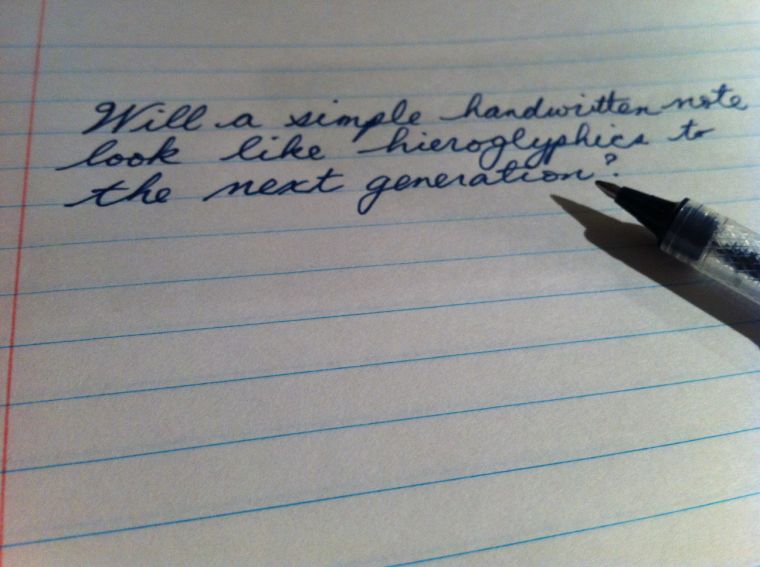 Abigail Walthausen reports that many students are no longer being taught cursive handwriting.
The signature, the ability to sign one's own name with grace and confidence, has long been an essential marker of society. Today more and more I meet high school students who, though they can read, sometimes well and sometimes poorly, are ashamed whenever they are confronted with the need to sign a document. Students are sometimes too embarrassed to admit that they can't read a piece of an important historical document or the comments of a teacher who writes in script. Script is not seen by students as some quaint relic of the past. Even among kids for whom academic achievement is hardly "cool," students recognize the pedigree that the knowledge of the cursive alphabet and the ability to write it fluently represent. Cursive has become a status marker.

The mid-sized parochial school where I work provides an interesting view into this phenomenon because the feeder junior highs are so varied. The students who come from the Catholic elementary schools all know script and write it automatically because that is what was required of them. They possess a neater penmanship in both print and script. And as someone who has looked at a great many notebooks, I have observed that they have much greater mastery of the page and they are more astute with the spatial needs of good notetaking. In addition, they do not appear to have sacrificed learning other important skills—they are just as academically competent as their peers and just as likely to know typing.

The students who do not know script come from public schools, most often those designated as "failing." The Common Core has left the teaching of cursive off the standards, but the trend to pass over penmanship instruction has been building for years.
Cursive was, of course, required when I was in school, starting in very early grades. (I think it was 3rd grade for me, but it may have been 2nd.) My penmanship was quite good because we got so much practice.  Alas, because I've done virtually all of my writing on a keyboard over the last twenty-odd years, my handwriting is awful. Indeed, if I need to write more than a couple paragraphs by hand, it gets practically illegible. Moreover, when I do write things out these days, I do tend to use print rather than cursive.
If we are thinking about standardized testing, it is important to note that cursive is in fact included in it. On the SAT section for student information, all students are required to copy an oath that they have not cheated, and they must copy it in script. Many students at my school must be instructed to print the sentence first and then connect each letter with their pens.
Well, that's just stupid. Do we really think students are less likely to cheat if they write the oath in cursive rather than print? Or simply sign a pre-typed oath?
The results look even more terrible than those who struggle through the best pigeon script they know. Now, of course, the students are not graded for the look of their writing, but the ordeal is a terrible note on which to begin a high-stakes test. It sets kids unjustly up for failure to force them to try on illiteracy just moments before beginning a test that is notoriously culturally loaded. Students who struggle through a single sentence feel inadequate. They feel intimidated.
That's almost certainly horseshit. And, again, the solution isn't re-introducing cursive to the curriculum but changing the stupid procedure.
It seems like an especially terrible thing to deny kids, because so many enjoy mastering it. Script not only adds speed to writing, but it adds the intimacy of the personal mark to the writing process and adds interest for students who are artistically inclined or visual learners. Edward Tenner argues that it aids cognitive development and builds character. One of my ninth graders, a very weak student who lacks confidence in all facets of communication, written and spoken, but he is also one of the most careful printers I have ever seen. His letters are embellished with delicate curls. He never learned cursive, but I am sure that would have been a great, confidence-building opportunity for him.
Actually, the linked studies seem to indicate that training in caligraphy and repetitive writing drills, not cursive per se, is what's beneficial. And there's zero evidence that handwriting builds character; rather, there's some evidence that character traits can be gleaned from analysis of handwriting.
Most of the defense of cursive is sentimentalism along the lines of this July 2011 WSJ piece by Theodore Dalymple referenced in one of the Tenner essays:
The schoolchildren of Indiana—and those of an increasing number of other states—will therefore never know the joys of penmanship that I experienced as a child. In those days, we still had little porcelain inkwells in the tops of our desks. The watery blue ink eventually evaporated to a deep blue gritty residue, and we used scratchy dip-pens with wooden handles, whose nibs were forever bending and breaking.

Our whole world was inky. Our desktops were soaked in ink; it got into our skin, under our nails and into our clothes. We even began to smell of it. For those of us who were even slightly academically inclined, the callus that formed on the skin of the side of the middle finger as it rubbed against the wood of the pen was a matter of pride: We measured our diligence by the thickness of the callus and longed for it to grow bigger.
Ah, yes, the joys of the ink-stained wretch. And, yes, the middle finger of my right hand is still slightly deformed from all those years of handwriting; the callus is long gone but there's a decided curvature to the right.
Indeed, the only practical rationale being advanced is Waldhausen's lament that students who don't learn to write cursive likely won't be able to read it, either. I'm not sure that's of tremendous concern for most people, but it certainly makes archival work—including such things as looking through old family diaries and the like—much more difficult. I'm not persuaded, however, that that's enough to justify the massive curriculum time required to teach and master.