The Debt Ceiling and the Remainder of the Fiscal Cliff
Are we really going to do this again? The answer appears to be yes.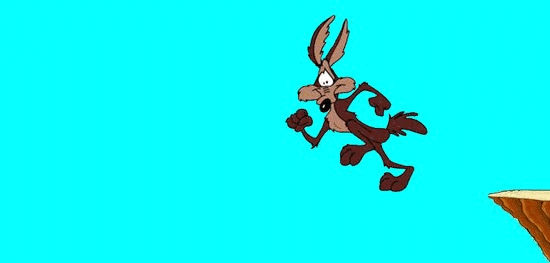 If I'm ever taken hostage and someone hires a hostage negotiator on my behalf, I hope it isn't President Obama. Based on his history thus far, he's been far too willing to make offers of spending cuts when Republicans demanded them and wouldn't detail them out. How do you negotiate when they won't provide specifics? At a minimum, if they want spending cuts and you're inclined to go along, they should be made to own them. The other thing that stands out with Obama as a negotiator is he's willing to disarm himself; e.g., he has already ruled out using the 14th amendment route to get around the debt ceiling altogether. Even if you think it's the wrong thing to do legally, don't tell your opponents that!
Also, people seem to have forgotten about the sequester. We did settle the matter of how to deal with the Bush tax cuts, but the sequester is still out there and has always been a part of the fiscal cliff (plus I wanted to use a picture of Wile E. Coyote). The media seems to have abandoned that narrative in favor of the debt ceiling. One thing that baffled me going into the resolution of the Bush tax cuts last week is that the Republicans were asking for spending cuts up to the end, when the sequester will provide them with very large spending cuts without doing anything. They apparently don't like this option, and should Obama fold and enter negotiations, he should use the sequester as a bargaining chip over the debt ceiling.
At any rate, the Democrats seem to be standing behind the president on the "no negotiation" position and in a few weeks we will find out if it's just bluster or not:
Echoing President Obama's refusal to negotiate on the debt limit, Sen. Chuck Schumer (D-NY) warned Republicans on Friday that Democrats have no intention of giving in to any of their demands in exchange for lifting the nation's borrowing limit to pay its bills.

"I think that risking government shutdown, risking not raising the debt ceiling, is playing with fire," Schumer told reporters in the Capitol, in response to a question from TPM. "Anyone who wants to come and negotiate, and say 'we will raise the debt ceiling only if you do A, B, C' will not have a negotiating partner. And if then they don't want to raise the debt ceiling, it'll be on their shoulders. I would bet that they would not go forward with that."

The No. 3 Democrat declared that Obama and congressional Democrats have learned their lesson from the 2011 fiasco that nearly led to a default. He predicted that Republicans will give in and cleanly raise the country's borrowing authority — which expires around March — if Democrats stonewall and give them no other option.

"If they realize for sure that they're not going to have a negotiating partner, they'll have to find another route to bring the change that they want and they won't risk the full faith and credit of the United States. The only way they get leverage is when they think we might negotiate on those issues." he said. "There was a very sad moment in 2011 when that happened. And I think there's a strong consensus at both ends of Pennsylvania Avenue among Democrats not to repeat what I would call — I think what most of us would regard — as a mistake."

Republicans feel burned after swallowing a deal that permits some $620 billion in tax hikes from current levels without any spending cuts. And they're raising the stakes for the debt limit fight, promising that they'll withhold their votes for lifting the ceiling unless Democrats agree to meaningful spending cuts, particularly on entitlement programs.

House Speaker John Boehner (R-OH) is preparing his members for the battle, telling them he'll insist on at least one dollar in spending cuts for each dollar of increase in the debt limit. Boehner's spokesman Michael Steel said of Obama's refusal to negotiate: "Wishful thinking is not a solution."
This isn't just about a potential government shutdown, though that is one option if Obama has to start prioritizing payments. It's also about the potential for default.
If we should default, here are a couple of the things I think can happen; if I'm wrong, please correct me in the comments.
Interest rates on treasuries will go up (duh!). Now, under normal circumstances, interest rates going up might be a sign of economic growth, given our currently weakened economy; it would be desirable if it were due to economic growth. If we default, though, the increase in interest rates will be due to risk, and that's definitely no good.
Currently, the dollar is the world's reserve currency and it seems to me a default (or a lesser problem that priced more risk into treasuries) would jeopardize this. As I understand it, central banks around the world hold a lot of treasuries as reserves because they are largely risk free and just as good as dollars. If they become risky, this will no longer be true. Now, there isn't a single currency right now that would be suitable to replace the dollar (Japan has spent a lot of time fighting off deflation and the Eurozone is a mess) but the IMF's Special Drawing Rights might be a suitable replacement if enough countries went along.
I don't want any of this to happen, but I doubt the Tea Party folks either care, or even understand what might happen if we default. The other day I saw a tweet or a site comment that referred to the Tea Partiers as "pathological narcissists and highly functioning psychopaths." If they keep this up, the description will be apt.
One last thing that gets me about this. There is an assumption that, if the debt ceiling / borrowing authority expires, the president will have the power to cut spending on his own. I wonder about this. Both, the SCOTUS case "Train v. City of New York" and the "Congressional Budget and Impoundment Control Act of 1974" would seem to prohibit this. Wouldn't the president's refusing to fund projects that Congress has appropriated money for amount to impoundment? If so, how can he unilaterally cut spending that Congress has appropriated? He can't raise taxes on his own and if he can't cut spending on his own, then borrowing is the only option left to him. As President Clinton might say, it's arithmetic.
One final note: if he does end up prioritizing payments, he should obviously pay the bondholders first, ahead of defense, Social Security and Medicare. If I were him, I would put paying bills in the Tea Party districts at the bottom of the list. Their constituents should feel the most pain from this.
If you want to see a rather angry post of mine from the previous debt ceiling debacle, go here.