The Downside of Uber
The rise of 'car sharing' services has greatly benefitted consumers but had a devastating effect on taxi drivers.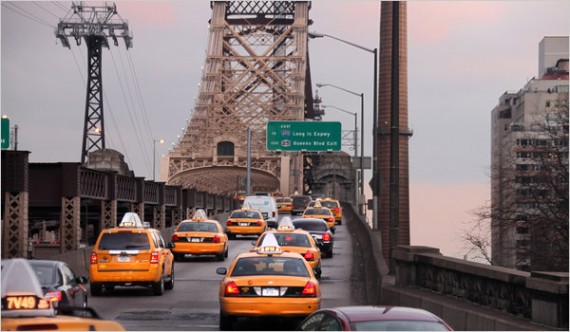 The rise of 'car sharing' services like Uber and Lyft have greatly increased convenience and lowered prices for consumers while providing a nice income supplement for drivers. It has, alas, had a devastating effect on taxi drivers.
NYT ("A Driver's Suicide Reveals the Dark Side of the Gig Economy"):
The economic hardship that Uber and its competitors had inflicted on conventional drivers in New York and London and other cities had become overwhelming. For decades there had been no more than approximately 12,000 to 13,000 taxis in New York but now there were myriad new ways to avoid public transportation, in some cases with ride-hailing services like Via that charged little more than $5 to travel in Manhattan. In 2013, there were 47,000 for-hire vehicles in the city. Now there were more than 100,000, approximately two-thirds of them affiliated with Uber.

While Uber has sold that "disruption" as positive for riders, for many taxi workers, it has been devastating. Between 2013 and 2016, the gross annual bookings of full-time yellow-taxi drivers in New York, working during the day when fares are typically highest, fell from $88,000 a year to just over $69,000. Medallions, which grant the right to operate a taxi in New York City, were now depreciating assets and drivers who had borrowed money to pay for them, once a sound investment strategy, were deeply in debt. Ms. Desai was routinely seeing grown men cry and she had become increasingly concerned about the possibility that they would begin taking their lives.

On Monday morning, Doug Schifter, a livery driver in his early 60s, killed himself with a shotgun in front of City Hall in Lower Manhattan, having written a lengthy Facebook post several hours earlier laying out the structural cruelties that had left him in such dire circumstance. He was now sometimes forced to work more than 100 hours a week to survive, he said; when he had started out in the 1980s, a 40-hour week was fairly typical. He blamed politicians — mayors Michael R. Bloomberg and Bill de Blasio, Gov. Andrew M. Cuomo — and their acquiescence to the rich for permitting so many cars to flood the streets. He blamed the Taxi Commission for the fines and hassles it imposed.

He had lost his health insurance and accrued credit card debt and he would no longer work for "chump change," preferring, he said, to die in the hope that his sacrifice would draw attention to what drivers, too often unable to feed their families now, were enduring. He had forecast all of this doom in columns he had written for a trade publication called Black Car News, he wrote, but few had listened to him.

Implicit in his testament was the anger he felt over the de-professionalization of his life's work. Mr. Schifter had driven more than five million miles throughout his tenure, through five hurricanes and 50 snowstorms. He had chauffeured celebrities and worn a suit. He was not driving a car to supplement the income he was getting from his crepe business and he was not trying to make a little extra money for massage. He was not a participant in the gig economy; he was a casualty of it.
On the macro scale, it's hard to feel sorry for an industry that provided often-substandard service at grossly inflated prices because they were granted monopoly status through rent-seeking. New York City is a massive metropolis with millions of people who don't bother to own cars, given the sheer expense of operating them in a big city and the availability of public transit. The current 100,000 cab-like vehicles makes far, far more economic sense than the previous 12,000 to 13,000.
On a human scale, though, this is tragedy. Throughout history, improvements in technology have disrupted previously-burgeoning sectors, putting whole swaths of people out of work or vastly decreasing demand for their services. While many will see their lives improved as they shift to other sectors, many others—especially those who are on the older side—never will. That's a steep price for progress and we haven't done enough as a society to deal with that. And the pace of this change is much more rapid than it used to be.
The taxi industry is a special case, though, in that cab and limousine owners and drivers made economic decisions based on rules set by the government. While the medallion system is outrageous and I'm happy to see it disrupted, the fact of the matter is that it was the norm for generations. People saved up or took big risks in borrowing to bid on them based on guarantees from their municipal government. They have every right to expect that same government to either enforce the law against illegal competition or compensate them in some way for the broken contract.
The phenomenon of the "side gig" is interesting to me, too, since I'm a participant. The rise of blogging and other social media has given a platform to many of us who would not have had one in the days where magazines, newspapers, and broadcast outlets were the gatekeeper of opinion-mongering. The fact that millions of us are spouting our views on the Internets for free has certainly devalued professional punditry. There are almost always unintended negative consequences for advances.