The Empire State Building Shooting And The Appropriate Use Of Force
The fact that yesterday's shooting at the Empire State Building resulted in nine civilians being injured by police bullets raises several questions.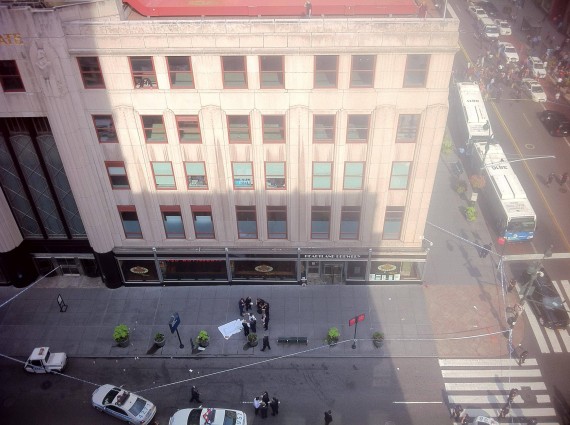 As James Joyner has already noted, it's now apparent that all nine of the civilians injured in yesterday's shooting at the Empire State Building were shot by police bullets. This raises several questions about the police actions themselves, as well as the attitude of some gun rights activists regarding the appropriateness of the use of force in public. The entire incident was captured by nearby surveillance cameras and, if you wish, you can watch it here, although I will warn that it is somewhat graphic. Watching the video, though, it becomes eminently clear that Johnson did not fire a weapon at all, although he does quite clearly pull it out of the bag he was carrying and point it at the officers, which is obviously what prompted the shootout.
The incident raises several questions because of the way that it went down. First of all, there's the question of whether or not the police acted properly under the circumstances.  Was it appropriate to open fire on a crowded street in the middle of the morning rush hour, for example. I am loath to second guess the police in these kind of circumstances, though. These two officers had just been told that the man on the street had shot someone inside of a store in the head (five times it turns out) and here he was outside on a busy sidewalk. Once he pulled his gun out and pointed at the cops, all bets were off. Even from a distance of ten feet away, they couldn't know if the gun had one bullet in it, whether it was fully loaded, or whether the gunman had additional cartridges that would allow him to reload easily. There was no option other than taking him out before he endangered anyone else on the street, or the officers themselves. That's why police carry guns, after all.
The second question is one that Glenn Reynolds deals with in a post this morning:
UPDATE: I'm getting a lot of email here suggesting that NYPD can't shoot. That may or may not be true, but I don't think this incident proves anying. From a distance of "less than 10 feet" (the NYT story says 8 feet, but it's not like anyone was measuring) I can put 16 out of 16 rounds into the x-ring pretty much every time, even one-handed with my left hand. But that's at the range, with nobody shooting at me. Being out and about, with your blood pumping, and facing someone else who's pointing a gun at you, it's a whole different story.
Not to mention the fact that, as the video indicates, Johnson was, for at least a portion of the time of the shootout, standing behind a large concrete planter. Under those circumstances, it's not surprising that there were some ricochets. This entire event went down in a manner of less than ten seconds, so reaction time was  critical. It is odd, though, that out of the sixteen shots fired by the officers, more than half of them missed their target. That doesn't put a whole lot of confidence in my mind about the ability of a New York police officer to cleanly take out a threat. There may be more to this incident that I'm unaware of, obviously, and that may explain why there were so many stray and ricocheting bullets. However, I would think that the people of New York would be well-placed to ask some questions of just what went wrong here.
This incident also brings to mind something that came up in the aftermath of the shooting in Aurora, Colorado. At the time, many gun advocates said that one armed person in the theater would have been able to stop Holmes before he caused as much damage as  he did. I'm a strong supporter of the 2nd Amendment, but I've got to say that this incident provides some pretty stark proof that those people were, most likely, wrong. Here was an incident out in public where two men who are trained professionally to react to situations like this still managed to misfire enough to cause (minor) injuries to bystanders. Do the people advocating that theory about Aurora think that the situation in the theater than night would have been any different? At the best, an armed citizen would have ended up in shootout with Holmes, who had far superior weaponry to anything that someone with a Concealed Carry permit would be carrying. Inevitably, people would have been hurt in the crossfire, and possibly killed. In the end, given the protection that Holmes was wearing, it's unlikely that he would've even been injured.
That's not to say that there haven't been incidents in which someone with a CCW permit prevented a crime or saved someone's life. Indeed, at nearly the same time as the Aurora shooting, a 71 year-old man in Florida used his gun to thwart an armed robbery at an Internet Cafe. Most of those incidents, though, have been one-on-one situations, rather than the shootout in a crowded area variety that we saw yesterday in New York and, if some people had had their way, last month in Aurora. A responsible gun owner, of course, would know when not to get involved in one of these situations, but it's quite apparent that there are wanna-be heroes out there who don't know any better. They'd be best to leave their guns at home, though, because the last thing we need is a bunch of people wandering around looking to be vigilantes.