The End Of Encyclopedia Britannica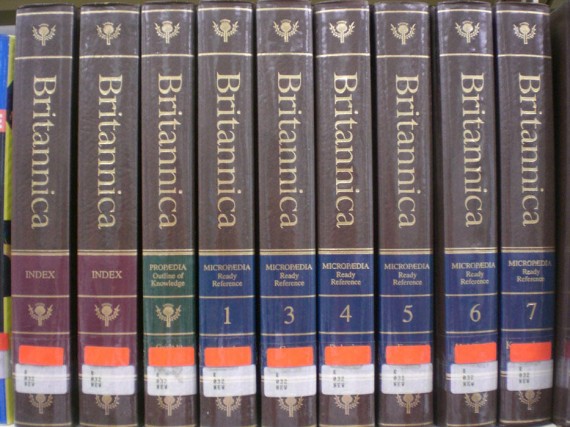 After nearly two and a half centuries, the Encyclopedia Britannica is ending its days as a print publication:
After 244 years, the Encyclopaedia Britannica is going out of print.

Those coolly authoritative, gold-lettered sets of reference books that were once sold door to door by a fleet of traveling salesmen and displayed as proud fixtures in American homes will be discontinued, the company is expected to announce on Wednesday.

In a nod to the realities of the digital age — and, in particular, the competition from the hugely popular Wikipedia — Encyclopaedia Britannica will focus primarily on its online encyclopedias and educational curriculum for schools, company executives said.

The last edition of the encyclopedia will be the 2010 edition, a 32-volume set that weighs in at 129 pounds and includes new entries on global warming and the Human Genome Project.

"It's a rite of passage in this new era," Jorge Cauz, the president of Encyclopaedia Britannica Inc., a Chicago-based company, said in an interview. "Some people will feel sad about it and nostalgic about it. But we have a better tool now. The Web site is continuously updated, it's much more expansive and it has multimedia."

In the 1950s and 1960s, a set of encyclopedias on the bookshelf was akin to a station wagon in the garage or a black-and-white Zenith in the den, an object coveted not only for its usefulness but as a goalpost for an aspirational middle class. The books were often a financial stretch, with many families paying for their encyclopedias in monthly installments.

But in recent years, print reference books have been almost completely wiped out by the Internet and its vast spread of resources, particularly Wikipedia, which in 11 years has helped replace the authority of experts with the wisdom of the crowds.

Created as a free online encyclopedia that is now written and edited by tens of thousands of active contributors, Wikipedia has been gradually accepted as a largely accurate source, even by scholars and academics, and one that meets the 21st-century requirements of comprehensiveness and instantly updated material. It has nearly four million articles in English, many of them on pop-culture topics that would not pass muster in the pages of the Encyclopaedia Britannica.

The oldest continuously published encyclopedia in the English language, the Encyclopaedia Britannica has become a luxury item with a $1,395 price tag; it is typically purchased by embassies and well-educated, upscale consumers who feel an attachment to the set of bound volumes. Only 8,000 sets of the 2010 edition have been sold, and the remaining 4,000 have been stored in a warehouse until they can be purchased.
I grew up in an era when printed encyclopedia's were still a big deal, and can still remember the full editions of Britannica and The World Book Encyclopedia that  made their way into the middle school library of a modest suburban community in New Jersey. Or when my parents somehow managed to spring for a full World Book set. In the days before the Internet, it was the closest you could get to having the world at your fingertips and there was more than one school report that I never would have completed without them. Then, the World Wide Web came along an the idea of having a 26 volume (minus annual updates) library of knowledge began to seem kind of silly.