The End of Snow Days?
The serendipitous day off may soon be a thing of the past.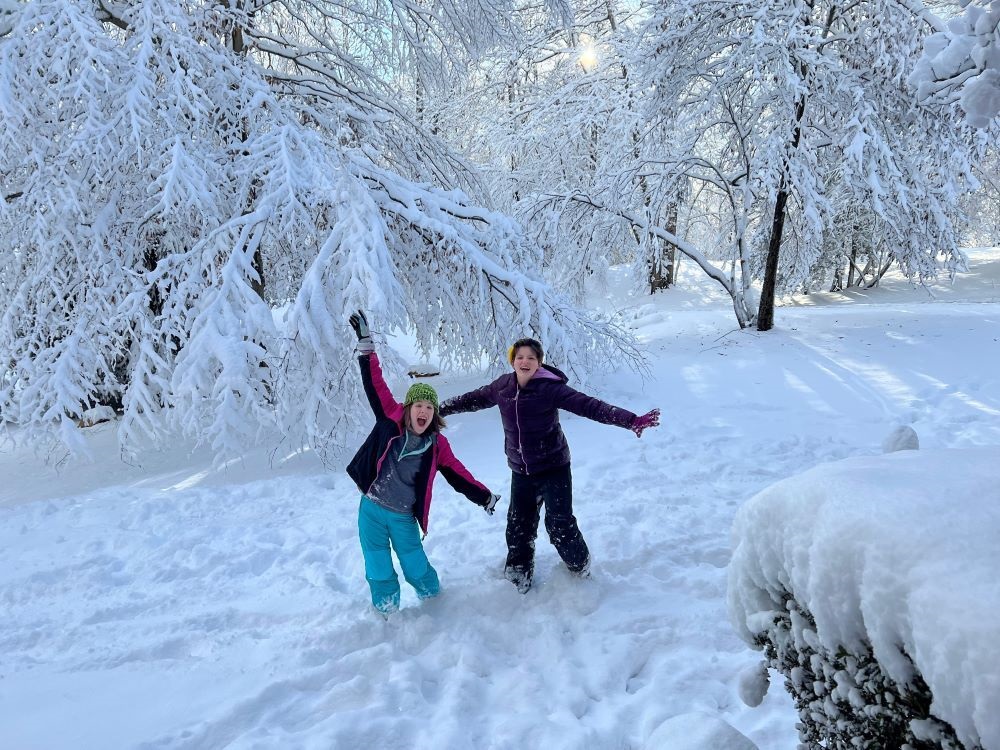 A Facebook post about my kids being out of school for yesterday's snow prompted the former blogger "John Lemon" to wonder about the predictions during the pandemic that the comfort we had gained with remote work and instruction heralded the end of "snow days."
He cited a recent NPR report ("Snow days could become a thing of the past with virtual classes") but I'd seen others like it months ago:
EYDER PERALTA, HOST: A long-held school tradition is evolving. A growing number of school districts are doing away with snow days. Instead of giving kids the day off, they're having them learn from home. Kate Grumke of St. Louis Public Radio reports.

KATE GRUMKE, BYLINE: In states that get snow, the dark days of winter used to come with a fun upside for some students and teachers – possible snow days when school is canceled.

(SOUNDBITE OF PEOPLE SLEDDING)

GRUMKE: In St. Louis, snow days used to sound like this for the Obermark family.

(SOUNDBITE OF PEOPLE SLEDDING)

GRUMKE: But this year, the family's school district is one of a handful here that aren't planning to issue traditional snow days. Instead, Carter Obermark will be expected to log on to his fourth grade classes and learn from home.

CARTER OBERMARK: Then by the time we're done, it'll probably be dark outside, and we won't get to play in the snow.

GRUMKE: Carter's mom, Lauren Obermark, is feeling nostalgic about the change.

LAUREN OBERMARK: I don't know why we would make a choice that feels kind of like we're being punished.

GRUMKE: This is happening all across the country. Last year, almost 40% of school officials said their district had converted snow days to virtual learning days. This year, school officials have announced plans to do away with traditional snow days in New York City, Naperville, Ill., and Provo City, Utah, among other places. Other districts are doing a mix of snow days and online instruction.

Dan Domenech, who heads the American Association of School Administrators, says it's a growing trend.

DAN DOMENECH: And I think that the pandemic and the remote learning acceleration and improvement is leading now to schools looking at the school calendar in a very different way and basically looking at learning as something that can take place anytime, anywhere.
Thus far, the local schools have decided to stick with the traditional snow days. This surprises me not in the least; most of the decisions administrators have made during the course of the pandemic were made with teachers and staff at the front of mind, with students and parents a distant afterthought, if that.
What's interesting, though, is that the prediction has definitely come true with regards to white collar work. Government offices were closed yesterday but people were expected to telework. The Marine Base in Quantico, where I work and which got more snow than I did 30 miles further north, is closed for a second day but we conducted classes remotely yesterday. This was true even though it was the start of a new semester and the electives block, which meant that we had to coordinate with students we had never met on the fly.
The combination of these two is less than ideal: the kids are home from school and want to go play outside but parents are expected to put in a full work day. That's a little tough! Additionally, quite a number of our students didn't log in to class yesterday. Given that most of them are field grade military officers with a finely honed work ethic, I presume they were dealing with power outages.