The Eric Garner Case Is About Excessive Force And Unequal Justice, Not Cigarette Taxes
While conservatives have been generally as appalled as others with the news out of Staten Island, some of them are looking in the wrong place for blame.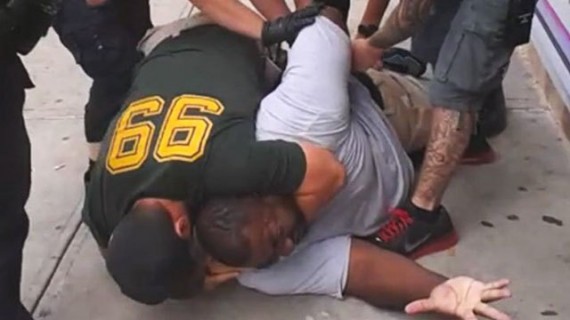 For the most part, the reaction to the decision on Wednesday by a Staten Island Grand Jury to return "No True Bill" in its investigation of the death of Eric Garner at the hands, quite literally, of a New York City Police Officer, has been remarkably universal across the ideological spectrum. Republican Members of Congress including people from the leadership team such as Tennessee Congressman Cathy McMorris Rodgers and Speaker John Boehner, along with commentators such as The Federalist's Sean Davis and  Fox News's Charles Krauthammer, have spoken out against what seems to be a gross miscarriage of justice. Certainly, there are some on the right, such as New York Congressman Peter King and Arizona Congressman Matt Salmon who have taken a decidedly different tack, but for the most part the right has reacted far differently in the immediate wake of the announcement in the Garner case than it has in other situations involving police violence including, most notably, the Michael Brown shooting. Perhaps its because the video evidence in this case is so exceedingly clear that the fact that the Grand Jury could not even find probable cause for a lesser charge like criminally negligent homicide has laid bare the fact that the laws that apply to police are deficient in a fundamental and important way and that, while race is an important factor here, the bigger issue is the way that the law excuses abusive and seemingly criminal when its committed by someone carrying a policeman's badge.
At the same time, though, there has been what seems to me like an odd disconnect by some on the right who have tried to argue that what happened in the Garner case is about things that seem entirely tangential to what happened that day in July, such as New York's high cigarette taxes:

Republican Sen. Rand Paul says that politicians and taxes are to blame for the police chokehold death of Eric Garner.

"Obviously, the individual circumstances are important, but I think it's also important to know that some politician put a tax of $5.85 on a pack of cigarettes, so they've driven cigarettes underground by making them so expensive," the Kentucky Republican said Wednesday on MSNBC's "Hardball with Chris Matthews."

He continued, "But then some politician also had to direct the police to say, 'Hey, we want you arresting people for selling a loose cigarette.'"
Here's the video of Paul on Hardball Wednesday night:
Robert Tracinski largely makes the same argument Senator Paul does:
The thing that strikes me as most important about the Garner case is how stupid the reason was for arresting this guy: he was being busted for selling single, "loose" cigarettes in order to evade heavy taxes on tobacco products. Basically, he was arrested for doing something that, in a previous era, thousands of people would have been doing in New York on any given day: selling goods on the streets of the city without any particular permission. It's a low-grade form of entrepreneurialism.

But not in the nanny-state New York of today. In a city where everything is taxed and regulated and you can't put trans-fats in your food or buy a soda that's too large, it makes perfect sense that they would harass a guy for selling cigarettes on the streets without permission. After all, they're bad for people. Somebody might die.

This case is a reminder that, as Twitter user Bill Hobbs put it, government is force, and more government equals more force. Government is not a benevolent authority working bloodlessly behind the scenes to ensure seamless social harmony. Government is a guy giving you orders about what you can't do—with a gun on his hip, handcuffs at the ready, and a muscular arm to wrap around your neck if you resist.

(…)

We should remember that whenever the police use force, there is the danger that they will kill someone, whether through malice, poor judgment, poor training, or sheer accident. From time to time, they're going to shoot the wrong person or wrestle a guy to the ground without knowing that he has serious health problems and can't survive this kind of rough handling. That is one good reason (among many) to make sure that police are only authorized to interfere with someone whose actions are a threat to the lives and property of others, and not just to enforce some dumb, petty regulation.

The contradiction of the left is that they want to inject government into every little aspect of our lives and mandate that the police confront us all the time over everything—and then they scream when some of those confrontations go wrong. In this way, they are not only hoping for a new series of contentious, racially charged killings. By extending the reach of government and the omnipresence of police power in our lives, they are creating the conditions that make those cases inevitable.
As does J.D. Tucille:
You want a society taxed and regulated toward your vision of perfection? It's going to need enforcers. Those enforcers are going to interact on a daily basis wth people who don't share that vision of perfection, and who resent the constant enforcement attempts. They'll push back to greater or lesser extents. And the enforcers will twist arms in return to frighten people into obedience. People will be abused and some will die.

(…)

Those enforcers aren't an equal problem for everybody. They spare the people who pay them to look the other way. They give a pass to friends and relations. But they often take a dislike to individuals or whole groups that rub them the wrong way or cause them extra grief. Poor minorities, in particular, are aways on the short end of the stick when it comes to dealing with cops. When they break petty laws, they don't often turn enough profit to grease police palms enough to be left alone, they don't have the political power to push back, and at least some of the enforcers have a hard-on for them anyway.

Government, at its core, is force. The more it does to shape the world around it, the more it needs enforcers to make sure officials' wills are done. "The law is the law," says New York City Mayor Bill de Blasio, but it's creatures like him who make so much damned law. And then they send the likes of Officer Daniel Pantaleo to make sure we comply. Or else they might kill us.
Before diving too far into this argument and whether it misses the real point of the Garner case, it's important to note that we don't really know for sure that it was Garner selling so-called "loosies" that was at the heart of his confrontation that led to his death in July. Certainly, it is true that Garner had a record of previous arrests for selling untaxed and loose cigarettes on the street, and some suggestion that he may have had run-ins with the officers involved in the incident at issue in this case. However, it's not clear that this was the reason for the confrontation on that particular day. Some reports have suggested that it may have had its roots in Garner breaking up a fight between two other people over unstated issues, other reports have suggested it may have been rooted in the personal history between him and the neighborhood beat cop, who was involved in the incident in question but was not the officer who applied the hold that led to Garner's death. Unless and until more information is released about what was presented to the Grand Jury is made public, which may not be possible under New York State law, we can't be sure what was led to the fatal confrontation, although if you watch the two videos I posted on Wednesday evening — see here and here — it seems clear that there was some kind of history between Garner and one or more of these officers that may have contributed to what happened. To say, then, that Garner died because of the laws against selling untaxed cigarettes seems like an incomplete explanation from what happened and seems to be assuming the existence of facts that have not been established on the public record.
There are some relevant points in the arguments that Paul, Tracinski, Tucille make above, but their insistence on focusing on the issue of cigarette taxes to such a large degree misses the broader point.  As you create more laws for the police to enforce, you inevitably increase the number of potential confrontations between police and the citizenry, and quite often that occurs in the context of behavior that is, in the end, victimless or at least so de minimis that one ought to question whether it justifies arrest and aggressive enforcement. That's an issue that has arisen in New York City quite often over the past fifteen years or more as police have been asked to enforce so-called "quality of life" crimes that don't really involve threats to person or property on the theory that creating a zero tolerance policy toward law breaking discourages more serious violations of the law. Many people give this method of policing a large degree of the credit for "cleaning up" many areas of New York City such as Times Square — although in that particular case I'd argue that large scale commercial development that has displaced the seedier businesses the area was famous for in the 1970s is the main reason for that — but it is also at the root of more controversial aspects of policing in the city, such as the "Stop and Frisk" program which has been shown to overwhelmingly impact minorities rather than whites. The important point, though, has nothing to do with taxes and everything to do with the fact that police are being asked to "clean up" a neighborhood by targeting activities as seemingly minor as selling loose cigarettes or guys running a three card monty game on the corner. In other words, it's not the taxes that are the issue so much as the fact that police are pressured to be confrontational in seemingly benign situations, and then the fact that they are protected by the legal system when they do use force even in what seem to be clearly inappropriate circumstances. Another relevant point is that this enforcement of "lifestyle" crimes seems to be heavily concentrated in areas where minorities live, something which FiveThirtyEight finds to be particularly true of Tompkinsville, the section of Staten Island lived and where he died. Heavier enforcement in these areas, of course, means that there tends to be a more confrontational, adversarial relationship between the police and the community at large. Selective enforcement of the law, of course, is one of the many complaints that many of the people who have spoke out in the wake of Ferguson and the Garner decision have made quite clearly, and in many cases the data supporting them is quite apparent.
Senator Paul is not wrong that the cigarette tax laws in New York are largely silly, and there is plenty of evidence that the fact that they are so high has created incentives for people to act illegally to get around them, but he's missing the point. The Garner case is about the excessive use of force and the fact that police are not subject to equal justice under the law. Indeed, they get special, deferential treatment that allows them to get away with wrong doing on a daily basis. When things do go wrong, as they did in the Garner case, the responsibility for prosecuting them falls into the hands of a prosecutor who has to work with these same officers on a daily basis in order to move his or her cases through the legal system, something which arguably creates a huge conflict of interest for prosecutors. The fact that the police may be being asked to enforce too many petty laws is certainly an important question to consider, but in the end it is secondary to the real issue, which is the fact that there are two separate standards of justice and that is creating a level of distrust between the public and law enforcement that cannot be healthy. What law the police may have been enforcing when things go wrong is, in the end, secondary to all of that.