The F.D.A.'s Misplaced War On Trans Fats
The FDA is declaring war on trans fats. That's a bad idea on many levels.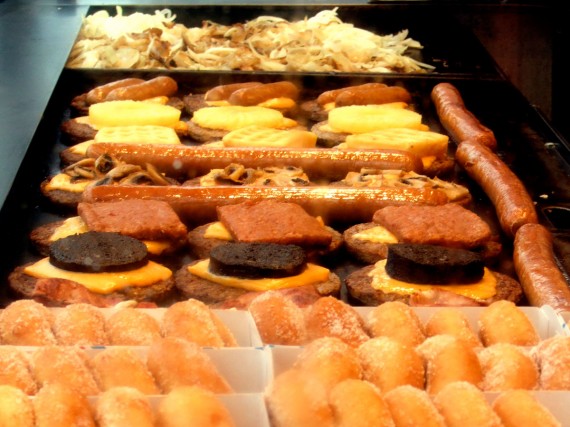 Late last week, the Food and Drug Administration announced what is effectively the beginning of a war against the use of trans-fats in the preparation of American food products:
The Food and Drug Administration proposed measures on Thursday that would all but eliminate artery-clogging, artificial trans fats from the food supply, the culmination of three decades of effort by public health advocates to get the government to take action against them.

Artificial trans fats — a major contributor to heart disease in the United States — have already been substantially reduced in foods. But they still lurk in many popular products, like frostings, microwave popcorn, packaged pies, frozen pizzas, margarines and coffee creamers. Banning them completely could prevent 20,000 heart attacks and 7,000 deaths from heart disease each year, the F.D.A. said.

"This is the final slam dunk on the trans fat issue," said Barry Popkin, a nutrition epidemiologist at the University of North Carolina, Chapel Hill.

The proposal is a rare political victory in an era when many regulations to protect public health have stalled. A landmark food safety bill took years to carry out, in part because it collided with the 2012 election season. And rules to regulate the tobacco industry are still stuck, four years after the law calling for them was passed. But just last month, the F.D.A. toughened restrictions on narcotic painkillers over industry objections. Thursday's announcement got the attention of food experts.

"The F.D.A. is back," said Marion Nestle, a professor in the department of nutrition, food studies and public health at New York University.

The agency has proposed that partially hydrogenated oils, the source of trans fats, no longer be "generally recognized as safe."

That means companies would have to prove that such oils are safe to eat, a high hurdle given that scientific literature overwhelmingly shows the contrary. The Institute of Medicine has concluded that there is no safe level for consumption of them, a conclusion that the F.D.A. cited in its reasoning.

The agency emphasized that the ruling, which is open to public comment for 60 days, was preliminary. But food producers seemed to take it in stride, in part because many had already made adjustments, and Dr. Margaret A. Hamburg, the agency's commissioner, signaled that the draft rule might be made final.

"Life has many uncertainties, but we are on a clear track," she said Thursday on a conference call with reporters. Michael Taylor, deputy commissioner for foods at the F.D.A., said, "We have solid evidence showing the need for today's action on trans fat."

Partially hydrogenated oils are cheaper than saturated animal fats like butter, and for years were thought to be healthier. They are formed when liquid oil is treated with hydrogen gas and made solid. They became popular in fried and baked goods and in margarine. Crisco, originally marketed in the beginning of the 20th century, was the archetype, although it now contains no trans fat.

But over the years, scientific evidence has shown they are dangerous because they raise the levels of so-called bad cholesterol and can lower the levels of good cholesterol. In 2003, the F.D.A. required that artificial trans fats be listed on food labels, a shift that prompted many large producers to eliminate them. Two years later, New York City under Mayor Michael R. Bloomberg told restaurants to stop using artificial trans fats in cooking; other places, including California, Cleveland and Philadelphia, followed suit. Many major chains, like McDonald's, found substitutes and eliminated trans fats.

Those actions led to a stunning reduction in consumption: Americans ate about one gram a day last year, down from 4.6 grams in 2006. A report from the Centers for Disease Control and Prevention found that blood levels of trans fatty acids among white adults in the United States declined by 58 percent from 2000 to 2009.
As Michelle Minton notes, this announcement is important not just because of what it means for trans fats, but what it could potentially mean for everything from sugar to salt:
The de facto ban on trans fat's GRAS status signals a sea change in the agency's approach to food-safety regulation. Historically, the FDA has banned only additives and products that could be acutely dangerous to public health. FDA attempts to limit other ingredients, such as salt and sugar, have met public backlash, but it's unlikely many will step up to defend trans fats, considering the scientific evidence that seems to link its long-term consumption with a slightly increased risk of cardiovascular disease.

Since almost any food can become dangerous if consumed in excess over an extended period, this move would set a precedent for the FDA to go after other food ingredients. Unsurprisingly, self-styled "public health" advocates — always at the forefront of nanny state regulatory efforts - are elated at this prospect.
As Minton and others have noted in the days since the FDA's announcement, the ironic part of this news is that it wasn't that long ago that trans fats were being heralded as a better alternative to animal fats, an attitude among the health community that was behind the heavy commercial push for the use of margarine over butter, for example. Indeed, many of the groups now pushing the FDA and governments to ban the use of trans fats based on the relatively recent research were, just 20 an 30 years ago, pushing the FDA to encourage the use of trans fats as a "healthy alternative" to animal fats when it came to orchestral and overall heart health. In other words, as Jonathan Adler points out, it was the "food police" that caused the nations food supply to become heavily laden with trans fats. Over time, though, consumers themselves have made choices that have led many food companies to voluntarily begin to remove trans fats from their products, or at least to reduce them substantially. It wasn't an FDA rule, for example, that caused Crisco to remove trans fats from its products, that came about because of the changing nature of the marketplace thanks to new information that called into question the research that "food safety advocates" to go to war against animal fats back in the mid-1980s. Finally, as Minton points out, the current research on trans fats isn't nearly as clear as the FDA and "food safety advocates" would lead people to believe. The most recent study by the World Health Organization on the use of trans fats, for example, finds that while there is evidence that increased consumption of trans fats does increase certain risk factors, there simply isn't any evidence showing a correlation between increased use of trans fats in cooking and increased risk of cardiovascular disease. Given this, and given the fact that the scientific evidence itself seems far from certain, one wonders why it's at all necessary for the FDA to get involved in this process.
Moving this debate beyond trans-fat's though, one has to wonder what food ingredient the FDA wouldn't think it has the authority to regulate if its successful in this war on trans fats:
Ultimately, there are hundreds of foods and ingredients that if consumed in large enough quantities for a long enough period of time will result in negative health outcomes. The solution is not to ban them but to let consumers access information and make their own choices. Let nutrition groups petition companies to voluntarily list ingredients and offer healthier options if they like, but keep government out of the decision so consumers can make their own choices.

As the debate over trans fat shows, health advocates, research scientists and our own government often do not know what is best for us; individuals must decide for themselves.
Ultimately, it seems to me that this is the correct answer, and that the FDA is heading down an entirely inappropriate road here. Originally, this agency was founded in no small part in response to the revelations that had come to light during the era of so-called "muck-raking" journalism when writers such as Upton Sinclair brought to the nation's attention the conditions under which the food supply of an increasingly industrialized nation was being processed. It was also the time during which science was discovering the extent to which the improper preparation, transportation, and storage of food contributed to the spread of disease. It was to combat these issues, and to set some degree of national standards in the food industry that would limit the spread of disease, that the FDA was created.
Given that, it's unclear where, exactly, the idea of banning trans fats even fits into the mission that the FDA was created for, or whether it even has the statutory authority to undertake this action. Even if it does, though, it strikes me as being worthwhile to think twice before applauding this decision. If the FDA can ban trans fats, what's next? Sugar and salt content? Caffeine content? Will the "food safety advocates" find something else they claim to be dangerous that they'll want to have the FDA ban next. Rather than banning these products, it strikes me that the best alternative would be information. Give consumers the information they need to make informed decisions, and then let them make those decisions themselves. As recent developments at the grocery stores have shown, that most likely to lead to the spread of healthier alternatives, or at least to wider availability of options that people desire whether or not they have any positive health benefits (i.e., the recent rise of  organic and gluten-free products of every kind). And, in the end, if people make what some expert thinks is the "wrong" choice, then that choice ought to be accepted. Because that's what you do when you let adults in a free society decide things for themselves.