The Failure of "Starve the Beast"
The Republican talking point that lowering taxes lowers spending and raising taxes increases spending is denied by reality.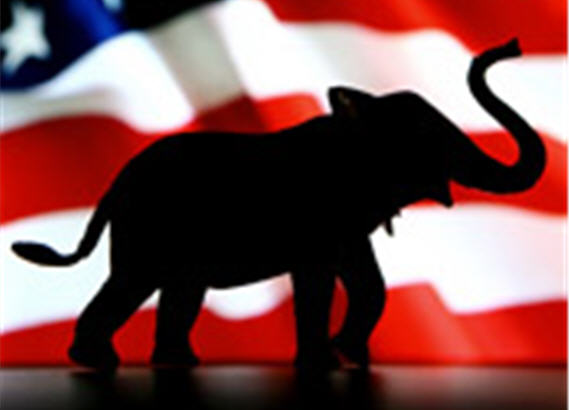 Bruce Bartlett points out that the "Starve the Beast" theory is empirically false.
When Bush took office in January 2001, we were already well into fiscal year 2001, which began on Oct. 1, 2000. He immediately pushed for a huge tax cut, which Congress enacted. In 2002 and 2003, Bush demanded still more tax cuts, even as the economy showed no signs of having been stimulated by his previous tax cuts. The tax cuts and the slow economy caused revenues to evaporate. By 2004, they were down to 16.1 percent of GDP. The postwar average is about 18.5 percent of GDP.

Spending did not fall in response to the STB decimation of federal revenues; in fact, spending rose from 18.2 percent of GDP in 2001 to 19.6 percent in 2004, and would continue to rise to 20.7 percent of GDP in 2008. Insofar as the Bush administration was a test of STB, the evidence clearly shows not only that the theory doesn't work at all, but is in fact perverse.
Moreover, as Bartlett rightly points out – historically speaking tax hikes lead to a decrease in spending, as well.
By this logic, the tax increase enacted in 1993, which raised the top federal income tax rate to 39.6 percent from 31 percent, should have caused a massive increase in the federal budget deficit. In fact, it did not. Spending was 22.1 percent of GDP in 1992 and it fell every year of the Clinton administration, to 21.4 percent of GDP in 1993, 21 percent in 1994, 20.6 percent in 1995, 20.2 percent in 1996, 19.5 percent in 1997, 19.1 percent in 1998, 18.5 percent in 1999, and 18.2 percent in 2000.

And contrary to another commonly-held Republican idea — that all tax increases reduce revenue via the Laffer Curve — revenues rose from 17.5 percent of GDP in 1992 to 20.6 percent in 2000.

According to Republican mythology, repeated by Moore and Vedder, the budget was balanced only because Republicans got control of Congress in the 1994 elections. But the deficit had already shrunk from 4.7 percent of GDP in 1992 to 2.9 percent in 1994. Budget experts who don't shill for the Republican Party generally agree that the budget reforms and tax increases of 1990 and 1993 — which were both enacted against strenuous opposition from almost every Republican in Congress — deserve the bulk of the credit for bringing down spending and the deficit with tough budget enforcement rules and higher taxes.
Read the whole thing, along with the associated published research. The Republican idea that we can cut taxes and somehow spending will magically decrease is obviously false. But equally important is the idea that tax hikes can go hand in hand with spending cuts to reduce the budget deficit and produce a surplus. A combination of tax hikes and spending cuts is what is required to bring the budget into balance. Any one who promotes tax decreases and deficit reduction is simply at odds with empirical reality.
UPDATE (James Joyner): Kevin Drum adds,
[W]hat makes it even more crackpotty is that basic economic principles, of the kind that Republicans are endlessly lecturing the rest of us about, predict the same thing. If you raise taxes to pay for government programs, you're essentially making them expensive. Conversely, if you cut taxes, you're making government spending cheaper. So what does Econ 101 say happens when you reduce the price of something? Answer: demand for it goes up.

Cutting taxes makes government spending less expensive for taxpayers, which makes them want more of it. And politicians, obliging creatures that they are, are eager to give the people what they want. Result: lots of spending and lots of deficits.

If you want to reduce spending, the best way to do it is to raise taxes so that registered voters actually have to pay for the services they get. I don't have a cute name for this theory, but it's true nonetheless.
I'm reminded of Cap Weinberger's observation on arms control agreements with the Soviets:  "We build, they build. We cut, they build."    We're essentially dealing with a variable here that doesn't vary:  The demand for increased spending.
Bill Clinton had the luxury of presiding over the early post-Cold War years and being able to cut the Defense budget by a third.  He also benefited mightily from the dot.com boom and the massive influx of tax revenue it brought in.  The latter bubble burst just before George W. Bush came to office and he burst the former himself, starting two incredibly expensive wars.  He also created a massive new entitlement program, though, in the Medicare drug benefit.
I agree with Alex (and Bruce Bartlett) that we're not going to get the deficit under control without both cutting spending and increasing revenues.  But we're probably not going to be able to do either in sufficient amounts to solve the problem.   We could weather very large cuts in Defense spending but that's not happening politically.  And the real nightmare is health care costs. There's no politically viable solution to that in sight.
And I'm not quite sure Kevin's right here.  Yes, tax hikes would make government more expensive.  But the politics are such that we'll raise taxes only on those earning high incomes — meaning 99 percent of the population will feel zero pain.
The bottom line is that, so long as someone else — whether it's "the rich" or future generations — is paying for our lavish government spending, the incentives for substantial reform are minimal.