The Final Numbers From New Hampshire, And A Prediction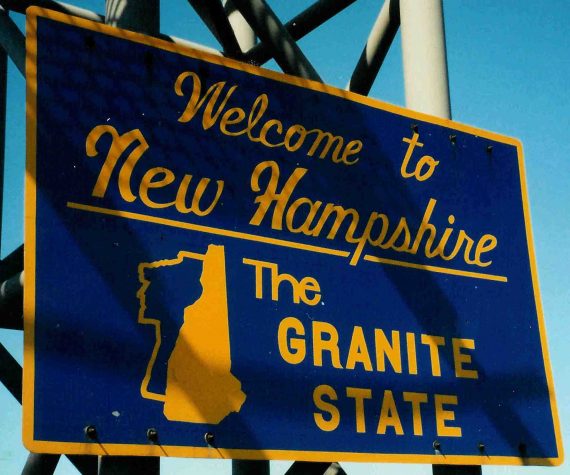 The Romney campaign is touting the results of the final Suffolk University tracking poll, which shows their candidate up four points over night to 37%, with Ron Paul at 18%, Jon Huntsman at 16%, Rick Santorum at 11%, Newt Gingrich at 9%. There's also a new Rasmussen poll this morning that shows Romney at 39%, Paul at 17%, Huntsman at 15%, Santorum at 13%, Gingrich at 12% and Perry at 1%
This leaves the final RealClearPolitics polling chart looking like this: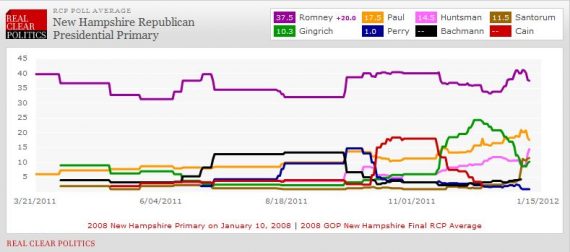 Looking at the polling charts from 2008, available at the link, we find that the final averages underestimated the actual results by a few percentages points, most likely because they weren't fully reflecting the last minute surge of voters to McCain. Similarly, there seems to be some consensus among observers in the Granite State that a last minute boost for Jon Huntsman could push him past Ron Paul into second place.
With that in mind, here's my prediction of how things will turn out tonight:
Mitt Romney — 39%
Jon Huntsman — 19%
Ron Paul — 16%
Newt Gingrich — 12%
Rick Santorum — 11%
Perry/Roemer/Others — 3%
I'm also predicting that Buddy Roemer will get more raw votes than Rick Perry. We'll see how it all turns out in about ten hours or so.