The Fourth Of July, Brought To You By China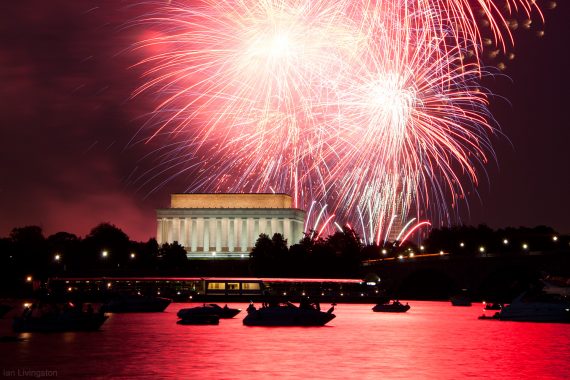 Chances are the fireworks that you may enjoy later today aren't exactly red, white & blue:
On Independence Day, celebrations across the United States depend on China.

The sparklers, bottle rockets and Roman candles you'll be using this Fourth of July almost certainly came from there. So did the professional-grade pyrotechnics that'll be launched above the Washington Monument on Friday night.

It's a quirky exception to "Buy American" sentiments that are otherwise going strong and picking up steam in Washington and corporate America, especially around patriotic events.

After all, Congress passed a law this year requiring flags flown by the U.S. military to be made in America. Ralph Lauren, meanwhile, scrambled ahead of this year's Winter Olympics in Sochi to make sure that Team USA's uniforms were all manufactured in the United States. And first lady Michelle Obama used U.S.-grown iris and quince blossoms at a state dinner for France in May, departing from the White House's typical practice of using imported flowers.

But fireworks? No change there. Over the past 35 years, China has grabbed nearly the entire U.S. market — with 98 to 99 percent of what consumers will buy this year being made there, as well as 75 percent of the "display" fireworks, which are used in big, public shows.

Fireworks are a big business, with $675 million in sales just to consumers who will shoot off their own products expected this year, said Julie Heckman, the American Pyrotechnics Association's executive director. Chinese imports are necessary, she said, because it's "very, very labor-intensive to make fireworks. Basically everything is still made by hand."

Environmental and safety regulations in the United States, she said, would force domestically made versions of the same fireworks to retail for 10 times as much as the Chinese imports, she estimated.

The industry's shift to Chinese production came about shortly after the United States and China reestablished trade ties in 1979. By the early 1990s, the country was generating more than $60 million in annual sales from pyrotechnic exports to the United States. By 2013, the United States was importing $213 million worth of fireworks — virtually all from China.
Given that the Chinese invented gunpowder to begin with, I suppose there's something appropriate about all of this. Personally, it doesn't really concern me all that much where consumer products come from. In the end, international trade benefits all of us. At the same time, though, I'm sure some people will express outrage, faux and otherwise, over the fact that fireworks aren't made in America anymore.
In that case, though, we probably shouldn't tell them about the American flags.