The GOP Is Now Controlled By Its Conservative Base
More than any other time in the past, the GOP is now firmly under the control of its most conservative members.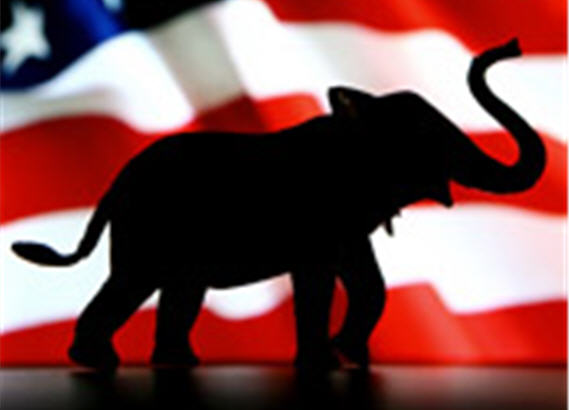 As part of a long article about why the GOP has found it hard to compromise on fiscal issues, both during the ongoing debt ceiling negotiations and during the FY 2011 negotiations earlier this year, Nate Silver provides this chart of likely Republican voters in races for the House Of Representatives: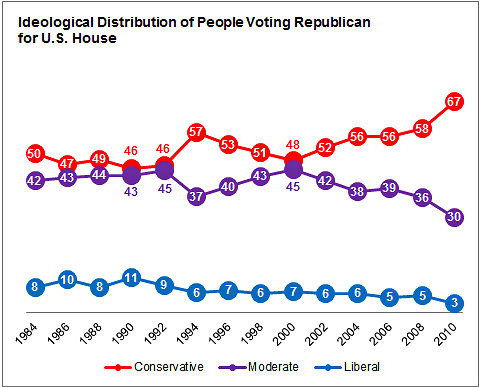 Whereas self-identified moderates constituted roughly 40% of the Republican electorate up until roughly 2002, in the most recent House elections, they constituted only 30%. Moreover, in 2010 especially there was a noted enthusiasm gap between conservatives and moderates, which is one of the main reasons that the GOP won control of the House. As Silver noted, if voter turnout had been the same as it had been in 2008 or 2006, the GOP's gain would have been roughly 27 seats, a gain but short of what they would've needed to gain a majority. The consequences, it would seem are rather obvious:
This is why Republican politicians find it difficult to compromise on something like the debt ceiling, even when it might seem they have substantial incentive to do so. Republicans are still fairly unpopular — only about 40 percent of Americans have a favorable view of the party, which is barely better than their standing in 2006 or 2008 (although Democrats have become significantly less popular since then). As long as conservative Republicans are much more likely to vote than anyone else, the party can fare well despite that unpopularity, as it obviously did in 2010. But it means that Republican members of Congress have a mandate to remain steadfast to the conservatives who are responsible for electing them.
Things don't work the same way, of course, in Senate or Presidential elections, but has long as the House GOP stay attached to their conservative base they will continue to play the role they've been playing since January. Right now, compromise is a bad word among the conservative base and tax increases are seen as  evil incarnate. Hence, you see the House GOP acting like they control the Senate and the White House as well, and asserting, at least in public, that they aren't really interested in compromising with the opposing. That may be smart politics, but it isn't smart governing.
John Sides at The Monkey Cage tends to disagree with Silver and points to other factors that influence Republican representatives:
Here's a more important caveat: Republican members of Congress are more conservative than Republican voters.  In fact, representatives from both parties are more ideologically extreme than voters in their parties.  That's the conclusion of a recently published paper by Joseph Bafumi and Michael Herron (gated; ungated).   In their study of the 109th and 110th Congresses, they use a large national survey that asked voters their positions on key roll call votes taken in Congress.  Thus, Bafumi and Herron can measure the ideologies of voters and members on the same scale.  Once they do so, representatives emerge as far more extreme.

(…)

In general, I don't think we get very far attributing the Republicans' reluctance to compromise on the budget to what their constituents want.  It likely stems much more from the opinions of interest groups and activists, which have become ideologically polarized (pdf) and which play a crucialrole in selecting candidates.  Or it stems simply from the ideologies of members themselves.  People underestimate how much the behavior of politicians is sincere.
No doubt there are true believers among the House GOP caucus who are, arguably, more conservative than their constituents. Ron Paul and Michele Bachmann come to mind most immediately, and they've both been in Congress since before 2010 (in Paul's case nearly two decades). They likely manage to stay in office because most people vote for their Member of Congress based on what they do for the district as much as, if not more than, their general political ideology. Both Paul and Bachamann have reputations of being fairly aggressive on constituent services issues.
Nonetheless, I don't think we can discount the impact that the ideological makeup of the GOP electorate can have on the behavior of the caucus, especially when a single deviation from the conservative path will  subject them to denunciation from the likes of Rush Limbaugh and Sean Hannity. It makes it hard to do the right thing when making a tough choice means you could end up getting primaried by a more conservative candidate. Whether that's good for the party, or the country, is another question.