The Government-Liberty Connection: Looking to the Founding Documents
The "Founders" founded a government and the "Framers" were framing the basic structure thereof. This should be obvious.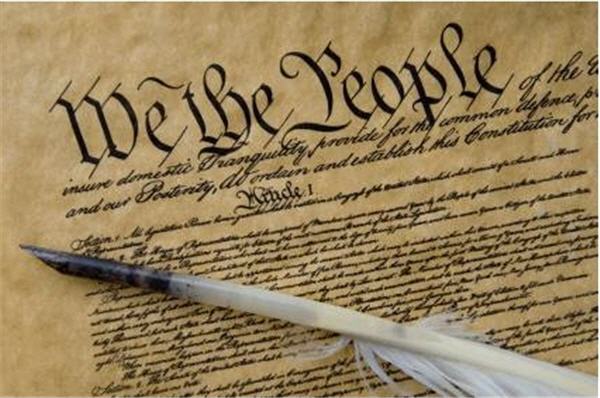 I have noticed, both in the rambling discourses of Cliven Bundy and especially in the defenses spun by his supporters, a strange disconnect between the issue of the ability to enjoy our liberties and the role of government.  To wit:  many try to divorce the two. Now,  it is true that the presence of government means some loss of liberty (it is, after all, impossible to have perfect liberty if there are rules to follow), but the question become, rather importantly, does perfect freedom actually lead to a life worth living?
Most philosophers, including those who directly influenced the thinkers of the US founding, including, but not limited to, Thomas Hobbes, John Locke, David Hume, and Montesquieu, all thought that some level of government was needed to allow for the enjoying of natural liberties. And, indeed, the Founders of the US republic thought so as well.
For example, while many like to quote the following from the Declaration of Independence:  "We hold these truths to be self-evident, that all men are created equal, that they are endowed by their Creator with certain unalienable Rights, that among these are Life, Liberty and the pursuit of Happiness."  They fail to quote the very next line:  "That to secure these rights, Governments are instituted among Men…"
In other words, Jefferson and the committee that penned the document (cribbing Locke) made an explicit connection between the enjoyment of our liberties and the creation of government (something that, by definition, also could restrict our liberties by making laws to bind our behavior).
We can also turn to the Preamble of the US Constitution:
We the People of the United States, in Order to form a more perfect Union, establish Justice, insure domestic Tranquility, provide for the common defence, promote the general Welfare, and secure the Blessings of Liberty to ourselves and our Posterity, do ordain and establish this Constitution for the United States of America.
Note that to "secure the Blessings of Liberty" requires the establishment of a constitution, which is the establishment of government.
Anyone, by the way, who thinks that perfect liberty without any kind of legal structure is a functional alternative, consider what driving would be like without the traffic code.
Yes, all of this should be obvious.  However, it is not to too many (including some of the commenters on OTB, it would seem).  Too many are so thoroughly protected by the nearly invisible workings of government around them that they can pretend like only the inconveniences of government exist (like the Cliven Bundy's of the world and his supporters).