The Great Disappointment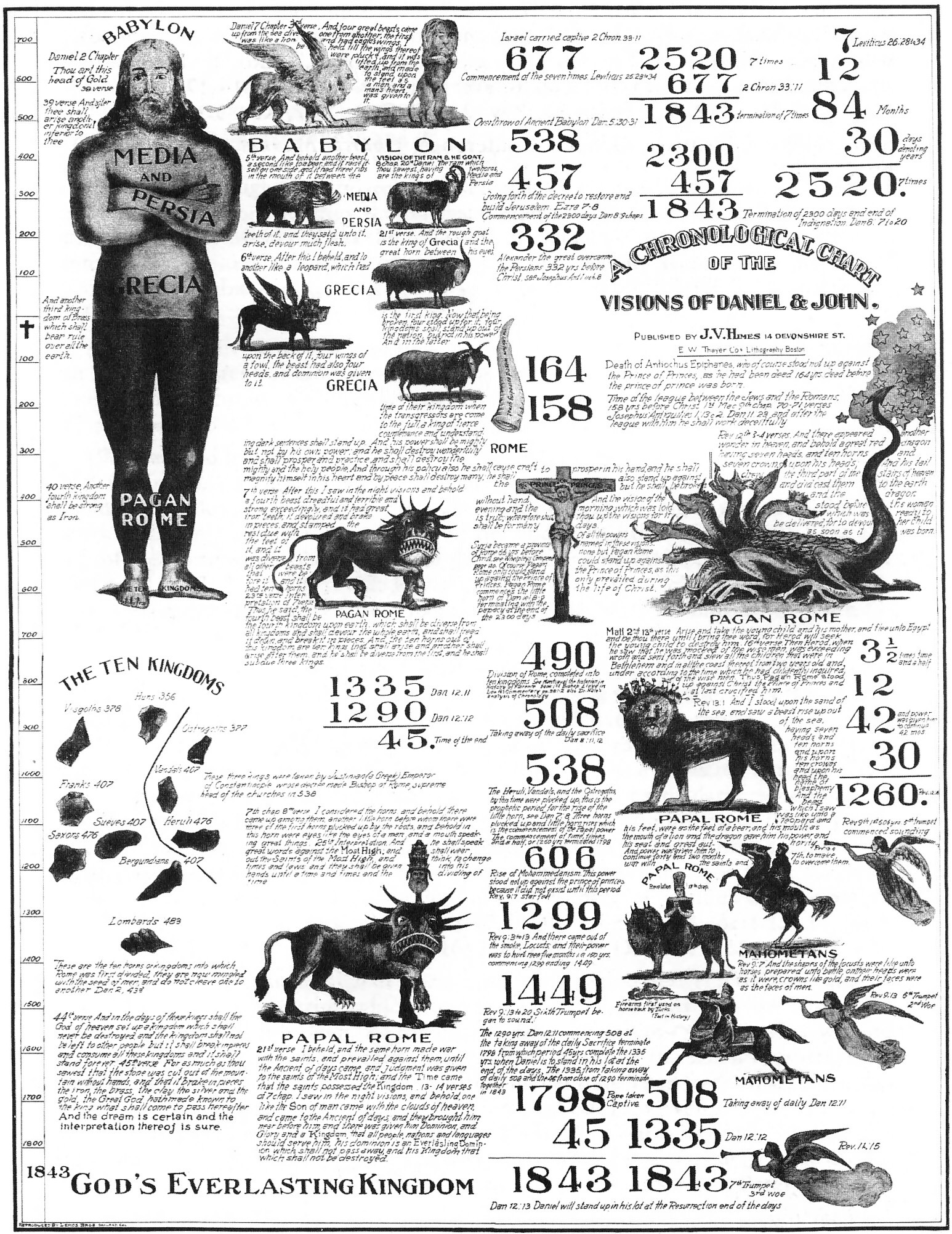 On October 22, 1844, followers of the Baptist preacher William Miller waited for Jesus to return, ending the world as they knew it. Some had left their possessions behind, abandoning their fields or giving away what they owned. When midnight came, and the world didn't end, they were naturally confused, distraught, afraid. What went wrong?
Miller had calculated the date of the apocalypse based on Scriptural references and real-life events, such as the French Revolution, that were supposed landmarks on the road to Christ's return. The obvious explanation of what became known as The Great Disappointment was that the calculations were wrong. There was nothing wrong with the thesis, of course. It was just that Jesus needed to do some preparatory work on October 22 before the big event that the Millerites had expected too soon. Rather than abandoning their faith, most of Miller's followers stuck with it, gathering new adherents in what became the Seventh Day Adventist Church.
Aside from formalizing this new Christian sect, The Great Disappointment became a prime example of what Leon Festinger termed cognitive dissonance, the human mind's astounding (and more than a little frightening) power to resolve obviously conflicting beliefs.
Cognitive dissonance has always been a part of politics, and it won't stop on November 3, 2020. Many die-hard Trump supporters have already resolved many contradictions in their minds — the billionaire who is really just like them, the corruption fighter who is massively corrupt, the manly man who is also an aggrieved whiner, to name but a few. If he loses this election, they will not be forced into a re-evaluation of their beliefs, especially since there is a huge formal media and social media apparatus already in place to sustain their worldview. In their minds, the forces of darkness will have won this battle, but the war goes on. They will still be the real Americans, and perhaps their electoral loss will be further proof of that. If they weren't, then the diabolical armies of liberals and Antifa hooligans would not have stolen the election from them, through whatever means fits their current conspiracy theory.
A contributing element to this cognitive dissonance is the political version of the green needle/brainstorm phenomenon. It's not merely that die-hard Trumpites have different facts, they also do not see the facts shared with the rest of the country the same way. Even public intellectuals who favor Trump, such as Victor Davis Hanson, don't see facts the same way other people do. Speaking as if Fox News did not exist, Hanson complains in his pre-election collection of cognitive dissonance moments, "Is this even an election year, a campaign with two candidates? Is there a media Left, or is it a Big Tech/Big Media ministry that rents itself out to the most opulent left-wing candidate, and now assures that what is aberrant is perfectly normal?"
In short, people get ready. Average citizens who support Trump will look for ways to renew their faith. Their enablers, elected Republican officials, aren't likely to be "chastened" by Trump's loss, just as they weren't when their party lost seats in past elections. While the formal transfer of power may happen, with Trump vacating the Oval Office, Trumpism is likely to live on, and perhaps evolve.