The Healthiest Place To Live Is, New York City?
Sarah Kliff passes along a chart showing that the residents of New York County, the island of Manhattan, have the highest life expectancy in the country: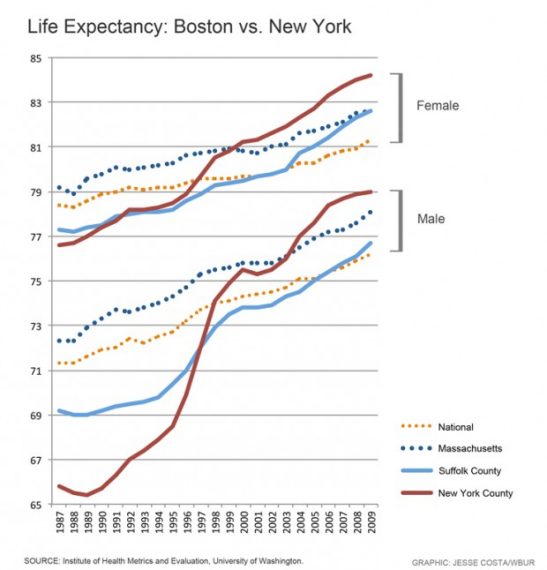 A study in the British medical journal The Lancet, from which the chart is taken, gives some credit for this development to Mayor Michael Bloomberg's various public health initiatives, but it strikes me that the explanation is far broader than that:
Nor are all the gains New York City made in the 1990s replicable elsewhere. At the beginning of that decade, the population's life expectancy was sinking under a heavy burden of HIV/AIDS-related mortality and a wave of homicides. But over the next 10 years, as murders plummeted 75% and new antiretroviral therapies radically improved outcomes for people living with HIV/AIDS, the population's life expectancy rebounded. The city can be credited with reducing crime and making HIV treatment accessible, but those changes can't drive further increases in life expectancy once homicide and AIDS mortality are low.
One has to also think that the influx over the past decade of young, well-off, high-earning people, especially in Manhattan proper has some impact on all of this. All in all, though, it's somewhat of a surprise. After all, wouldn't one expect life expectancy to be higher someplace out West?