The Horrors of Having to Think Differently
Thinking can be an uncomfortable exercise.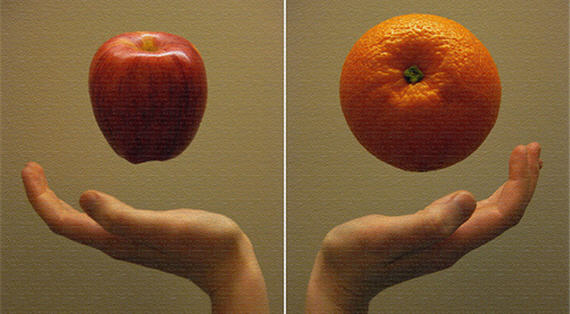 The headline at The College Fix is quite dramatic:  STUDENTS TOLD TO DISAVOW 'AMERICAN-NESS, MALENESS, WHITENESS, HETEROSEXUALITY'
The first paragraph elaborates thusly:
A political science professor at Butler University asks students to disregard their "American-ness, maleness, whiteness, heterosexuality, middle-class status" when writing and speaking in the classroom – a practice the school's arts and sciences dean defended as a way to negate students' inherent prejudices.
Ann Althouse rightly notes, however:
Disregard? The headline said "disavow." There's a big difference between disavowing something and disregarding it.  But "disregard" isn't even the teacher's word. What is the teacher's word? I'm guessing, from reading this far, that the teacher would like students to become aware that their attitudes and opinions come from their own perspective and to enlarge their field of vision.
Indeed, the story goes
The syllabus of the class, called Political Science 201: Research and Analysis, goes on to ask students "to write and speak in a way that does not assume American-ness, maleness, whiteness, heterosexuality, middle-class status, etc. to be the norm." It is taught by a black, female professor.
So, from "disavow" to "disregard" to "write and speak in a way that does not assume" the listed items are the norm.  So, while there is quite a freak-out going on on several blogs at the moment,* let's take a deep breath and think this through.
I would note, that I am an American heterosexual white male of middle-class status, so I am of the demographic allegedly under "attack" here.  However, let's consider the possibility that maybe, just maybe, all of those are categories of power/privilege and that, perhaps, if one wants to actually understand the world one has to accept that they are categories of power/privilege and that understanding requires being able to step outside thinking from the perspective that assumes everyone comes from that same position.
And before there is some massive overreaction to the power notion, as many white males can note that they, themselves, don't feel all that powerful, there is no debating the fact that as a historical class that white heterosexual men from the United States have been a privileged class.
Take a simple example:  voting.   Setting aside the sexual orientation and nationality variables for the moment, it is worth pointing out that white men with income never had to fight for the right to vote in the United States.  There was never need to amend the constitution, pass laws, or win lawsuits for that class of person to vote.  No movements were necessary.  No protests had to be called.  As such, it might be useful, to take a contemporary example, to look beyond one's own experiences when considering why it might be that some citizens find various attempts at voter id rules or curtailment of early voting to be problematic.  If one comes from a class that never had to fight for voting rights as well as coming from a background in which having a driver's license (as well as to an automobile) is common, then it is quite easy to puzzle over why some people object to these rules.
If one is a heterosexual, one never had to grow up worrying about social acceptance for one's sexual preferences—indeed, the culture confirmed and encouraged it.  A heterosexual's basic identity is never questioned, not by the law nor the culture.  Heterosexuals never have to worry about their access to choosing a spouse being the subject of a public vote, for example.
Or, put another way:  if one assumes that every single human being experiences the world from the perspective of the white heterosexual American male, then one is likely not to understand things like the significance of the civil rights era, of DOMA, of the difficulties of political development, of the politics of contraception, of role and impact of a host of social polices, of the implications of US foreign policy, etc. (indeed, it is a far longer list than this).
There are at least two common clichés that can used here:
1.  Where you sit is where you stand.
2.   Before you criticize a man, walk a mile in his shoes.
These are not controversial concepts (they are the kind of thing one's grandma's says), and indeed, true learning requires being able to see other viewpoints.  If one stubbornly insists that the experiences of all are identical to those of American heterosexual white males from the middle class, then one is wearing blinders.
As such, the freak-out here is ridiculous.
Back to Althouse:
It's easy to point at the probable and amusing irony: He read the syllabus from the perspective of a white, middle-class, heterosexual, American male. Maybe he'd benefit from experimenting with reading it from different perspectives. The teacher said do not assume and he assumed a lot (as far as I can tell).
Indeed.  (Althouse has some criticism of the prof as well, which you can read at the her site).
One of the things I find telling about the reaction that this syllabus has created for some:  it speaks of a deep insecurity that makes no sense (and, ironically, underscores a profound lack of self-awareness).  This is no doubt that to be American, white, male, heterosexual, and middle-class are positions, as noted above, of power.  Persons in position of power ought to be able to step outside their self-perception with a great deal of safety.  If the heterosexual actually going to lose, say, his right to a heterosexual marriage if he manages to think from the perspective of a homosexual?  Will his bank account be drained if he considers that maybe not everyone grows up with an adequate amount of income and material well-being?  The list goes on, and a serious consideration of said list should underscore how absurd over-reaction to this course actually is.
In summation:  it is historically the case that American, white, heterosexual males have been a privileged category (even if members of that group do not always feel like this has been the case).  One cannot understand the world if one never learns that not everyone experiences the world from the perspective of that group.  This should not be controversial (and members of that group need to stop being insecure).
*It would seems a lot of those freaking out didn't really read past the headline, to be honest.  My fav is a reader e-mail quoted on InstaPundit:  "That is the scariest story I have ever read."