The Housing Bubble Collapse Isn't Necessarily Finished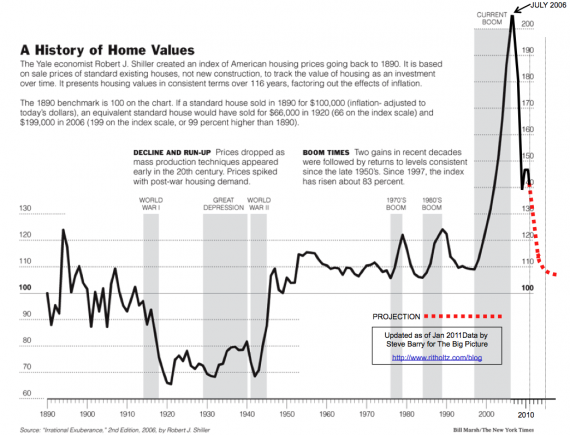 One of the co-founders of Case-Schiller home price index says that we may have a long way to go before the housing market hits bottom:
Robert Shiller, the economist who co- founded the S&P/Case-Shiller index of U.S. home prices, said a further decline in property values of 10 percent to 25 percent in the next five years "wouldn't surprise me at all."

"There's no precedent for this statistically, so no way to predict," Shiller said today at a conference hosted by Standard & Poor's in New York.

(…)

A model for the U.S. may be Japan, where home prices fell for 15 years after that country's real estate bubble burst in the early 1990s, Shiller said.

"They lost close to two-thirds of their value," Shiller said. "Then they went up for one year in 2006 and then they started going down again."

Forecasting home prices is impossible because there's no historical precedent for the real estate bubble of the 2000s and the subsequent price drop, Shiller said.

"In real terms, there has never been a bust of this proportion," he said. "Even in the Great Depression, home prices fell nominally approximately almost as much as they did recently. But that was with all prices falling. So real estate prices didn't go down hardly at all during the Depression."
In other words, we don't know what's going to happen next, and the housing market is likely to get worse before it gets better. Given the exit to which housing influences so many other parts of the economy, that doesn't bode well at all. It's worth noting, for example, that Japan's "Lost Decade" impacted much more than real estate.
Is that where we're headed? If we are, then it's worth noting that part of what made the Long Decade worse was the numerous attempts by the Japanese government and Central Bank to re-inflate the bubble, which seems to be what many in Washington want to try to do. Let's not make the same mistake twice hoping we'll get a different result.