The Inevitable "Third Party" Debate Returns
Like clockwork, the arguments for creation of a third party are popping up again.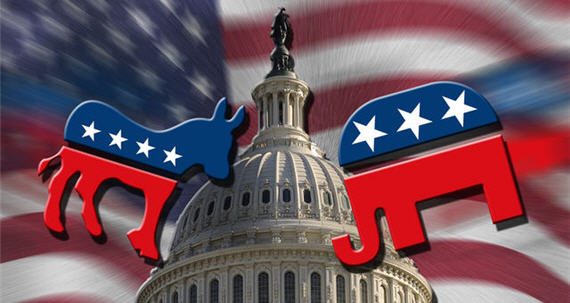 With all the headlines recently about public dissatisfaction with government, and evidence coming every day from Capitol Hill of the seeming inability of the two political parties to get anything done, it was inevitable that we'd once again hear from someone calling for creation of a new political party that represents the "real desires" of the American people. Usually, it's New York Times columnist Thomas Friedman who, as James Joyner has frequently noted here at OTB, is in favor of the creation of a political party that agrees completely with Thomas Friedman. Today, though, it's Matt Miller, host of a radio show that I can't say I've ever heard of before, who makes the argument in yesterday's Washington Post. As with many of these arguments, Miller points out that one of the main reasons that Congress is unable to act on many important issues is because both parties are beholden to special interests and ideological cores that make it impossible for candidates to suggest otherwise reasonable reforms:
This goes well beyond the jobs crisis or the budget. Take education. Democrats can't say we need to fire bad teachers who are blighting the lives of countless kids, because teachers unions are the party's most powerful interest group. But Republicans can't say we need to raise salaries for new teachers substantially if we're going to lure a new generation of talent to the classroom, because that's admitting that money is part of the answer. Trouble is, we'll never solve what ails education without getting bad teachers out and paying up for new talent to come in. That means Democrats and Republicans can't solve the problem.

Or take health care. Republicans say the answer is to repeal President Obama's reforms — but they won't offer plans to insure more than 3 million of the 50 million Americans who lack coverage. Yet Democrats want to micromanage providers, protect the trial lawyers who bankroll their campaigns, and fully insulate people from the costs of their own care, assuring that there's no consumer brake on runaway costs. Again, Democrats and Republicans can't solve the problem.

Multiply this dynamic across every major issue and you'll see there's a staggering void in the debate. The parties act this way because their core constituencies have a stake in a failed status quo. But where does that leave the majority of us who are not in the Republican or Democratic base? Where does it leave the country?
The solution, Miller asserts, lies in groups like Americans Elect and No Labels and building "the infrastructure for a new politics of problem-solving," whatever that means. Miller even took the time to right a Stump Speech that might be delivered by a hypothetical third party candidate for President that hits on many of the same themes that those two groups have been talking about for the past year. Of course, the reality is that neither one of these groups gets very much attention outside of the talking head shows on MSNBC and and CNN, where Mark McKinnon is frequently trotted out to give the "independent" perspective on the problems that ail us. There's nothing explicitly wrong about the policies these groups advocate, or what's in Miller's hypothetical speech. It might even make a great campaign platform for the right candidate (although not any of the ones who will be running for President in 2012). The problem is that all this talk about third party's is, as usual, sheer fantasy.
Talk about a third party pops up in American politics from time to time, usually when the nation is heavily divided politically to begin with or when one party or the other has suffered a major electoral defeat. Not surprisingly, it usually seems to correlate with polls that show public confidence in government institutions on a decline. The two major political parties, these arguments always say, no longer adequately represent the views of the vast middle of the American electorate because they are too beholden to special interests or ideological zealots. It's an argument that has been made about both political parties many times over the past 30 years or so, and each time it has come to nothing.
The other argument that one hears from third party advocates is that one party or another is about to fall apart because the coalition that held it together was falling apart. Some asserted this would happen to the Republican Party after the Cold War ended and their was no Soviet menace to unite the social conservatives, fiscal conservatives, and libertarians that made up the activist base of the party in the Reagan Era. Similar arguments have been made about the Democratic Party over the years as the power of its labor union base has declined and population shifts have reduced the electoral power of its traditional power bases in the Northeast and Midwest. It never happened.
More importantly, despite the numerous critiques exactly like Miller's over the years the two party system that has existed in this country since the Presidential Election of 1856 remains intact, and there is no sign at all that it is going to be seriously challenged at any point in the near future. Several reasons account for this.
First of all, there have only been two other occasions in American history when a major political party collapsed. The Federalist Party essentially faded out of existence not long after the conclusion of the War Of 1812 due in no small part to their opposition to the war and their participation in the Hartford Convention, where the possibility of New England seceding from the Union was discussed. The Whig Party took the Federalist's place during the Jacksonian Era but collapsed in the mid-1850s over the issue of slavery. Since then, no major political party has collapsed in the United States. The Democratic Party managed to survive the Civil War and its association with secession, although it took from 1856 until 1884 for a Democrat to again regain the Presidency. Republicans took it on the chin in the Congressional Elections of 1974 thanks to Watergate, but they had the White House back in their hands a mere six years later. Say what you will about our current political problems, but they don't nearly amount to the problems faced in the 181o's and 1850's. Moreover, our two major parties today are far stronger than the Federalists or the Whigs ever were at the height of their power.
Second, there's no room in our political system for a viable third party that serves as anything other than the home of a core of highly ideological activists. Especially at the national level, each part of the government is biased in some way in favor of the creation of two political parties that represent broad coalitions, both in the manner in which candidates are elected and in the manner in which the institutions are governed. A House or Senate made up of significant numbers of members from more than two political parties would be unrecognizable in many respects and possibly unmanageable. When such members have been elected, the inevitable outcome is that they end up caucusing with one party or the other in exchange for committee assignments, and support for the bills that they'd like to introduce.
Finally, there's just something really odd about the kind of third party that Miller seems to be calling for. To say the least, it would be unlike any third party we've ever seen before. Traditionally, third parties have tended to be highly ideological and appeal to people committed to a particular set of ideas, you can see that in Eugene Debs and the Socialist Party, or to use more contemporary examples, the Libertarian Party or the Greens. Parties like this tend to have influence not by winning elections but by influencing the debate in ways that may not become apparent for many years. For example, many of the policy ideas that Eugene Debs advocated when he ran for President were later picked up by the Progressives and some were even implemented in what came to be known as The New Deal. The Libertarian Party has, arguably, been part of an ideological movement that has helped push the Republican Party away from its big government Rockefeller Republican tendencies. A party that appeals to the broad middle isn't going to accomplish either one of these things unless one of the two major party collapses, which, as I noted above, is unlikely to happen.
More than five years ago, our own James Joyner wrote about this topic at TCS Daily and made this observation:
Is it possible that the Democrats will be overtaken by the excitable "netroots" and veer so far to the left that they miss their golden opportunity to take back the Congress in November? Absolutely.

Conversely, could the Republicans interpret narrowly holding onto both Houses of Congress as a mandate to continue spending money like drunken sailors and grandstanding on issues like flag burning, gay marriage, and Terri Schiavo? You bet.

Neither trend, should it materialize, however, will continue for long. Catch-all parties exist for one thing only: To win elections. Historically, it hasn't taken take too many lost elections to cause a major course correction. In the modern information age, it doesn't take too many consecutive polls to cause strategy changes.

Modern political parties change identities as fast as Al Gore changes personalities. That fact simultaneously frustrates hard core partisans and yet ensures their long-term survival.
Precisely. If the Democrats survived the Civil War and the Republicans survived Watergate, there doesn't seem to be very much chance that our current troubles are going to shake them so far to the core that some new political movement will be able to rise up and take their place. Like them or not, they've been contesting elections together for the past 155 years and they're unlikely to disappear any time soon.