The Jan Brewer/Barack Obama Incident: The Video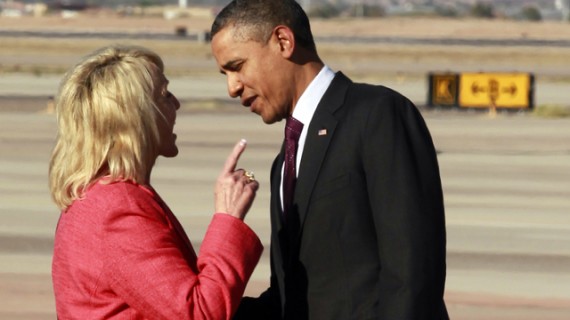 It doesn't necessarily add very much to what we've already heard about what happen, but the Associated Press has released video of President Obama's arrival in Arizona yesterday, and his encounter on the tarmac with Arizona Governor Jan Brewer. Unfortunately, the  President's limosene was between the cameraman and where the President or Governor were standing when the encounter took place so we don't get to see anything more than what the photograph shows:
Nonetheless, it brings to mind Brewer's description of the incident:
"I was trying to be very gracious to [Obama] and he just reacted in just a very negative manor of which took me back – kind of left me breathless to tell you the truth," Brewer said Wednesday night."I had written a hand-written note to him to deliver, welcoming him to Arizona and to thank him for being here and gave him the letter and he immediately took umbrage if you will with the book that I wrote 'Scorpions for Breakfast' and was somewhat disgruntled."
For whatever it's worth, when the President emerges from behind the limosene he does not exactly look like a man who took "umbrage" at much of anything. It's rather obvious that there isn't exactly a good relationship between the President and the Governor of Arizona, partly because the President apparently feels that Brewer misrepresented their Oval Office meeting in her book. At the very least, it's clear that the comments about the meeting in the book were very different from the comments she made after she actually met the President.
Judge for yourself, I suppose, but it should make the election interesting, because the Obama campaign has made no secret of its intention to treat Arizona as a state they believe they have a chance to win in November.