The NFL's $10 Billion TV Deal
Pandemic-induced recession? What pandemic-induced recession?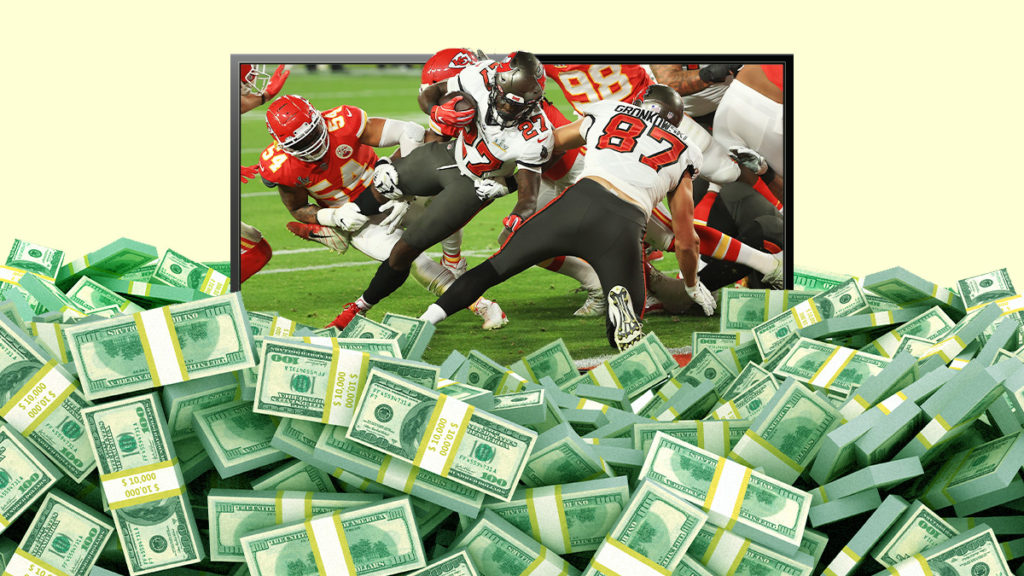 With March Madness kicking off, yesterday's announcement of the NFL's new broadcast deals has gotten less attention than it might otherwise have. Given an economy that ostensibly required another $1.9 trillion in stimulus, the fact that the League looks to more than double its take is truly remarkable.
ESPN's report ("NFL announces TV deals with ESPN/ABC, NBC, CBS, Fox, Amazon") from yesterday afternoon was curiously bereft of financial numbers:
The NFL announced a new set of national television deals Thursday, keeping games on ESPN/ABC, Fox, CBS, NBC, Amazon and NFL Network through the 2033 season.

The agreement keeps Sunday afternoon games on CBS and Fox, Sunday night games on NBC and Monday night games on ESPN, with some games also airing on ABC. For the first time, Amazon will be the exclusive home for Thursday night games, which will also be on over-the-air channels in the competing teams' home markets. NFL Network will also air select games.

ABC picks up two Super Bowls during the deal — the first in 2026 — with the other networks airing three each.

ESPN's package adds six games to the network during the season. There will be three Monday night doubleheaders — with games on ESPN, followed by a game on ABC. There will also be a Saturday doubleheader during the season's final weekend and one Sunday morning game streaming nationally on ESPN+.

ESPN, which has previously aired a wild-card playoff game, will add one game in the divisional round as well.

For the first time, ESPN's Monday Night Football will be able to "flex" games, starting with Week 12 of the season, to ensure better matchups. ESPN's package also includes the ability to include four teams up to two times each.

ESPN will also continue to televise the NFL draft, as it has since 1980, and the Pro Bowl. NFL PrimeTime will also return to ESPN+ on Sunday nights, streaming throughout the week.

"When ESPN and the NFL work best together, the results are transformational for sports fans and the industry," ESPN and sports content chairman Jimmy Pitaro said in a statement. "Some of the most remarkable collaborative examples have occurred in the past 12 months and have demonstrated the extraordinary range of The Walt Disney Company that is fundamental to this agreement. There are so many exciting new components, including Super Bowls and added playoff games, new end-of-season games with playoff implications, exclusive streaming games on ESPN+, scheduling flexibility and enhancements, and much more. It's a wide-ranging agreement unlike any we've reached with the NFL, and we couldn't be more energized about what the future holds."
AdWeek's Jason Lynch ("NFL Sets Huge New TV Deals With CBS, Fox, NBC, ESPN/ABC and Amazon Prime Video") filled in some blanks:
The new Disney deal is estimated at around $2.7 billion per year, according to the Wall Street Journal, up from the current $2 billion pact. Fox, CBS and NBC have all roughly doubled their current deals (Fox's averaged $1.1 billion per year, CBS' was $1 billion and NBC's was $950 million), while Amazon's deal is estimated at $1 billion annually.

One big NFL deal remains up for grabs: the NFL Sunday Ticket, which is currently with DirecTV through the 2022 season, but is expected to go to a streaming service.
John Ouran and Ben Fischer break it down more thoroughly for Sports Business Journal ("NFL's $10 billion media rights deals send jaws dropping and rattles the market for others"):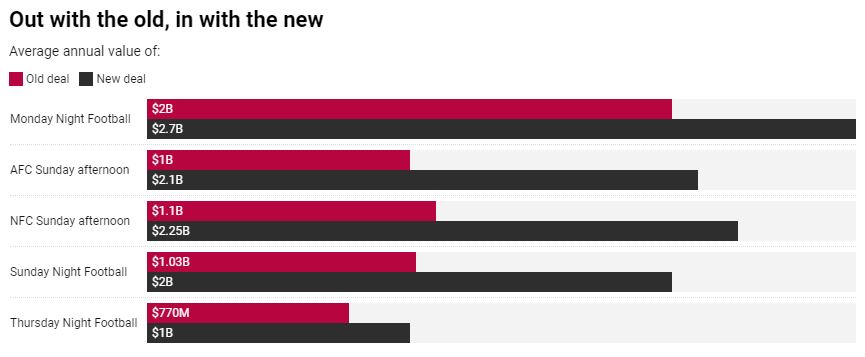 It's breathtaking to consider the numbers the NFL raked in. Fox more than doubled its rights fee to $2.25 billion per year; CBS saw its rights fee double to $2.1 billion; and NBC came close to doubling its rights fee to $2 billion. ESPN got the best deal — only a 35% increase. But it's still paying an eye-popping $2.7 billion per year.

Why did the media companies pay such big increases? Executives with each of the networks are quick to point out that the deals include many new rights, particularly with streaming.

"It's much bigger than a broadcast deal now," said CBS Sports Chairman Sean McManus. "It confirms the importance of broadcast television, but also acknowledges the enormous growth opportunity for our streaming product."
The NFL is far and away the most-watched content on American television, pretty much dominating the ratings from top to bottom. Indeed, a random Thursday Night game between mediocre teams will routinely outdraw NBA Conference Finals games featuring LeBron James.
Ouran and Fischer argue that the League and its owners won big time, securing their fortunes. ESPN won, too, because they managed to pay only a relatively modest increase in rights fees for much better content. (Monday Night Football, once the crown jewel of regular season NFL coverage, has long since been supplanted by Sunday Night Football and MNF was consistently getting dud games, with some charging the League was deliberately punishing ESPN for unfavorable reporting on its news programs.)
They also assess cord-cutters the winners because, "This deal enables most every NFL game to be available on one streaming service or another, giving fans without cable or an antenna better options."
Among the losers:
DirecTV
It's no surprise that Sunday Ticket was not included in this deal — the NFL has been consistent in saying that it wanted to wait to finalize its Sunday afternoon deals before turning its attention to its out-of-market package. When those negotiations start up in full, DirecTV not only will find a lot of competition from streaming platforms, it will be dealing with a league that has made a big bet on the future of streaming, judging by the fact that almost every game will be available via a streamer.

Ticket holders
The expansion of flex scheduling to include "Monday Night Football" will make it more difficult than ever for fans to plan around the in-person NFL experience. Imagine making plans to attend an out-of-town game one weekend only to find that the game is moved to Monday night.
From a strict utilitarian viewpoint, privileging the hundred million or so people who will watch a game on television or a streaming device over the hundreds of thousands who will see games in person makes sense. But it's definitely a flip of the switch on the old business model, which long enforced television blackouts in markets where stadia weren't sold out.
Beyond that, Ourand and Fischer note that the NFL isn't done cashing in, with several more streams yet to be settled:
■ Negotiate a new deal for the out-of-market "Sunday Ticket" package, which is widely expected to leave DirecTV and land with a streaming service. DirecTV is paying $1.5 billion annually for the deal that expires after the 2022 season.
■ Sign an exclusive gambling data deal, a contract expected to reach well into the eight figures. Sportradar is the incumbent and the favorite, insiders say, but Genius Sports is competitive. The league also expects to sign its first sportsbook sponsorship deal, becoming the last major league to fill that category.
■ Renew or find new sponsors in seven big-ticket categories currently worth more than $1 billion annually combined: Beer (A-B InBev); pizza (Pizza Hut); hotels (Marriott); headphones/consumer electronics (Bose); and PepsiCo's three deals (Pepsi in soft drinks, Frito-Lay in salty snacks, and Gatorade in sports drinks).
■ Owners will likely approve a 17th game at league meetings March 30-31, the first expansion of the regular season since 1978. That will push the Super Bowl to Feb. 13 (but not to Presidents Day weekend), cut one preseason game from the calendar, and generate at least $110 million in new ad revenue for networks, based on five windows in the last week of the season that generated $22.1 million in revenue on average in 2020, according to Standard Media Index estimates. Once the new media deals are in effect, the added game will also trigger a "media kicker" for players, whose share of revenue will increase from 48% to 48.5%, pushing the salary cap higher.
Good work if you can get it, I guess.