The Non-ending Joe Manchin Saga
Is the stalwart of Senate bipartisanship interested in governing?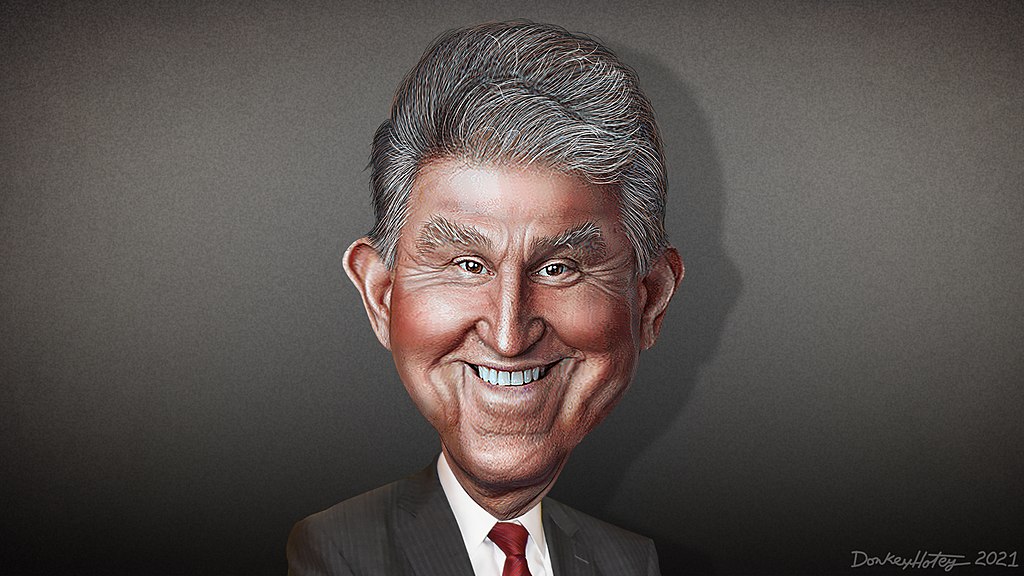 I have written a number of posts over the past year or so on the two Democratic Senators who are holding up President Biden's legislative agenda. With regard to Arizona's Kyrsten Sinema, whose ideological agenda seems all over the place and dresses in a way to call attention to herself, I've quit asking what she wants and written her off as an expert troll and attention whore. But Joe Manchin is different, right? He's a former governor who wears suits to work and simply has to represent a very red state with unique economic interests. Why, he has bipartisan gatherings on his houseboat and is trying to bring back the mythical Senate of yore, where across-the-aisle friendships were common and compromise was understood to be the order of the day.
Increasingly, though, Manchin, too, seems more interested in having stories written about him than actually getting anything done. And, boy, is he good at it.
CNN ("'A 50-50 Senate sucks': Dejected Democrats fret over agenda failure amid grim 2022 outlook"):
Anger is growing in Democratic ranks over the failure to get President Joe Biden's sweeping agenda through this year despite unified control of Congress, with their party already bracing for what could be a brutal Election Day in next November's midterms. Major issues they promised to deliver on, such as a bill to overhaul voting laws, stand virtually no chance of becoming law. And the biggest ticket item — the $1.75 trillion Build Back Better plan to dramatically expand the social safety net — is still mired in talks with West Virginia Sen. Joe Manchin, has yet to be drafted into final legislative text or even fully vetted by the Senate parliamentarian.Despite major accomplishments this year, such as passage of the $1.2 trillion infrastructure law and the nearly $2 trillion Covid relief package amid razor thin majorities in both chambers, there's a palpable sense of frustration among Democrats that much more should have been accomplished — especially given the array of promises they made to their voters and the self-imposed deadlines set by their leaders that they have blown.

Liberals are angry that they agreed to delink the infrastructure package from the Build Back Better bill — which they had for months insisted be passed in tandem before relenting under pressure from their leaders and Biden himself. Democrats of all stripes say they're alarmed by the actions of GOP-led states to restrict voting access, yet they don't have the votes in the Senate to overcome a Republican filibuster to enact a federal law. Other Democratic priorities, such as overhauling gun laws, have fallen by the wayside and completely off the agenda.

And all that comes amid this grim reality: Democrats face bleak prospects of holding the House next year and chances that the Senate could flip, too.

"This is why if you have a 50-50 split Senate, you can have one person, or two people, just stop everything and that is why people in our country should know that a 50-50 Senate sucks, and we can't get things done," Sen. Mazie Hirono, a Hawaii Democrat, told CNN.
AP ("Power of one: Manchin is singularly halting Biden's agenda"):
Sen. Joe Manchin settled in at President Joe Biden's family home in Delaware on a Sunday morning in the fall as the Democrats worked furiously to gain his support on their far-reaching domestic package.

The two-hour-long session was the kind of special treatment being showered on the West Virginia senator — the president at one point even showing Manchin around his Wilmington home.

But months later, despite Democrats slashing Biden's big bill in half and meeting the senator's other demands, Manchin is no closer to voting yes.

In an extraordinary display of political power in the evenly split 50-50 Senate, a single senator is about to seriously set back an entire presidential agenda.

"We're frustrated and disappointed," said Sen. Dick Durbin, the majority whip. "Very frustrated," said another Democratic senator granted anonymity to frankly discuss the situation Thursday.

[…]

The White House has insisted Manchin is dealing with the administration in "good faith," according to deputy White House press secretary Andrew Bates.

Manchin, though, has emerged as an uneven negotiator — bending norms and straining relationships because he says one thing one day and another the next, adjusting his positions, demands and rationale along the way.

Democratic senators have grown weary of their colleague, whose vote they cannot live without — but whose regular chats with Republican leader Mitch McConnell leave them concerned he could switch parties and take away their slim hold on power.

[…]

The senator appears to both relish and despise all the attention he has commanded over many months at Biden's home in Delaware with Senate Majority Leader Chuck Schumer, in regular visits with Biden at the White House and in his daily strolls through the Capitol, where he banters amiably, swats back questions or simply clams up — which becomes a statement of its own, leaving Manchin-whisperers to wonder what his silence means.

"I got nothing — n-o-t-h-i-n-g," he drawled to the reporters waiting outside the Democrats' closed door lunchroom Thursday as it became clear there would be no Christmas deal.

But between his endless hallway utterances is a consistent through-line in Manchin's months-long commentary about what he wants in — and out — of Biden's big package before giving his vote. The short version is he's not quite there yet.

Like the chief executive he once was — as governor of a state that surveys show ranked 47th in the nation for health care outcomes and 45th in education — Manchin ultimately decides where the attention goes next. And he has been effective.

So far, Manchin has gotten much of what he wanted: Biden halved what had been a $3.5 trillion proposal to $1.75 trillion, once Manchin gave his nod to that figure.

Manchin insisted the corporate tax rate Biden proposed raising to 28% would not inch past 25% — in fact, it ended up not being raised at all, thanks to opposition from another hold-out Democrat, Sen. Kyrsten Sinema of Arizona.

The coal-state senator insisted the new renewable energy incentives to fight climate change would not come at the expense of fossil fuels. The White House scrapped plans for a nationwide renewable energy standard that environmental advocates viewed as the most significant tool for curbing climate change.

And Manchin's demands for "no additional handouts" have limited some of the proposed social programs, and appear destined to tank plans to launch the nation's first-ever paid family and medical leave program for workers whose employers don't provide the paid time off to temporarily care for loved ones.

But what Manchin actually does want is much more unclear. And it all raises the question of whether Manchin even wants Congress to pass any "Build Back Better Act" at all.
I'm very much a realist on these things. The Democratic leadership needs Manchin more than he needs them and he therefore has the whip hand. I'm more than fine with him leveraging that to his advantage to wring out every last thing he can for his West Virginia constituents. That's his job, really, and he's good at it.
He has every right to say, "Mr. President, I will not vote for more than $X.Y trillion in spending, a corporate tax rate above Z%, or a bill containing provisions A, B, or C." Screw Biden and the other 49 Democratic Senators if they don't like it.
But to do that, get everything he's asked for, and then say, "Meh. I'm still not sure. What else do you have?" is another thing altogether: holding his nominal party hostage by refusing to negotiate in good faith. It's dishonorable.
Yet, there's good reason to believe there's more to it than that.
In "It's Time for Democrats to Buck Up and Give Joe Manchin What He Wants," Slate's Jordan Weissmann argues that, even though the Senate bill meets Manchin's topline, the disagreement is actually more fundamental.
Manchin and the rest of his party have yet to agree on a basic top-line number for the bill. The version passed by the House last month includes about $2.1 trillion in new spending over 10 years. Manchin wants to cap it at $1.75 trillion. But perhaps more importantly, Manchin also disagrees with his colleagues on the very structure of the bill—something that should have been evident for months now to anybody paying a semblance of attention.

In order to make room for as many priorities as possible, the House version of BBB reduces the official cost of its programs by setting their funding to expire after a few years. Its child care and pre-K funding, for instance, lasts for just six years. The current child tax credit expansion only lasts for one year. The bill's fixes to Obamacare would sunset after 2025. Manchin sees all of this temporary spending as a budget gimmick meant to hide the bill's true long-term cost (since Democrats are counting on the programs being renewed). Instead, he wants each program that's included to be funded for a full 10 years—which would require passing fewer initiatives, but would likely allow them to be permanent. "If you're gonna do something, let's do it, let's commit to it," he told CNN reporter Manu Raju last night.
Weissmann hopes Manchin will back down on the number, figuring that the differences between $1.75 and $2.1 trillion are actually a rounding error spread out over ten years, but thinks the Senator is right on the structure.
It's not just that Manchin seems unlikely to back down from his position; he's also largely right on the political and policy merits. The current version of Build Back Better is a hodgepodge of temporary spending that could very well disappear in a few years when Republicans inevitably regain power in Washington; prioritizing fewer items but making them permanent is a much more reasonable way to go about reforming the safety net for the long term.
If this is indeed the holdup, I agree with Manchin and Weissmann on the merits. Presumably, though, Biden and most Congressional Democrats have calculated that cramming the bill with a lot of "temporary" spending will get the camel's nose under the tent. Once people get used to free government money, they'll not unreasonably see the expiration of the benefit as a de facto tax hike.
Manchin has been making it clear for months now that he disagreed with the party's strategy of passing a larger number of temporary programs, which was favored by House progressives. In October, Axios reported that he wanted his colleagues to choose one of their three big family policy items—subsidized child care, paid leave, and the child tax credit—and was "aligning himself with Democratic centrists in the House, who want to trim the number of programs in any final package but fund them for longer." In early November, he publicly accused his colleagues of playing budget "shell games" by making programs expire early, and did it again this month onstage at an event held by the Wall Street Journal. "Do they not intend for these programs to last the full 10 years?" he said. "Well, if they intend for that to happen, then what's the real cost?" It's hard to imagine how Manchin could have stated his position more explicitly, yet only now do Democrats seem to have taken off their earmuffs and started listening. From a negotiating perspective, it's all frankly a bit bizarre. It would be one thing if there was any evidence that he might crumple on these demands, but Manchin has made it clear all along that he is comfortable allowing these negotiations to fail if the final product isn't to his liking. He can make that threat credibly, because his entire brand back home in West Virginia depends on his willingness to buck his own party. Democrats don't have much leverage here other than the power of persuasion. It may be cosmically unfair that one former coal broker from West Virginia somehow ended up with all that power, but that's what happens when you only win 50 seats in the U.S. Senate.
Meanwhile, the Bulwark's Tim Miller is here to remind us, yet again, "Joe Manchin Is the Only Thing Standing Between America and Sen. Cletus Von Ivermectin in 2024." He does so in the form of anecdotal reporting from a funeral home in small-town West Virginia that Biden lost by a 58 margin point margin while Manchin only lost by 10 points.
From these voters' perspective Manchin, wasn't perfect. But he hadn't gone full-in with the BLMAntifaCommies.

The ability to maintain that public perception is at the core of the Joe Manchin miracle. And let's be clear about this, in this political environment the existence of a Democratic Senator in West Virginia is just a notch below loaves and fishes.

Manchin does it by going along with the Democrats just enough to get by, while bucking the party loudly enough to keep the Trump voters in his state happy.

[…]

As long as Manchin remains open to running again in West Virginia, the absolute best thing he could do was stand in the way of legislation that is perceived by his voters as a socialist, AOC/Pelosi, left-wing fantasy. Passing infrastructure gained him exceedingly little politically. Blocking the Squad's agenda gains him a lot. Some of the best ads he could run in West Virginia would be about how he crushed Pelosi and The Squad's dreams.

For all these reasons, those of us who live on planet earth knew that Joe Manchin was never going to accede to the left's demands. Their anger at Joe Manchin didn't hurt him. Exactly the opposite! The madder lefties get at him, the stronger his political position is at home. Their rage is the spinach that makes his Popeye muscles bulge. He's fueled by it. And without this ability to wedge against his own party, he would die a quiet, but noble, death. Like Heidi Heitkamp, or Mark Pryor, or Claire McCaskill, and all the other long-gone, red-state Democrats.

The only spending bill Manchin was ever going to support was one that leaders in his party, and left-wing celebrities, hate. Because that's how he would sell it to the folks at the Groves-Mann Funeral Home.
Even though Manchin is 74 and isn't up for re-election until he's 77, he's practically a spring chicken in Washington circles these days. So, he's very likely, indeed, to be thinking ahead to 2024.
And, for whatever reason, he's decided to cast his lot with the Democratic Party rather than switching to the GOP, where he would have seemed more aligned pre-Trump. As frustrating as he has to be for the Congressional leadership, he's the difference between a 50-50 Senate with Chuck Schumer as Majority Leader and Kamala Harris as the tie-breaking vote and a 51-49 Senate with Mitch McConnell as Majority Leader and Harris a total irrelevancy unless something happens to Biden.
I'm still not fully sure what his game is with regard to BBB. Is he happy to kill it and get credit for that? Or does he really want to pass a version of the bill but one that fully funds a subset of the programs rather than getting a bunch of them a trial run in hopes they stick?
If it's the latter, then Weissman is right: Democrats ought to simply suck it up and give him what he wants (assuming, of course, that Sinema also goes along with it). If it's the former, though, it's time to simply move on to other items on the agenda, assuming it's not already too late. Even in less polarized times, it was always hard to get much done in election years.