The Odd American Obsession With Political Sex Scandals
The Anthony Weiner reveals once again the odd American obsession with the intersection of sex and politics.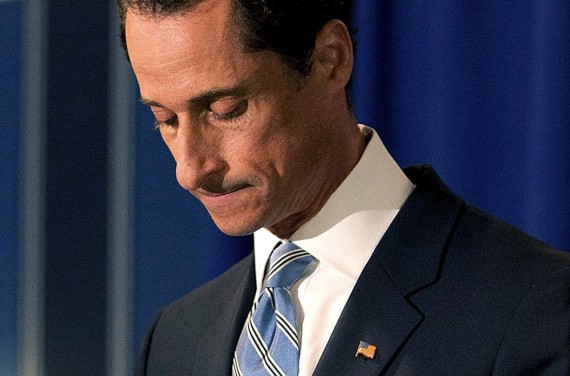 The entire Anthony Weiner story, from last weeks obsession with a shot of a guy's underwear to this week's revelation that Weiner has in fact been involved in multiple instances of online indiscretion, has led to yet another discussion of why exactly it is that Americans, especially the political media, seem to become so obsessed over the sexual peccadilloes of their representatives. On one level, it's easy to understand because it's just another version of the old adage that sex sells and when you need to fill up endless hours of cable news, nothing better than a story involving sex. On another level, though, it's just darn odd. I didn't write much about the Weiner story last wee mostly because it bored me to tears, and I honestly didn't care about what Weiner was doing during his off hours. It's a story now, of course, because like every other politician backed into a corner Weiner lied and obfuscated when he knew the truth was going to come out eventually.
Back to the original point, though, Conor Friedersdorf is among those arguing that "scandals" like this that don't involve crime or abuse of office really shouldn't be our business:
As far as I can tell — we've all got a depressingly big sample size — a politician's sexual fidelity in marriage, or his sexual behavior generally, doesn't reliably tell us anything about the integrity he demonstrates when acting in his official capacity. Nor is our moral culture elevated when we focus on these scandals. It is degraded, both because a large amount of the interest is prurient, and because by focusing on the sexual behavior of egocentric alpha males who spend a lot of time traveling far from home (that is to say, politicians) we may even be fooling ourselves into thinking that sexual impropriety is more common than it is, and thereby normalizing it.

Meanwhile, there is a significant cost to obsessing over these things. The opportunity cost, for the media, is covering lots of other matters that are actually of greater import to the public, whatever one thinks of sex scandals. And for the politician in question, scandal consumes all the time he'd otherwise be dedicating to his official duties. President Clinton's behavior was inexcusable, but was the country better off for having its head of state focused on the fallout for months on end? If the press cannot cover sex scandals without getting carried away by their salacious aspects — and it cannot! — perhaps it would be better off abstaining altogether than lavishing many times more attention on sexual impropriety than every other kind that's evident in public life.
John Guardiano agrees and also dismisses the "blackmail" argument being raised today by people like Andrew Breitbart:
Anthony Weiner was caught doing a wrong and stupid thing: By his own admission, he "exchanged messages and photos of an explicit nature with about six women over the last three years." Some of this communication took place after Weiner was married, and he lied about at least one explicit tweet.

That's sad, shameful and embarrassing. But it also is of no real public import. It's between him, his wife, his rabbi and his God.

In fact, it remains true even now that nobody has shown Weiner's actions had any legal or public implications whatsoever.

Indeed, unlike Sen. David Vitter (R-Louisiana), Weiner broke no law. Unlike former Sen. John Edwards (D-North Carolina), he cannot be accused of having redirected campaign funds to personal purposes. And unlike President Bill Clinton (D-Arkansas), he did not lie under oath.

In fact, it would be hard to imagine a sexual transgression more entirely personal and private than Anthony Weiner's.

Some have argued that, by sending explicit photos to a women he barely knew, or had just met online, Weiner made himself susceptible to blackmail. I suppose that's technically true, but it's also rather farfetched and unrealistic.

Weiner's politics are well known; his congressional votes are well publicized; and so it's hard to see how, in our open and democratic society, he could be blackmailed into changing his political stripes.
Amanda Marcotte, meanwhile, objects to what she calls a loss of sexual privacy as a result of the case:
The problem with opening the door to conducting sex scandals where simply violating some sexual standard is all that's needed is that the question arises: Who gets to set the standards? The answer is probably closer to "the religious right" than "Dan Savage", if only because the more sexually liberal out there don't bother with feigning outrage at the private behavior of consenting adults. You saw this problem erupting with the Weiner press conference, where reporters asked questions that implied that a standard of monogamy to be applied across the board, regardless of the preferences of the people actually in the marriage, and that failure to comply with monogamy standards constitutes a grievous personality flaw that requires professional intervention. (One shouted question specifically asked if Weiner was seeking professional help.)

Once the standard for a sex scandal moves from "public interest" to "arbitrarily deciding this person's behavior is gross/immature/offends Jesus", it's open season. Today the crime is not following the standards of monogamy set by those outside your marriage (since we don't know the details of Weiner's relationship with his wife, these are the only standards really in play). Tomorrow, it could be that your personal behavior offends people who don't approve of premarital sex or who think it's gross or silly for adults to play little private games with each other. Already, half the reason this is a scandal is that Weiner said things while flirting that sound silly in a more public context. Can any of us really say that 100 percent of our flirtations in life would pass the scrutiny of a hostile audience out to maximize our humiliation?
Megan McArdle, finally,  is one of the few people who thinks this is important that makes an argument that seems reasonable:
Maybe it's because I'm older and tireder but these days, the "not our business" school of sex scandal seems to function as a get-out-of-monogamy-free card for powerful men who want to behave badly.  If Anthony Weiner were to, say, start randomly swearing at a constituent and calling her terrible names, would anyone argue that we should not report this on the grounds that the behavior's legal?  How about if he'd been tricking old ladies out of their pension checks with a shady stockbrockerage? Sure it's legal, but we think it tells us something about his character, and that it's actually useful to know those sorts of things about the people we elect.  Gallons of ink have been spilled over Newt's attempt to discuss the terms of his divorce while his wife was recovering from cancer surgery*, and rightly so; it's an act of epic self-absorption, and it's hard to believe that this would never have affected his job performance.
For the most part, I fall into the "who cares" camp when it comes to "scandals" like this. The fact that a politician may have had an affair, or in Weiner's case multiple cyber-affairs may say something about the state of their marriage vows, but it doesn't say a thing about their performance in office and it isn't relevant at all to the issues that the country faces. Richard Nixon was, by all accounts, remarkably faithful to his wife throughout their marriage, and yet his behavior while in office was perhaps the most venal, corrupt and dishonest of any of our Presidents. Dwight Eisenhower had an affair with a British woman during World War II, while he was married, and yet was, by all accounts, both a competent and honest politician. Judging either of these men by the way they behaved in their personal lives would have led one to reject Eisenhower and accept Nixon. Politically the choice clearly would be the opposite.
Obviously, there are times when this personal behavior becomes something that's worthy of being publicly revealed. David Vitter, for example, didn't just have sex outside of marriage, he frequented prostitutes in jurisdictions where that's illegal. Mark Foley sent sexually suggestive messages to underage Congressional Pages. Mark Sanford abandoned his post, didn't tell his staff where he was going, and invented a story designed to cover up a mistress in Argentina. Larry Craig committed a crime. Bill Clinton lied under oath. In each of these cases, the conduct crossed a line from personal behavior to something that was either illegal or, in the case of Sanford, highly irresponsible. Leaving aside the obfuscation that he engaged in up through 4pm yesterday, Weiner's peccadillo's don't strike me as rising to that level based on the information we have.
As Rick Moran puts it, they really don't tell us anything important about our country:
Weiner's transgressions are no more indicative of the morals of the vast majority of Democratic party members than Senator Vitter's visits to prostitutes represented the norm for Republicans. Making such blanket observations is an exercise for partisans. The American people tend to take their politicians one at a time, judging them for their performance and their individual impressions as to how well a politician lives up to the expectations they have set for them. Party loyalty is much less important today than in the past, which makes these adventures in muckraking far less damaging than 100 years ago.

This makes the feeding frenzy in the media and on blogs an exercise in dynamic overkill. A partisan like Andrew Brietbart — a counterpart to Freneau, Callendar, and other newspaper bomb throwers of the past — is a necessary adjunct for any political party (the Democrats have Media Matters' David Brock who functions in a similar capacity). He has proven to be a canny manipulator of the mainstream press — baiting them, playing them, and forcing them to cover stories they would ordinarily eschew.

But this scandal-churning has a downside; so much importance is attached to, what would ordinarily be considered trivialities, that the salacious gossip crowds out actual news stories.
During the week that Twitter, the blogosphere (conservative and liberal), and the American news media have been obsessing over Anthony Weiner's sex life there has been a political crisis in Yemen, continued fighting in Libya, American soldiers killed in Iran and Afghanistan, a volcanic eruption in South America, an incredibly bad jobs report, and a Serbian war criminal was finally brought to justice. Any one of these stories was arguably more important than what Anthony Weiner was doing online with adult women. Of course, none of them were sexy and it's pretty clear that a cable news segment on Weiner is likely to get more viewers than a segment on Yemen.
There's one other part of this story that bothers me, and it's one that comes up every time a political figure stumbles. Conservatives jumped on the Anthony Weiner story, I submit, not because they really care about his personal morality or the state of his marriage. They jumped on it because he is a confrontational, outspoken Democrat known for taking on the right. They attacked him because he was the enemy and it didn't matter whether what he did was relevant to his job or not. Similarly, bloggers on the left defended Weiner, absurdly in some cases, because he's on their side. If the party labels had been reversed, the roles would have been reversed. It's the politics of personal destruction mixed with the 24 hour news cycle, which is why I think Moran's comparison of the Breitbart to the likes of James Callendar, the early American pamphleteer best known for smearing everyone from John Adams to Alexander Hamilton to Thomas Jefferson with vile insults. The only difference between the two of them (and,yes, there are Breitbart's on the left) is that Callendar didn't have access to modern technology. What they have in common is that they contribute nothing to the political debate in this country.
Will Americans end their odd obsession of the intersection of politics and sex? Of course not, and since politicians will continue to behave badly we can be sure to have stories like this in the future. What purpose is served by obsessing over them, though, is another question.