The Original 'Star Wars' Film
Opening crawl of 1977 version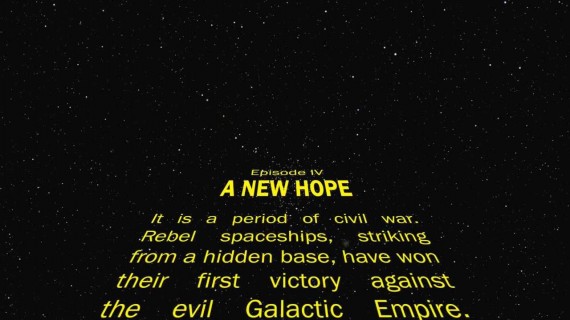 The other night my wife and I watched an incredible film. It was Star Wars — the 1977 science fiction classic that we remember from VHS tapes in the late 1980s and early 1990s and that older folks might remember from the big screen in the early 80s — except at Blu-ray quality on a high definition television in the comfort of our own home. And when I say Star Wars I mean Star Wars, as in the title that appears on the screen is Star Wars, with no reference to "Episode IV" or "a New Hope," not the 1997 special edition re-cut full of random added CGI.
He goes on to tell us that, because George Lucas refuses to make this version of the film available, he had to enjoy this experience through the efforts of Petr Harmy. And that doing so is illegal because of the vagaries of US copyright law. I've got mixed feelings on the topic and little to add to that discussion.
What stuck out at me was the last sentence of the above excerpt. Although I was 11 when "Star Wars" came out, I didn't see it for a couple years. But I saw it numerous times in standard definition via VHS before Lucas did any of his re-edits. Han shot first and all that. And I distinctly remember that "Episode IV" and "a New Hope" were very much part of that version. I remember because it seemed so odd: I knew there weren't three previous movies.
So, one of two things are true. Either the version I saw on TV and VHS just a few years later and before the publicized re-edits in fact had the "Episode IV" business added in or Harmy's re-edit to create an "original" version of the film in HD quality has taken the reference out. (I suppose a third option, that Yglesias somehow missed that reference in the opening sequence of Harmy's version, is a possibility as well.)
UPDATE: It turns out that option 1 above is right:  "In the original May 1977 release of Star Wars, the opening crawl did not feature an Episode number or the subtitle 'A New Hope.' Those would be added with the film's April 10, 1981, theatrical re-release."