The Pathetic Defense Of Sarah Palin's Botched History Of The Ride Of Paul Revere
The real story of Paul Revere's ride has little to do with Sarah Palin's odd tale, no matter what her defenders say.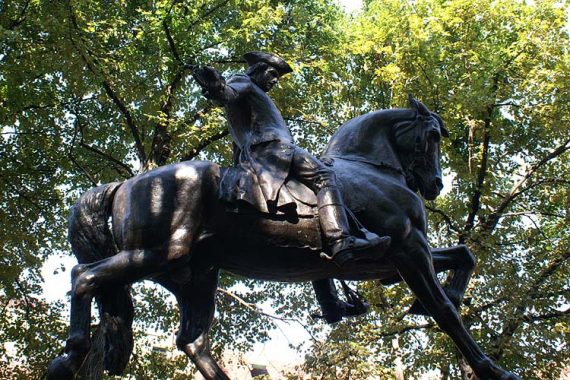 Several conservative bloggers have engaged in an odd attempt to defend Sarah Palin's botched, mostly incoherent, comments during her bus trip last week about the ride of Paul Revere. For source material, they've turned first to a piece in the Boston Herald purporting to claim that "experts" agree that Palin got the story right:
In fact, Revere's own account of the ride in a 1798 letter seems to back up Palin's claim. Revere describes how after his capture by British officers, he warned them "there would be five hundred Americans there in a short time for I had alarmed the Country all the way up."

Boston University history professor Brendan McConville said, "Basically when Paul Revere was stopped by the British, he did say to them, 'Look, there is a mobilization going on that you'll be confronting,' and the British are aware as they're marching down the countryside, they hear church bells ringing — she was right about that — and warning shots being fired. That's accurate."

Patrick Leehey of the Paul Revere House said Revere was probably bluffing his British captors, but reluctantly conceded that it could be construed as Revere warning the British.

"I suppose you could say that," Leehey said. "But I don't know if that's really what Mrs. Palin was referring to."

McConville said he also is not convinced that Palin's remarks reflect scholarship.

"I would call her lucky in her comments," McConville said.
Andrew Malcom at the L.A. Times Top Of The Ticket goes even further in his defense of Palin:
You may have heard recently something about that Sarah Palin telling a reporter that Paul Revere warned the British on his famous rousing revolutionary ride.

Now, that so many Americans have wallowed in their smug confirmation that Palin is an idiot unqualified for anything but Paul Revere thinks about something paulreverefactsdotcomrepeating sixth-grade history, how far, wide and fast do you think the contradictory news will spread that the former governor of Alaska was indeed correct?

That the Republican non-candidate, in fact, knew more about the actual facts of Revere's midnight ride than all those idiots unknowingly revealing their own ignorance by laughing at her faux faux pas? How secretly embarrassing this must be, to be forced to face that you're dumber than the reputed dummy.

(…)

The well-known fable is Revere's late-night ride to warn fellow revolutionaries that….

…the British were coming. Less known, obviously, is the rest of the evening's events in which Revere was captured by said redcoats and did indeed defiantly warn them of the awakened militia awaiting their arrival ahead and of the American Revolution's inevitable victory.

Palin knew this. The on-scene reporters did not and ran off like Revere to alert the world to Palin's latest mis-speak, which wasn't.
The Boston Herald and Malcom articles have been picked up by National Review, Hot Air, Le·gal In·sur·rec· tion, and others as proo that Palin was right, as she claimed on Fox News Sunday yesterday, and as another opportunity to bash the s0-called "Lamestream Media." When you actually compare what Palin said to the historical sources, though, the proof is far, far less than meets the eye, and this defense starts to look pretty silly and pathetic.
Before getting much further into this, it's worth recapping what Palin actually said:
PALIN: He who warned, uh, the British that they weren't going to be taking away our arms uh by ringing those bells and making sure as he's riding his horse through town to send those warning shots and bells that we were going to be secure and we were going to be free and we were going to be armed.
Palin"s protectors became protective about this comment almost immediately after it became viral, and even before they had the two articles linked above to claim as "proof" that she was right, to the point where, over the weekend, people were editing Paul Revere's Wikipedia page to try to make its account of the ride compatible with Palin's statements.
Rather than rely on Wikipedia, though, or bloggers, or self-appointed experts, it is perhaps best to turn to the best source of all, Paul Revere and his own account of the Midnight Ride, written in a letter from 1798:
On Tuesday evening, the 18th, it was observed that a number of soldiers were marching towards the bottom of the Common. About 10 o'clock, Dr. Warren [Joseph Warren, one of the few Patriot leaders who had remained in Boston] sent in great haste for me and begged that I would immediately set off for Lexington, where Messrs. Hancock and Adams were, and acquaint them of the movement, and that it was thought they were the objects.

(…)

We rode till we got near Lexington meeting-house, when the militia fired a volley of guns, which appeared to alarm them very much. The major inquired of me how far it was to Cambridge, and if there were any other road….[Revere then tells of his British escorts' taking his horse and departing, and his walk back to Lexington in the dark.]

Came to the Rev. Mr. Clark's house, where I found Messrs. Hancock and Adams. I told them of my treatment, and they concluded to go from that house towards Woburn….[After seeing the two Patriot leaders to safety, Revere chose to return to Lexington to help recover a trunk with Hancock's confidential papers. There, at daybreak, he and his companion saw British troops moving into the town.]
So, right there, we come to the first fact that probably isn't familiar to most Americans who's knowledge of Revere comes from Longfellow's poem or Schoolhouse Rock. Revere's mission on that fateful night wasn't to alert the Minutemen, or to warn the British as Palin put it, but to get word to the two most important leaders of the Colonial forces in Massachusetts that there was a British army regiment about to go hunting for them through the countryside. At that early point in a revolution that technically hadn't started yet, the capture of Hamilton Hancock and Adams could have been a fatal blow, and most certainly would have been demoralizing to the Colonials in Massachusetts.
As the historians quoted above note, Revere was ultimately captured, and here's what he had to say about that:
I observed a wood at a small distance and made for that. When I got there, out started six officers on horseback and ordered me to dismount. One of them, who appeared to have the command, examined me, where I came from and what my name was. I told him. He asked me if I was an express. I answered in the affirmative. He demanded what time I left Boston. I told him, and added that their troops had catched aground in passing the river, and that there would be five hundred Americans there in a short time, for I had alarmed the country all the way up. He immediately rode towards those who stopped us, when all five of them came down upon a full gallop. One of them, whom I afterwards found to be a Major Mitchel, of the 5th Regiment, clapped his pistol to my head, called me by name and told me he was going to ask me some questions, and if I did not give him true answers, he would blow my brains out. He then asked me similar questions to those above.
Two things are worth noting here. First, the Revere's capture by the British actually occurred before he was able to complete his mission and get warning to Hamilton and Adams. The only reason he was able to complete that mission (the part after the ellipses in the first excerpt from the letter) is because the British officer abandoning him in the woods, allowing him to get to Lexington and warn Hamilton and Adams and return home. [I failed to note that, according to the letter, Revere had met with Adams and Hamilton Hancock before being captured on the way to Concord. After he was abandoned in the woods, he returned to Lexington — DM] The second thing worth noting is that when Revere was questioned by the British officer his primary concern was deceiving them about the size and location of the Colonial forces.  The Colonials were not down by the river waiting to trap the British, they were marching toward Lexington and Concord, and a battle that would start a revolution. There was no reference to guns, there were no ringing bells, there was no shouting.
As E.D. Kain put it:
Palin neither described the famous legend of Paul Revere as told in Longfellow's poem, or the actual historical events. She mangled the facts (and mangled the syntax much more ferociously) and now her defenders are digging up an obscure story not even relevant to the history itself and holding it up as though Palin knew exactly what she was talking about. This is ludicrous.
Indeed.  Revere's ride was not about arousing the Minutemen but about getting word to Samuel Adams and John Hancock, who were the targets of the British forces as leaders of the Colonials in Massachusetts. The idea that he was "warning the British" is absurd and silly. Why anyone is still trying to defend her comments baffles me. Why she couldn't just say "Yea it was a hot day and that didn't really come out right" is something I don't get either. But then, has Palin ever publicly admitted to being wrong?