The President's War Is Lacking A Convincing Plan
The Administration's policy in the President's war against ISIS has no coherent plan, and that virtually guarantees escalation.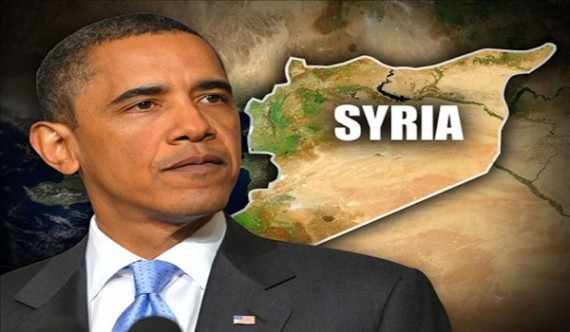 The New York Times Editorial Board goes after the President for the lack of any coherent plan in his war against ISIS:
President Obama has put America at the center of a widening war by expanding into Syria airstrikes against the Islamic State, the Sunni extremist group known as ISIS and ISIL. He has done this without allowing the public debate that needs to take place before this nation enters another costly and potentially lengthy conflict in the Middle East.

He says he has justification for taking military action against the Islamic State and Khorasan, another militant group. But his assertions have not been tested or examined by the people's representatives in Congress. How are Americans to know whether they have the information to make any judgment on the wisdom of his actions?

There isn't a full picture — because Mr. Obama has not provided one — of how this bombing campaign will degrade the extremist groups without unleashing unforeseen consequences in a violent and volatile region. In the absence of public understanding or discussion and a coherent plan, the strikes in Syria were a bad decision.

Mr. Obama has failed to ask for or receive congressional authorization for such military action. The White House claims that Mr. Obama has all the authority he needs under the 2001 law approving the use of force in Afghanistan and the 2002 law permitting the use of force in Iraq, but he does not. He has given Congress notification of the military action in Iraq and Syria under the 1973 War Powers Resolution, but that is not a substitute for congressional authorization.

The administration also claims that the airstrikes are legal under international law because they were done in defense of Iraq. In a Sept. 20 letter to the United Nations, Iraq complained that the Islamic State was attacking its territory and said American assistance was needed to repel the threat. But the United Nations Security Council should vote on the issue.

Meanwhile, Congress has utterly failed in its constitutional responsibilities. It has left Washington and gone into campaign fund-raising mode, shamelessly ducking a vote on this critical issue. That has deprived the country of a full and comprehensive debate over the mission in Syria and has shielded administration officials and military commanders from tough questions about every aspect of this operation — from its costs to its very obvious risks — that should be asked and answered publicly.

(…)

With so much at stake and so much unknown, before he gets any further into this operation, Mr. Obama needs to get Congress's approval and prove that he has fully accounted for the consequences of this foray into Syria.
These criticisms strike me as being largely spot-on, with regard to the Administration's lack of a coherent plan, the fact that the White House openly refused to submit the matter to Congress before the legislators left for a long scheduled election break (or to recall Congress in August when it was already apparent that this conflict was going to escalate), and Congress's own failure to live up to its Constitutional duties in this matter. As I've noted before, we've already watched as, seemingly driven mostly by outside events over anything else, our involvement in hostilities against ISIS in Iraq has escalated from a mission aimed at humanitarian relief and protection of American diplomats to one where we are engaged in what can only be called a war without a war having actually been declared. Now, we seem to have a plan that relies in no small part on questionable "moderate" Syrian rebels, and Iraqi Army that still doesn't seem to want to defend its own country, and an international coalition that seems willing to let the U.S. do the brunt of the work and which seems unlikely to provide the kind of ground forces that will likely ultimately be needed to dislodge ISIS from its strongholds in Iraq and Syria. Combine that with the fact that the Administration has provided a shifting explanation of the legal justification for the President's unilateral actions ranging from Article II of the Constitution, to the 2001 AUMF authorizing attacks on al Qaeda, the 2002 AUMF authorizing the war against Iraq, and the United Nations and the entire operation begins to look more and more dubious. Given the fact that Administration officials and Pentagon officials are both saying that the campaign against ISIS is likely to last for years, it seems that the Administration owes the country something more before committing the nation to something that long time, assuming that it's not already too late that is.
Prior to the President's September 10th speech in which he effectively announced that he was expanding his war against ISIS into Syria, I wrote about several questions that David Ignatius posed regarding the plan that the President would be proposing that night. To date, for example, it does not appear that we have a coherent answer to any of them. There is no coherent exit strategy,  and as noted above both the Administration and the Pentagon have doubled down on the message that this is a conflict that could take an extended period of time. Given that, it's unclear how to know exactly what "victory" would be, and unless you know what victory is it seems as through it would be kind of difficult to come up with a plan that is anything other than reactionary. The problem with reactionary planning, of course, is that it very quickly leads to the very kind of escalation that we're seeing today and which is likely to continue far into the future unless Congress takes up this matter and demands that the Administration present a coherent vision of what exactly it is we're supposed to be accomplishing in this war the President has committed us to.