The Re-Invention Of Rand Paul
As the campaign in Kentucky heats up for the final sprint to November, Rand Paul seems to have succeeded in moving beyond many of the mis-steps that plagued him three months ago.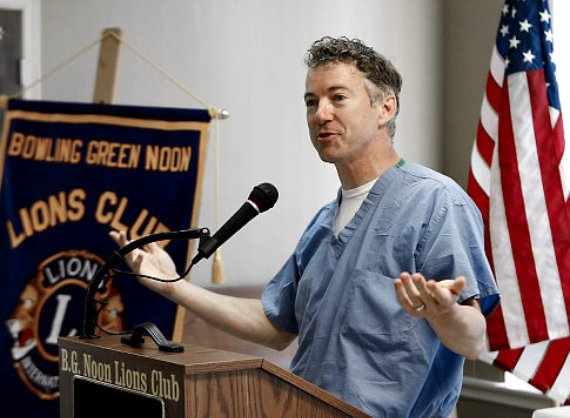 As the unofficial kickoff for the General Election campaign on Labor Day gets closer, it seems that Kentucky Republican Senate candidate Rand Paul is shifting his rhetoric:
LOUISVILLE, Ky. — A tea party success story in search of a statewide triumph, Kentucky Republican senatorial candidate Rand Paul volunteers that he's spent two decades "popping off" about one issue or another. Not quite so much now, though.

The candidate who strongly criticized federal subsidies for agriculture isn't quite as dug in these days. Running in a state with 85,000 farms, he now says merely that Department of Agriculture funds may need to be cut in the interests of deficit reduction.

After saying provocatively that he might not support Kentucky Sen. Mitch McConnell for Republican leader, Paul now proclaims himself a big fan of the man who is a living embodiment of the party establishment.

And in a recent interview, Paul said veterans benefits should be scrutinized for possible cuts, then added quickly, "I don't want you saying I'm for getting rid of veterans benefits because I'm not." He added he didn't want people to go "completely crazy" over the issue, in a state that's home to the Army's 101st Airborne Division.
Most importantly, Paul seems to have done a far better job than Nevada's Sharron Angle of moving beyond the initial mis-steps that made him a national lightening rod and which seemed to have blunted momentum that threatened to make the race a blowout:
Within a few days of winning the nomination, Paul stirred his biggest controversy by questioning the wisdom of the federal government enforcing racial desegregation in private businesses.

"I think he's said quite enough for the time being in terms of national press coverage," remarked McConnell.

In the weeks since, Paul's campaign has grown closer to McConnell's operation and to the National Republican Senatorial Committee. He traveled to Washington to attend a fundraiser with senators who had voted for the 2008 Wall Street bailout, even though he had previously said he would not take their cash.

Republicans familiar with the race say Paul privately acknowledges his remarks on civil rights were a political error, and describe him as receptive to their advice to avoid inflammatory rhetoric that might appeal to his core supporters but scare off many other voters.

Nowhere is the post-primary straddle more noticeable than on federal budget-cutting.

In an interview, Paul said that if elected, he will quickly propose balancing the budget in a single year without raising taxes. It's a sweeping pledge, considering the government is projected to spend about $3.8 trillion in the next budget year, with a deficit of about $1.4 trillion. The result would be a cut of about 37 cents out of every dollar on programs as diverse as defense, the Pentagon, Social Security, farm payments and more.

It's the type of rhetoric that made him a tea party favorite.

Yet moments later, the hedging begins.

Paul favors eliminating the Department of Education. But when asked about its funding, he recommends, "send it back to the states," leaving unclear how that would reduce federal deficit
In the end, the race in Kentucky will be one of two things. Paul and the GOP will try to make it a referendum on the Obama Administration and the Democratic Congress, hoping using to the Tea Party-generated momentum from the primary to propel them to victory. Democrats, of course, will try to make the election about Paul and his "radical" views. It's the same scenario that we'll see played out in Nevada except that Jack Conway is no Harry Reid, and Rand Paul doesn't seem to be Sharron Angle.
So far, the race still seems to be going in Paul's favor: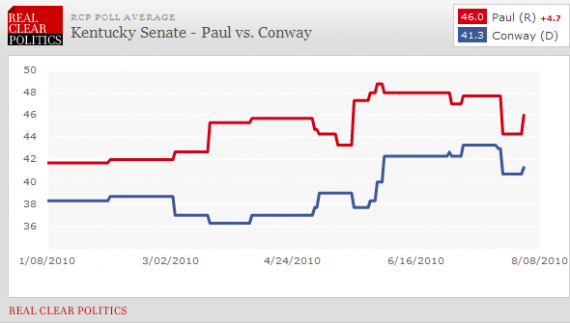 This includes a recently-released SurveyUSA poll that shows Paul back over 50%. A good place to be just before the final round of campaigning begins.