The Real Fundraising Gap In Wisconsin: Nowhere Near 7-to-1
Via The Washington Post and Ed Morrissey, I found the following chart of total candidate and outside spending on the recently concluded Wisconsin Recall Election: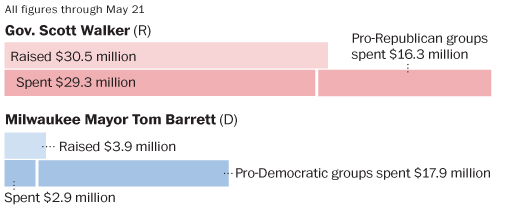 So the total spending by Walker and his supporters was $45.6 million and the total spending by Barrett and his supporters was 20.1, which comes to a ratio of roughly 1 to 2.27.
Facts are stubborn things.
Update: Welcome Daily Dish readers, you may also be interested in learning that, whatever the money advantage that Walker had actually was, it really didn't matter very much in the end.