The Revolt Against Politics
David Brooks has articulated a frustration many of us share.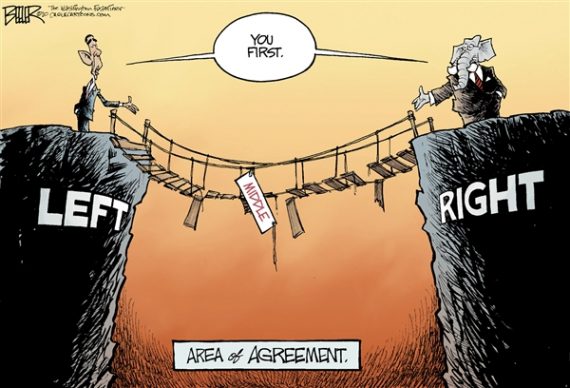 In "The Governing Cancer of Our Time," David Brooks has articulated quite nicely a frustration that many of us have noted over the years.
We live in a big, diverse society. There are essentially two ways to maintain order and get things done in such a society — politics or some form of dictatorship. Either through compromise or brute force. Our founding fathers chose politics.

Politics is an activity in which you recognize the simultaneous existence of different groups, interests and opinions. You try to find some way to balance or reconcile or compromise those interests, or at least a majority of them. You follow a set of rules, enshrined in a constitution or in custom, to help you reach these compromises in a way everybody considers legitimate.

The downside of politics is that people never really get everything they want. It's messy, limited and no issue is ever really settled. Politics is a muddled activity in which people have to recognize restraints and settle for less than they want. Disappointment is normal.

But that's sort of the beauty of politics, too. It involves an endless conversation in which we learn about other people and see things from their vantage point and try to balance their needs against our own. Plus, it's better than the alternative: rule by some authoritarian tyrant who tries to govern by clobbering everyone in his way.

As Bernard Crick wrote in his book, "In Defence of Politics," "Politics is a way of ruling divided societies without undue violence."

Over the past generation we have seen the rise of a group of people who are against politics. These groups — best exemplified by the Tea Party but not exclusive to the right — want to elect people who have no political experience. They want "outsiders." They delegitimize compromise and deal-making. They're willing to trample the customs and rules that give legitimacy to legislative decision-making if it helps them gain power.

Ultimately, they don't recognize other people. They suffer from a form of political narcissism, in which they don't accept the legitimacy of other interests and opinions. They don't recognize restraints. They want total victories for themselves and their doctrine.
While this phenomenon isn't "exclusive to the right," it's certainly manifesting far more dangerously in the Republican Party. The Bernie Sanders phenomenon and perhaps the Elizabeth Warren boomlet are as close as we're seeing on the Democratic side but they're both more benign and less influential. At the end of the day, Hillary Clinton will almost certainly be their nominee and, for all her faults, a lack of understanding of the realities of compromise in politics is surely not among them. Meanwhile, Donald Trump, a know-nothing with only bluster to offer, is now the odds-on favorite to win the GOP nomination and the current runner up, Ted Cruz, is a rabid ideologue despised even among his relatively likeminded colleagues in the Senate for his self-righteous attitude. Marco Rubio is perhaps the Establishment's last hope for sanity, and he's seemingly not ready for prime time.
Brooks correctly identifies the results:
The antipolitics people elect legislators who have no political skills or experience. That incompetence leads to dysfunctional government, which leads to more disgust with government, which leads to a demand for even more outsiders.

The antipolitics people don't accept that politics is a limited activity. They make soaring promises and raise ridiculous expectations. When those expectations are not met, voters grow cynical and, disgusted, turn even further in the direction of antipolitics.

The antipolitics people refuse compromise and so block the legislative process. The absence of accomplishment destroys public trust. The decline in trust makes deal-making harder.
To be sure, Barack Obama contributed to this when the sweeping rhetoric of his 2008 campaign failed to match a relatively pragmatic governing style. Occupy Wall Street and the Sanders movement are evidence that many Democrats are fed up with business as usual, too. That said, the far greater cause of our dysfunction is an opposition party that has chosen eight years of obstructionism as their response to having lost the White House in consecutive elections.
Given the increasing likelihood of Trump as the nominee, it'll almost certainly be a third straight loss and a depressing general election campaign. Clinton is unlikely to have coattails and, in any case, the unique setup of our electoral system virtually assures that the Republicans will continue to control the Congress and give us another four years of gridlock. Whether that results in the sort of midterm correction we saw in 1994, 2006, and 2010 remains to be seen. But there's little reason to hope that things get better anytime soon.