The Right's Position On Immigration Is Inconsistent With Their Own Principles
If conservatives actually believed what they said they do, they would be much more open to immigrants, and immigration reform.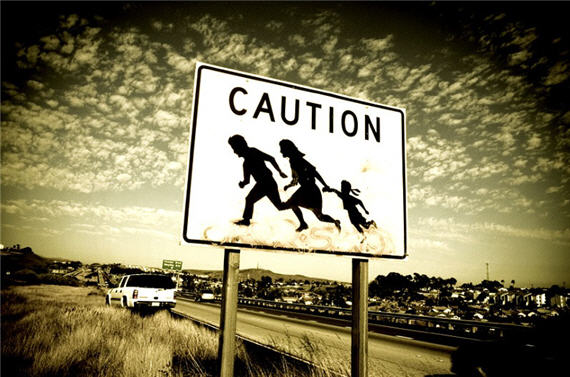 The head of the Chamber of Commerce is growing impatient with GOP inaction on immigration reform:
Tom Donohue, president of the U.S. Chamber of Commerce, said the GOP shouldn't even field a presidential candidate in 2016 unless Congress passes immigration reform this year.

"If the Republicans don't do it, they shouldn't bother to run a candidate in 2016," Donohue joked at an event on infrastructure investment in D.C. "Think about that. Think about who the voters are. I just did that to get everybody's attention."

Republicans have focused on immigration reform as a way to woo Hispanic voters, who have increasingly drifted to Democrats over the past two election cycles. Growing Hispanic populations in Nevada, Texas and elsewhere could make those states more amenable to Democrats in the future.

Donohue, whose group has spent months pushing House Republicans to support immigration reform, was speaking about what he thought a dysfunctional Congress could still get done in 2014.

"You think Congress can get immigration reform done this year, in an election year?" moderator Eamon Javers asked Donohue.

"Yes, yes," Donohue replied.

National Association of Manufacturers President Jay Timmons said he also thought immigration reform could pass this year, perhaps in a lame-duck session.

"This is a unified position of the business community," Timmons said.
This isn't anything new, of course. The Chamber of Commerce and other business organizations have been supporters of immigration reform for some time now, and were huge backers of the Senate bill that passed last year with bipartisan support. They aren't alone in that position, of course. Reform also has the backing of union groups and many others. The major impediment on Capitol Hill, and indeed in the nation as a whole, to immigration reform are conservative Republicans who routinely denounce any attempt at immigration reform as being "amnesty." As Reason's A. Barton Hinkle notes none of  this seems consistent with their principles:
Republicans claim to favor free trade and limited government. Then they advocate massive federal spending increases to militarize the border. They start telling private businesses whom they can and cannot hire. They demand oppressive biometric national-ID systems so the authorities can keep a constant, watchful eye over everyone. And they demand the construction of giant walls to keep out people whose only offense is wanting to build a better life for themselves and their families.
Additionally, as Hinkle notes, it has been well-established for some time that immigration is a net plus for the economy:
Immigrants are a net gain: They are more likely to start a business. They are more likely to own a small business. And they are more likely to grow it into a large one: 40 percent of the founders of Fortune 500 companies are immigrants or their children.

Immigrant business owners employ nearly 5 million Americans.

Indeed, immigrant men are more likely to work in general: As a recent piece in National Affairs noted, "Among all men in the U.S. between the ages of 18 and 64, illegal immigrants are the most likely to be working. In 2009, for example, 93 percent of undocumented men participated in the labor force, compared to 86 percent of legal-immigrant men and 81 percent of native-born men." Immigrant women, in the meantime, are more likely to stay home with the kids. Hence immigrant families are more likely to represent the traditional family values conservatives prefer than traditional American families themselves.
All of these things have been pointed out by conservative-leaning economists for generations, of course, and the civil liberties and limited government argument against many of the immigration control provisions that Republicans support seem to be self-evident. And yet, for reasons that don't seem to make much sense from an ideological point of view, the hard right of the Republican Party has taken an adamant position against virtually any form of immigration reform, and certainly against anything that approaches offering the tens of millions of people in the country illegally some way to come out of the shadows, work in the regular economy, and becoming contributing members of society.
So what explains the seeming conservative inconsistency? Hinkle posits a few reasons:
Some of the objection is deontological: Rules are rules, after all, and we should not reward people for breaking them. You can see the sense in that: If an immigrant can ignore U.S. entry laws, then why not let him also ignore U.S. food-safety laws or environmental-protection laws? Do we enforce the laws that are on the books, or not?

(To that, there is an equally deontological reply: If someone wants to get a job, buy a house, purchase food and clothes and other consumer goods, and so on—and other people are happy to hire him and sell him things—what right does any third party have to interfere in those free and consensual exchanges?)

A second objection is more pragmatic and less virtuous: Letting illegal immigrants stay in the U.S. only encourages more illegal immigration. But this is a question-begging answer. Why is the arrival of more foreign nationals necessarily to be a bad thing? For decades the U.S. had no immigration restrictions whatsoever. For all intents and purposes, the country's borders were open—and they stayed that way until the Chinese Exclusion Act. Even then, non-Asians enjoyed open U.S. borders until the 1920s.

Some conservatives make an even less elevated argument: Increasing immigration might increase the Democratic vote, leading the GOP to perpetual minority status. (Ann Coulter has been beating this particular drum lately.) But this is also a question-begging answer. It ignores the fact that, for instance, conservatives have won over immigrants in Canada. It also ignores a point columnist Shikha Dalmia has drawn out in Reason: Even well-off minority groups such as Indian-Americans and Jews lean Democratic in the U.S.—not because they harbor an inherent love for entitlements, but because of the GOP's hostility to minorities.
Unstated in Hinkle's list, of course, is the issue of race and ethnicity, which has been at the root of much opposition to immigration throughout American history. Many have hypothesized that if the illegal immigrants residing in the United States were from Europe instead of predominantly Mexico and Central America, that many on the right wouldn't be quite so opposed to immigration reform. Unfortunately, I do think that there is some element of truth in that. In the end, though, I think that their opposition to changing our immigration laws and ending the absurd manner in which 11 million people are left to live in the shadows is rooted in the same "I've got mine, you get yours" attitude that has typified opposition to immigration in general throughout American history. However, if they really believed in free markets, smaller government, and individual liberties, conservatives would realize very quickly just how wrong their position on immigration reform actually is.