The Russia-Right Wing Talking Point Cycle
How insidious talking points spread in the modern media environment.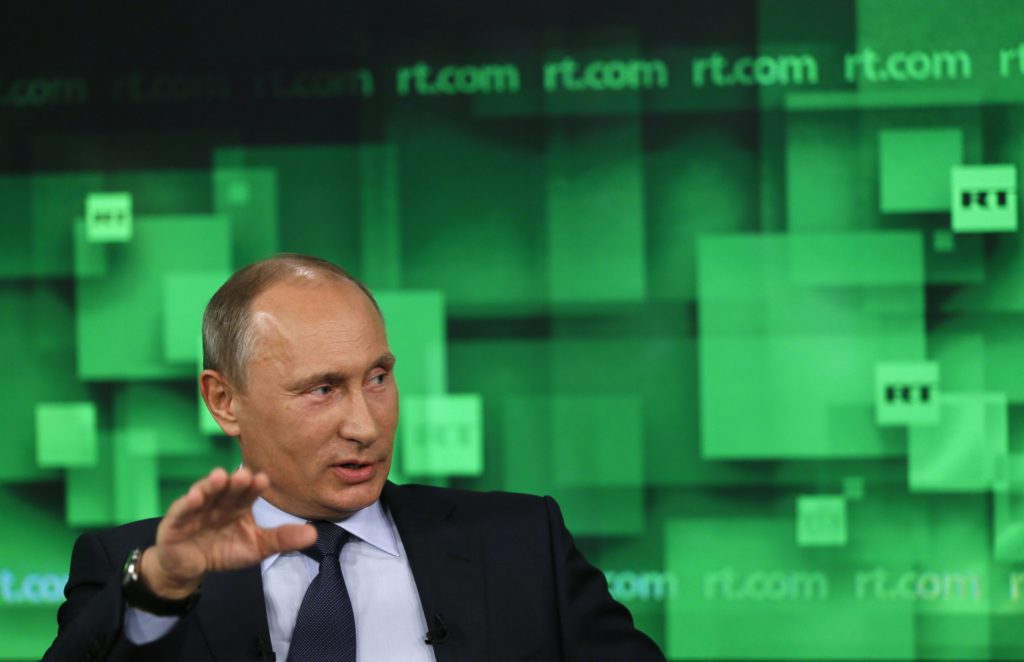 Yesterday, a former Army colleague who I admire greatly posted a link on his Facebook page with the comment, "Great read on how the destruction of history is proceeding…..and why is Russia Today the only one with the nerve to point this out?"
My rejoinder was, "Because they're Putin's propaganda arm and working very successfully to exploit divisions in US society to further weaken us."
He scoffed at that and countered that the Democrats are doing far more to divide us than the Russians.
After a bit of back-and-forth, we agreed to let it go. But my point here isn't our follow-on conversation but how successful the RT propaganda effort is.
The story in question had the headline "Attacks on 'white & male' Moon landing prove no US achievement is too big for liberals to destroy" and was published at 15:59 17 July. It's bylined Igor Ogorodnev, who is described as "a Russian-British journalist, who has worked at RT since 2007 as a correspondent, editor and writer." It's not particularly well-argued.
Attempts to diminish the triumph of Apollo 11 and to reassign credit don't just taint the 50th anniversary of the moon landing, but presage the technological decline of the US if it persists with identity politics.

With the Founding Fathers now rarely mentioned in the media without side notes about their slave ownership, and the Betsy Ross flag offensive to Colin Kaepernick and Nike, there is nothing new about liberal attempts to strike at the very heart of American identity.

But – leaving aside the conspiracy theorists – the moment Neil Armstrong stepped on the surface of the Moon on July 20, 1969 was objectively such a universal milestone that to qualify it seems a fight against human endeavor itself.

It would seem like the more logical route, for those who resent that this was a feat of white un-woke America, would be to try and diminish their role in favour of supposedly unsung heroes.

Hidden Figures, the Oscar-winning film from 2016 was the perfect archetype of this revisionist history, exaggerating and fictionalizing the role of a cadre of politically suitable black women, who did an entirely replaceable job and were no more important than thousands of others involved.

This way everyone would get to celebrate their own role models, even though in time such worthy changes of focus can end up with grotesque urban myths, like Crick and Watson stealing the Nobel Prize from (the actually dead) Rosalind Franklin.

But while this unifying narrative, where people of different races and varying attainments are placed alongside each other in anniversary pieces, a more sour, radicalized note has begun to surface, compared to celebrations even five years ago, in the prelapsarian era of Barack Obama.

It is not yet dominant, but persistent enough to be more than a coincidence.

"The culture that put men on the moon was intense, fun, family-unfriendly, and mostly white and male," tweeted the Washington Post, over a behind-the-scenes look at the life of those involved in the program.

"In archival Apollo 11 photos and footage, it's a 'Where's Waldo?' exercise to spot a woman or person of color," it continued in the article itself.

"We chose to go to the moon. Or at least, some did: watching [documentary film] Apollo 11, it is impossible not to observe that nearly every face you see is white and male," left-wing magazine New Statesman wrote in a recent piece.

A recent Guardian review of the documentary Armstrong features the writer talking about "good ol' boys from NASA – elderly white men every one of them, who you suspect are still pining for the days of American life when men were men and women waited by the phone in headscarves," though no evidence is given for the assertion.

This is not just bigoted, but astonishing in its unfairness.
Buzz Aldrin and Michael Collins could not have helped being white at birth.

George Mueller and Max Faget were not proverbial "mediocre white men" – their deeds are tangible.

No one at NASA could have helped living in 1960s America, or made its social structures, workplace roles, and demographics fit in with 2019 journalists' conceptions. For God's sake, many were Germans who had served the Nazi Party with varying degrees of reluctance during World War II, before being whisked away through Operation Paperclip – how do they fit into 21st century privilege hierarchies? Could Wernher von Braun have been an African-American woman from Louisiana?

Or would it have been better to stay on Earth until US society advanced enough to send the right people into space? Or perhaps let the Soviets get there first, since for all their class-based ideology they didn't want to handicap themselves in the space race.

And handicap becomes the key word.

Rewriting history is a crucial weapon in the long-term culture war for the left, disappointed so often at the ballot box. But the implications of this go far beyond the past.

At the very edge of technological and scientific progress is a meritocracy – you can't make someone a genius by appointing them. And for all the social changes, the key innovators at NASA and, more importantly, Silicon Valley, remain men, and predominantly white (though more often Asian). Whether it is more due to their superior opportunities, education or creativity, Elon Musk or Larry Page look just like the fathers of the space program.

Yet to avoid ever producing a picture like the sea of white shirts and black ties and pale arms at Launch Operations Center fifty years ago, there are demands for rectification, for diversity, essentially for positive discrimination.

But picking people for posts on the basis of historic justice, skin color and chromosome combinations is a recipe for uncompetitive organizations, where the most talented never succeed, or merely drag along the quota-fillers.

And America's rivals are not standing still – not just Russia now, but China, India and others. They would have no better chance to overtake the US in whatever is this century's version of the space race, than if that nation decided to spit on its own achievements, and replace them with dogma.
While there are bits and pieces of that I agree with, it's a disjointed mess of half-truths, pet peeves, and race-baiting.
The same day—there's no timestamp, so the order is unclear—the Washington Times published a column by Victor Davis Hansen that uses many of the same loosely-connected grievances to make pretty much the same argument, albeit more lucidly. The headline and subhed: "The war over America's past is really about its future: If 'progressives' can convince the American public that the country is flawed, they can gain power to remake it."
[….]

Nike pitchman and former NFL quarterback Colin Kaepernick recently objected to the company's release of a special Fourth of July sneaker emblazoned with a 13-star Betsy Ross flag. The terrified Nike immediately pulled the shoe off the market.

[…]

During a recent speech to students at a Minnesota high school, Rep. Ilhan Omar, Minnesota Democrat, offered a scathing appraisal of her adopted country, which she depicted as a disappointment whose racism and inequality did not meet her expectations as an idealistic refugee. Ms. Omar's family had fled worn-torn Somalia and spent four years in a Kenyan refugee camp before reaching Minnesota, where Ms. Omar received a subsidized education and ended up a congresswoman.

The U.S. Women's National Soccer Team won the World Cup earlier this month. Team stalwart Megan Rapinoe refused to put her hand over heart during the playing of the national anthem, boasted that she would never visit the "f-ing White House" and, with others, nonchalantly let the American flag fall to the ground during the victory celebration.

[…]

Such theater is the street version of what candidates in the Democratic presidential primary have been saying for months. They want to disband border enforcement, issue blanket amnesties, demand reparations for descendants of slaves, issue formal apologies to groups perceived to be the subjects of discrimination, and rail against American unfairness, inequality and a racist and sexist past.

In their radical progressive view — shared by billionaires from Silicon Valley, recent immigrants and the new Democratic Party — America was flawed, perhaps fatally, at its origins. Things have not gotten much better in the country's subsequent 243 years, nor will they get any better — at least not until America as we know it is dismantled and replaced by a new nation predicated on race, class and gender identity-politics agendas.

In this view, an "OK" America is no better than other countries. As Barack Obama once bluntly put it, America is only exceptional in relative terms, given that citizens of Greece and the United Kingdom believe their own countries are just as exceptional. In other words, there is no absolute standard to judge a nation's excellence.

About half the country disagrees. It insists that America's sins, past and present, are those of mankind. But only in America were human failings constantly critiqued and addressed.
He ends ominously:
We've seen something like this fight before, in 1861 — and it didn't end well.
At 12:30 PM on 19 July, The Hill published a similar column by Joe Conchin, headlined "Media cried wolf: Calling every Republican a racist lost its bite."
Once upon a time in the world of cable news, a guest or host or anchor calling anyone a racist would have considerable impact.

From what we've seen this week, when it comes to that word, those days are long gone. A person simply can't turn on the news or scroll Twitterfor even more than a minute before hearing the word "racist" or "racism."
For example, CNN and MSNBC said the word "racist" more than 1,100 times from Sunday to Tuesday, according to a tally conducted by Grabien Media, an online media production and news prep service.

[…]

Everything seems to be racist or soaked in racism these days, even the 1969 Apollo 11 moon landing.

"America may have put the first man on the moon, but the Soviet Union sent the first woman, the first Asian man, and the first black man into orbit — all years before the U.S. would follow suit," wrote the New York Times on Thursday in a piece marinated in identity politics titled, "How the Soviets Won the Space Race for Equality."

But the Times' perspective on the Apollo moon mission pales in comparison to the Washington Post's on Tuesday. "The culture that put men on the moon was intense, fun, family-unfriendly, and mostly white and male," opined the Post.

There's an old children's book we've all read called "The Boy Who Cried Wolf."

Now we're seeing it again — and again, and again. Thousands of times in the past week we've heard or read to the word "racist" or have seen it blatantly implied.

Call it, "The Media That Cried Wolf."

And we all know what happened to the boy who cried wolf too often: People stopped listening.
Granting that I was primed by my conversation about the RT piece to look for similarities in the other pieces, which I encountered in fairly close proximity afterward, the commonality is certainly there. Whether RT provided the talking points or Hansen and Conchin discovered them independently is impossible to say given the way information spreads in the current environment.
Regardless, it underscores why achieving common understandings of what's happening around us is so difficult. To supporters of the President, RT is inarguably a more reliable source of news than the New York Times or Washington Post. His opponents, meanwhile, would never read the Washington Times, an obvious propaganda rag.
Further, the racial grievance theme is incredibly effective. My former colleague and current Facebook friend is an incredibly bright, decent man. He graduated West Point, put in decades of honorable service to his country as an Army officer, and has been an exemplary husband, father, and grandfather. He's several years my senior and an avid Trump supporter but, if he harbors racial animus to non-whites, he's done an outstanding job of hiding it. And he finds the notion that Trump is a white nationalist or that his "if you don't love America, go home" tweets and chants are racist simply absurd.
Rather clearly, huge numbers of Americans, particularly white men over 40, are simply fed up with being told they're bigots for believing what mama and daddy taught them to believe. And the stridency of Kaepernick, Rapinoe, and "The Squad" have provided useful fodder in stoking that resentment. In particular, refusing to stand for the National Anthem and dropping the American flag on the ground were bound to backfire, despite the justness of their cause. The predictable response was presaged by the philosopher Merle Ronald Haggard not long after the moon landing:
They're walkin' on the fightin' side of me
Runnin' down a way of life
Our fightin' men have fought and died to keep
If you don't love it, leave it
Let this song that I'm singin' be a warnin'
When you're runnin' down our country, hoss
You're walkin' on the fightin' side of me
That the people on the other side, who were "talkin' bad about the way they have to live here in this country" and "Harpin' on the wars we fight," were on the right side of history didn't matter in the moment. It didn't take long for most Americans to recognize that there was indeed great injustice in our social conditions and that the war in Vietnam was a massive waste of human life. The people Haggard spoke for—who, incidentally, were doing a disproportionate share of the dying in Vietnam—never got over their bitterness.
And that was in a country where pretty much everyone watched one of the three nightly television newscasts. This was the heyday of Uncle Walter Cronkite and "that's the way it is." I can't even imagine how we're going to heal with everyone getting their news from their preferred viewpoint.