The Senate is Passing Legislation!
Do you believe in miracles?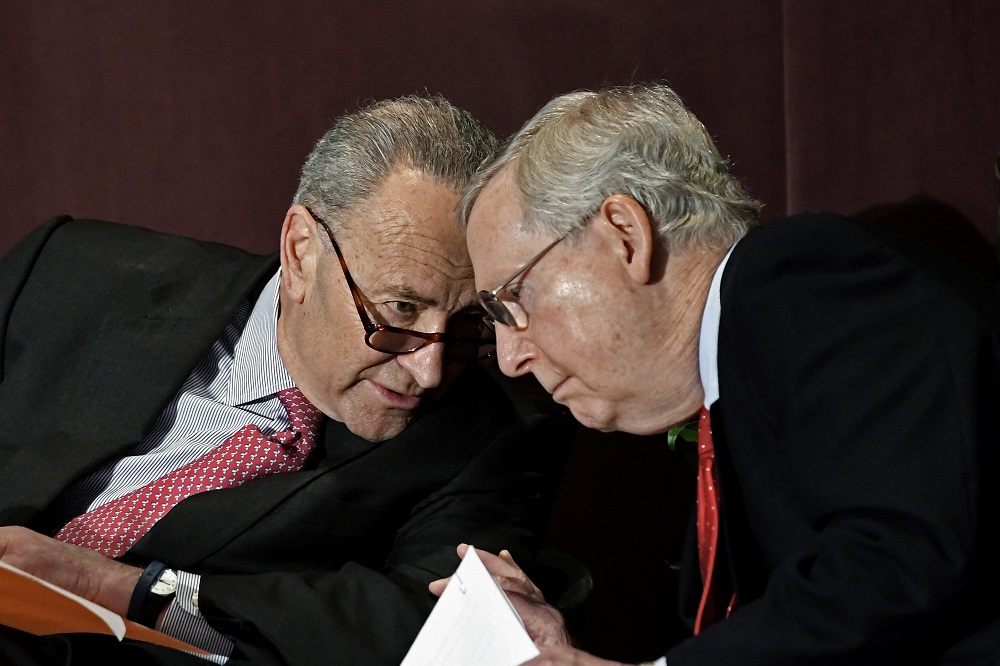 POLITICO ("Schumer's Senate shocker: Bills are passing (seriously)"):
It's the Capitol's election-year surprise: The 50-50 Senate is actually working.

After high-profile partisan failures on President Joe Biden's signature domestic policy bill and on weakening the filibuster for voting reform, the chamber's racked up a series of bipartisan accomplishments lately — some of which had eluded Congress for years.

Senators passed an anti-lynching law after literally 200 failed attempts, gave sexual misconduct claims firmer legal footing and approved sweeping postal reform. That's on top of $14 billion for Ukraine as well as a long-awaited reauthorization of the Violence Against Women Act as part of a massive spending bill, not to mention last year's huge bipartisan infrastructure bill.
My initial reaction was that it shouldn't be shocking that we're passing bills that have broad, bipartisan support. But, of course, we've failed to pass some of these in the past.
Majority Leader Chuck Schumer is hoping to add a couple more bipartisan wins soon on expanding semiconductor manufacturing as part of a China competitiveness measure as well as limiting the cost of insulin to $35. Those follow-up victories are not guaranteed, but Schumer is feeling good enough to brag a little about how much meaningful legislation has cleared the chamber's 60-vote threshold in the last five weeks.

"Mitch McConnell may have had 53 votes, but he never put many bills on the floor. When we can get the votes, we want to get it done," Schumer said in an interview. "With 50 votes, we get a lot more done than they do with 53 votes, because they're not that interested in getting the government to help people."
That's both cute and plausible. After all, Democrats run on passing programs to redistribute money from the rich to everyone else while Republicans run on making government smaller. But I was curious as to whether it's actually true that Schumer is passing more bills than McConnell did. It turns out that the folks at GovTrack have detailed records going back to World War II. Here's the most recent few years, coinciding with what fit on my computer screen without resizing: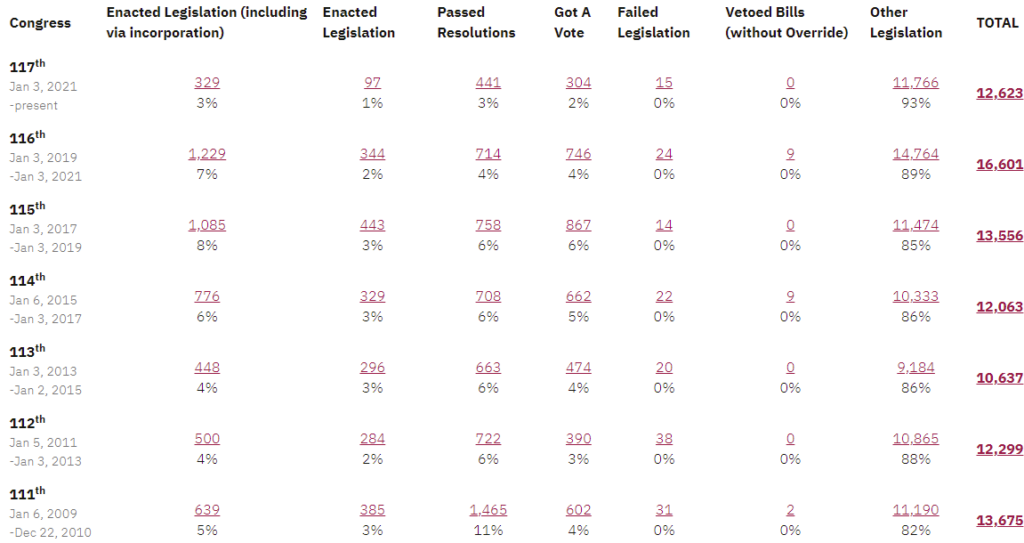 The current 117th Congress is, of course, controlled by Democrats (although, interestingly, there are 50 Senators who call themselves 'Republican' vice 48 nominal Democrats). Republicans controlled the 114th, 115th, and 116th with 54, 53, and 51 Senators respectively. Democrats controlled the 110th, 111th, 112th and 113th with 49+2, 57+2, 51+2, and 53+2.
There's no breakdown as to which bills did what, so there's no way to tell from the raw data how many bills "helped people." But, oddly, in terms of pure "enacted legislation," the Republicans under McConnell (who has been the caucus leader since 2007) have actually been considerably more prolific than the Democrats. Indeed, the 1229 and 1085 figures are the two highest in the GovTrack records. (Note: GovTrack defines "Other Legislation" as "Bills and resolutions that were introduced or reported by committee but did not have further action.")
Regardless, while bills are indeed getting passed—why there's even a budget!—we're not exactly at kumbaya.
The honeymoon may not last long. Schumer isn't yet giving up on passing another party-line social spending bill after Sen. Joe Manchin (D-W.Va.) spurned Biden's previous offer in December, citing "conversations going on between varieties of senators" about another stab at a proposal that needs unanimous Democratic support to pass and could make or break Democrats' fight to keep their majority.

And Schumer isn't giving up on pushing the GOP; he said there "absolutely" will be election-year debate on legislation that Republicans broadly oppose. Democrats want him to put up votes on enhancing background checks, immigration reform and beefing up civil rights protections. Schumer also intends to quickly confirm Ketanji Brown Jackson to the Supreme Court, which is likely to draw few GOP backers.

"When we can be bipartisan, we will. But we're not going to shy away from things that are important that Republicans won't go for," Schumer said. "And will there be some votes on the floor where we may not win, but at least we will see where each member stands on important issues, important to the American people? That will happen."

Not every senator is going out of their way to praise the Senate's bipartisan streak: "You mean we were productive because the government didn't shut down? There you go!" said Sen. Bernie Sanders (I-Vt.). "Do you want a scoop? … I heard that all 100 members brush their teeth in the morning."

Yet for the moment, Schumer and McConnell are delivering a bit of bipartisan compromise to the longest-running 50-50 Senate ever. It's not always been pretty, but there's been no debt defaults, no shutdown and no change in chamber control due to a party-switcher.
That's something, I guess. And this is fair enough:
In some ways, the breakneck party-line passage of the $1.9 trillion coronavirus aid package one year ago was the outlier for this Congress, rather than a sign of what was to come. That's in part due to Manchin's opposition to Biden's so-called Build Back Better bill, as well both his and Sen. Kyrsten Sinema 's (D-Ariz.) resistance to unilaterally weakening the filibuster to pass federal elections reform. Manchin has repeatedly warned against further party-line legislation.

"95 percent of the time seems to be spent on partisan stuff, and 5 percent on bipartisan stuff. They've realized they've needed some accomplishments. I'm all for that," said Sen. John Cornyn (R-Texas).

Adding a quippy reference to the love-ins of the 1967 musical "Hair," he added: "But I don't think the age of Aquarius has broken out or anything."
I suspect he's right.