The Silly 'Dr. Biden' Kerfuffle
A silly, sexist WSJ op-ed has generated plenty of attention.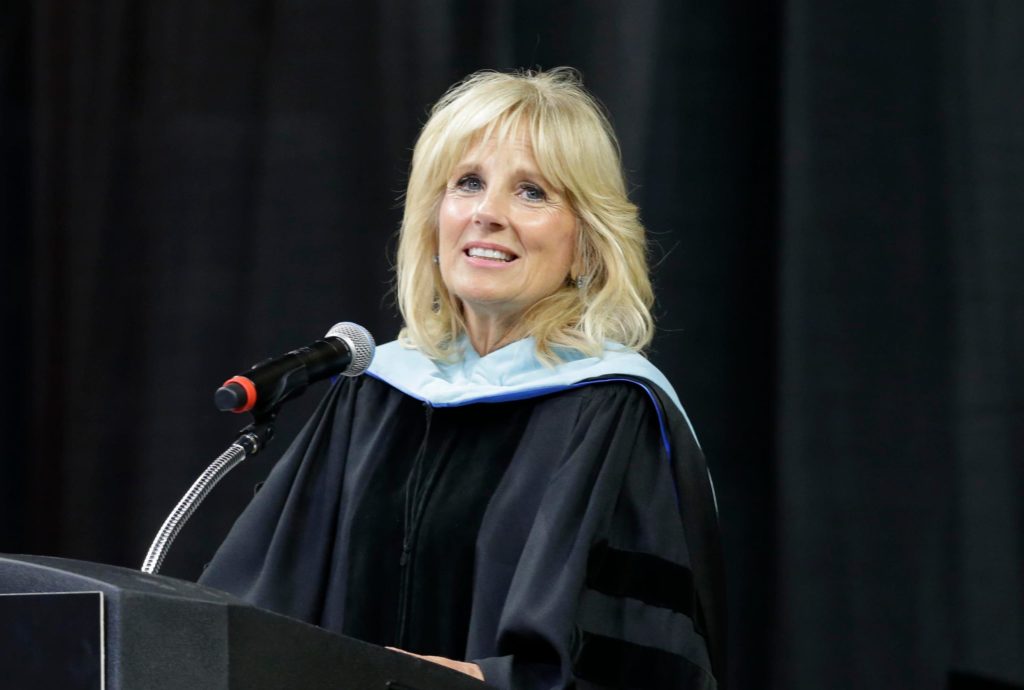 Because my Twitter feed is heavy on academics, politicos, and media types, it was filled this weekend with hate for Joseph Epstein's ill-informed Wall Street Journal op-ed "Is There a Doctor in the White House? Not if You Need an M.D."
The New York Times and Washington Post have both written pieces denouncing the essay and Paul Gigot, the editor of WSJ's editorial page, has issued a bizarre defense that has dug the hole deeper, claiming that the outrage was somehow ginned up by the Biden team rather than the decision to publish an insipid column.
The feminists rightly called him out for the lede, "Madame First Lady—Mrs. Biden—Jill—kiddo . . . ." While "kiddo" is apparently a nickname the President-Elect uses for her, it's simply inappropriate for a stranger to use it in reference to a grown woman.
His argument, in a nutshell:
Any chance you might drop the "Dr." before your name? "Dr. Jill Biden " sounds and feels fraudulent, not to say a touch comic. Your degree is, I believe, an Ed.D., a doctor of education, earned at the University of Delaware through a dissertation with the unpromising title "Student Retention at the Community College Level: Meeting Students' Needs." A wise man once said that no one should call himself "Dr." unless he has delivered a child.
So, first off, as I've noted before when variations of this controversy have arisen, "doctor" is from the Latin for "teacher." It was literally used by scholars for centuries before healers appropriated the title for themselves to lend legitimacy to an occupation that was filled with quacks before professionalizing.
Further, if one is a community college teacher seeking a doctorate in educational leadership, it's hard to think of a more worthy subject of investigation that how to better meet student needs so they can finish their course of study.
Epstein does himself no favors in the next paragraph:
I taught at Northwestern University for 30 years without a doctorate or any advanced degree. I have only a B.A. in absentia from the University of Chicago—in absentia because I took my final examination on a pool table at Headquarters Company, Fort Hood, Texas, while serving in the peacetime Army in the late 1950s.
Which of course makes him sound like someone jealous of Biden's accomplishments. He was a "visiting lecturer" at Northwestern, presumably teaching creative writing.
I do have an honorary doctorate
This is, in almost all cases, swag given out as a prize for commencement speakers or to large donors.
I was also often addressed as Dr. during the years I was editor of the American Scholar, the quarterly magazine of Phi Beta Kappa. Let me quickly insert that I am also not a member of Phi Beta Kappa, except by marriage. Many of those who so addressed me, I noted, were scientists. I also received a fair amount of correspondence from people who appended the initials Ph.D. to their names atop their letterheads, and have twice seen PHD on vanity license plates, which struck me as pathetic. In contemporary universities, in the social sciences and humanities, calling oneself Dr. is thought bush league.
There's a lot to unpack here but the bottom line is that the use of "Dr." in academic venues is regional. I gather that it's unusual on the West Coast and Midwest, where "Professor" is preferred. It's the the norm in the South, where "Professor" is reserved for those, like Epstein, who hold teaching posts but don't hold doctorates. While I wouldn't put it on my license plate, I could see where a younger person might.
This is particularly rich for someone with no advanced degree:
The Ph.D. may once have held prestige, but that has been diminished by the erosion of seriousness and the relaxation of standards in university education generally, at any rate outside the sciences. Getting a doctorate was then an arduous proceeding: One had to pass examinations in two foreign languages, one of them Greek or Latin, defend one's thesis, and take an oral examination on general knowledge in one's field. At Columbia University of an earlier day, a secretary sat outside the room where these examinations were administered, a pitcher of water and a glass on her desk. The water and glass were there for the candidates who fainted. A far cry, this, from the few doctoral examinations I sat in on during my teaching days, where candidates and teachers addressed one another by first names and the general atmosphere more resembled a kaffeeklatsch. Dr. Jill, I note you acquired your Ed.D. as recently as 15 years ago at age 55, or long after the terror had departed.
First, it's simply untrue that standards have decreased at comparable institutions. (There are a host of degree mills out there, of course, many of them online. But Biden went to an R1 flagship.) Indeed, the professors I had as an undergraduate 35 years ago, who finished their doctorates in the late 1960s, typically earned their degree three years out of undergrad and were full professors by age 30. These days, it's not uncommon to take five to seven years to complete the program.
I'm not sure the EdD ever required learning ancient languages but I can't imagine any reason why they still should. In my PhD program at Alabama, which I finished 25 years ago almost to the day, we had the requirement to demonstrate reading comprehension in one foreign language (German in my case) and a suite of statistics and research methods courses substituted for a second. We did in fact have comprehensive exams, a proposal defense, and a dissertation defense. I don't recall much in the way of fainting.
The prestige of honorary doctorates has declined even further. Such degrees were once given exclusively to scholars, statesmen, artists and scientists. Then rich men entered the lists, usually in the hope that they would donate money to the schools that had granted them their honorary degrees. (My late friend Sol Linowitz, then chairman of Xerox, told me that he had 63 honorary doctorates.) Famous television journalists, who passed themselves off as intelligent, followed. Entertainers, who didn't bother feigning intelligence, were next.
So, first off, Epstein got an honorary doctorate from Adelphia in 1988. I guarantee you that all of those trends long predated that event. But it gets worse:
At Northwestern, recent honorary-degree recipients and commencement speakers have included Stephen Colbert and Seth Meyers. I sent a complaining email to the school's president about the low quality of such men as academic honorands, with the result that the following year the commencement speaker and honorand was Billie Jean King —who, with the graduating members of the school's women's tennis team, hit tennis balls out to the audience of graduating students and the parents who had paid $70,000 a year for their university education, or perhaps I should say for their "credential."
I guarantee that Colbert and Meyers are smarter than Epstein. And King is a seminal figure in sport and the civil rights movement. I would think students and parents would be happier to hear her thoughts than, say, those of Joseph Epstein.
Political correctness has put paid to any true honor an honorary doctorate may once have possessed. If you are ever looking for a simile to denote rarity, try "rarer than a contemporary university honorary-degree list not containing an African-American woman." Then there are all those honorary degrees bestowed on Bill Cosby, Charlie Rose and others who, owing to their proven or alleged sexual predations, have had to be rescinded. Between the honorary degrees given to billionaires, the falsely intelligent, entertainers and the politically correct, just about all honor has been drained from honorary doctorates.
So, Bill Cosby holds an earned doctorate and is a seminal figure in American comedy and the civil rights struggle. Alas, he's also a serial rapist. Rose, too, is a learned man (undergrad and law degrees from Duke) and an intellectual. Alas, he, too, was a serial harasser and creep.
Apparently, Epstein has been laboring for 32 years under the assumption that he's something special because a mediocre university awarded him an honorary doctorate. And his feelings are hurt because people he holds in disdain because they're far more accomplished and famous than he also got one. Oh, well.
As to Biden herself, I've written about the controversy before and have mixed feelings.
Her doctorate is real and earned. But it's a little odd to use the title "Dr." when teaching outside one's field. She teaches remedial English at a community college. Students would reasonably assume she had a PhD in English, not an EdD in Educational Leadership.
It's even more unusual to insist on the title outside an academic setting. I don't use at at OTB, where I'm quite often just commenting as an ordinary citizen rather than as one who has devoted deep study to the subject at hand. I tend not to use it even when I write for non-scholarly outlets in my field of expertise.
Still, I sympathize with her desire to emphasize her own personal and professional achievements. She's not simply Joe Biden's wife but a woman with a career and accomplishments of her own. "Dr. Biden" calls attention to that fact.
UPDATE: Northwestern's English Department has put this statement on their website:
The Department is aware that a former adjunct lecturer who has not taught here in nearly 20 years has published an opinion piece that casts unmerited aspersion on Dr. Jill Biden's rightful public claiming of her doctoral credentials and expertise. The Department rejects this opinion as well as the diminishment of anyone's duly-earned degrees in any field, from any university.

While I wouldn't go so far as "any field" or "any university," it's a stinging rebuke.