The Strange Case Of Rachel Dolezal
The head of the Spokane NAACP has apparently been lying about her racial background, and that's led to a whole other argument.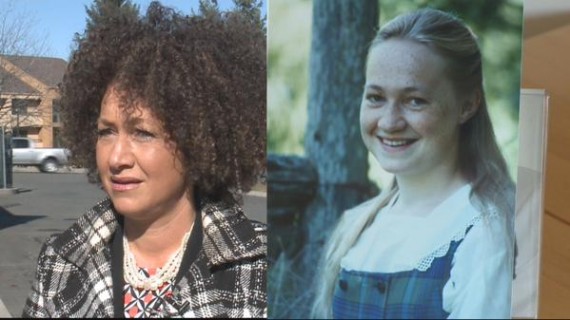 An NAACP leader in Spokane is under fire today after her parents came forward to say that she has been misrepresenting her past to claim that she is of African-American heritage:
The parents of a civil rights activist in Spokane, Wash., say their daughter has misrepresented herself as black for years, spurring a growing discussion on social media about race and identity.

Rachel Dolezal, 37, the president of theN.A.A.C.P. chapter in Spokane and a part-time professor in the Africana Studies program at Eastern Washington University, has listed on at least one application that she is black, as well as white and Native American.

Members of civil rights organizations in the Spokane area say Ms. Dolezal has claimed that she is part African-American. Claims that she received hate mail in late February and March generated much local media coverage and more than a little skepticism.

But Ruthanne and Larry Dolezal told a local television station Thursday that their daughter is Caucasian and had changed her appearance over time to look black. "She chose to represent herself as an African-American woman or a biracial person, and that's simply not true," Ruthanne Dolezal said.

Ms. Dolezal deflected questions Thursday about her race.

"I feel like I owe my executive committee a conversation" before publicly discussing the "multilayered" issue, she told The Spokesman-Review in Spokane.

"That question is not as easy as it seems," she said.

The Spokesman-Review has credited Mrs. Dolezal with re-energizing the Spokane chapter of the N.A.A.C.P. since being elected in 2014.

The City of Spokane is investigating whether Ms. Dolezal lied when she identified herself as African-American on an application to serve in a volunteer position on the citizen police ombudsman commission,according to KXLY, a local ABC-TV station. Ms. Dolezal, who in several instances has claimed to be a victim of racial harassment, ended an interview with the TV station when pressed on her background.

Ms. Dolezal's father told BuzzFeed that she had cut off communication from her parents.

"She's our birth daughter and we're both of European descent," he said.

The Dolezals provided what they said was their daughter's birth certificate to The Washington Post.

The news spread beyond Washington State Thursday night and attracted a voluminous response on social media, with an outcry surfacing on Twitter in particular.

Ms. Dolezal, who appears to have deleted posts from her Facebook page, maintains an active presence online, including a website displaying herartwork. In February, she told a reporter with the Eastern Washington University newspaper that her pieces, many with civil rights themes, sold for thousands of dollars.
The Buzzfeed News report on this story does a fairly good job of rounding up all the various reports and the claims that Ms. Dolezal has made about her heritage and background over the years. For example, she has apparently passed off an African American man as her father at various public events around Spokane in the recent years, despite the fact that her parents are quite obviously very white and there doesn't seem to be any evidence to suggest that she isn't their natural born child. Additionally, she has claimed  that an African American teenager is her son when he is, according to her parents, actually her younger brother who came to live with her several years ago to finish High School. She has also claimed to have lived in South Africa, which is apparently not true at all, and to have at one point grown up living in a teepee and learning to shoot bows and arrows, although it's unclear why she would make that claim at all. Finally, and probably more importantly, she has claimed both in her position with the NAACP, in her position on various boards for the City of Spokane, and in her position as a professor of African Studies at Eastern Washington University that she is African American. If her parents are telling the truth, none of this is true and this woman is little more than a fraud.
Here's a video of an interview with a local television station in which Dolezal was, to say the very least, evasive in answering questions about the claims she has made in the past:
As the Times article linked above notes, this story has drawn a lot of attention on social media and cable news since it became public late yesterday. So far, there's been no public statement from Dolezal or the local NAACP regarding the matter, and it is at least worth noting that there are two sides to this story and that there does seem to be something of a strained relationship between Dolezal and her parents. Do her parents have some ulterior motive in making these statements in public? I don't know, and I suppose we will find that out. However unless they are just plain out lying it's pretty clear that Rachel Dolezal has misrepresented her race on many occasions over the past several years, including possibly in an effort to secure employment, appointment to government boards, and other benefits. That is plain old fraud right there and if she's guilty of it then she deserves to be exposed and the people she has deceived deserve to know the truth and to judge her accordingly
As is usually the case with stories like this, many people in the social media and punditry world seem to have latched onto this story to make some other political point. Specifically, there are conservatives making the argument that if Caitlyn Jenner can choose her gender then why can't Rachel Dolezal choose her race? You can find one example of that argument in this blog post, and another example here.  These aren't serious arguments, of course, but rather yet another attempt by social conservatives to demean transgender people, a phenomenon that has been quite prevalent on that side of the political spectrum over the past two weeks. Even taking the arguments at face value, though, they don't add up. As I've said before, I don't pretend to understand what transgenderism is or what the people who fall into that category are going to, but it seems fairly clear that it is a real phenomenon and not just a choice that someone makes. The best example of this can be found in brain scans, which show that the brains of transgender males or females seem to be closer to the brain of the gender they identify with rather than the one they were born with. This has been documented in studies that go as far back as 1995, as well as more recent studies in 2011, and again in 2013. There have been no documented differences in brain scans between people of different races. Therefore, the analogy that these people are seeking to make has no merit whatsoever.
Rachel Dolezal didn't "choose her race," she committed fraud by lying about her background. She can choose to adopt whatever culture she wishes, but that's not what happened here. She lied about her background, not just to the public but apparently also on job applications. That's fraud. The people who are trying to use this case to draw analogies to, or mostly just to make stupid, snarly comments about, the issues raised last week by the Caitlyn Jenner story, are just being obnoxious jerks.
Photo via KREM-TV reporter Taylor Viydo on Twitter