The Strongest, and yet Utterly Disingenuous, Trump Defense
The election appeal.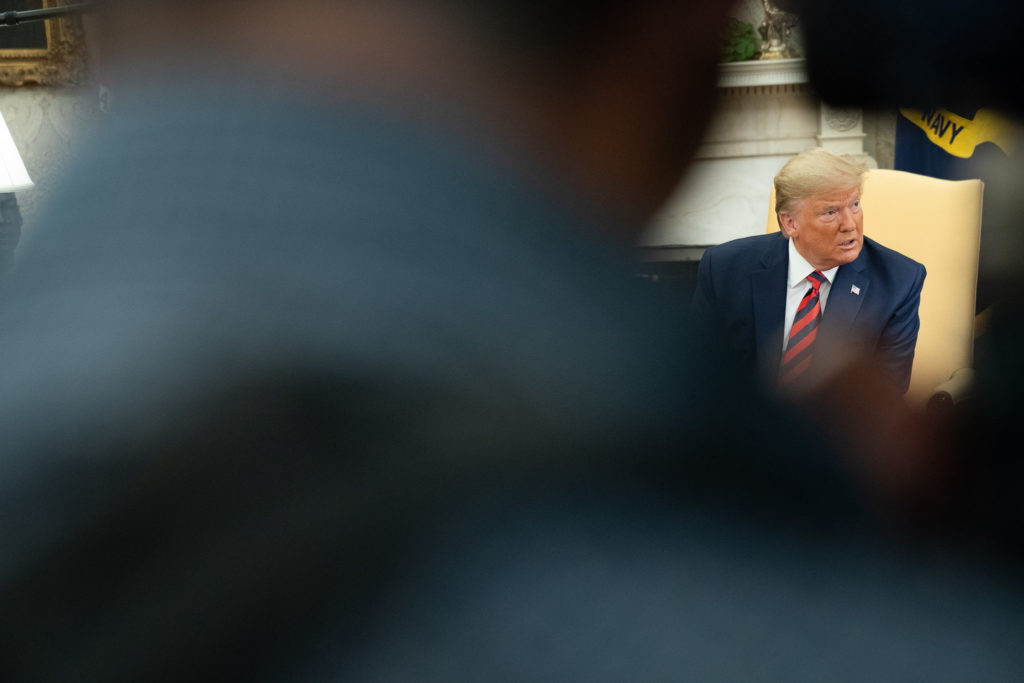 The goal of Trump's defense is clearly to provide Republican Senators with plausible explanations for why they can't possibly vote to remove. Like defense attorneys cultivating reasonable doubt, Trump's lawyers need to provide reasonable talking points for Senators and reasonable soundbites for FNC and like-minded media. "Reasonable" being defined here as good enough to convince Trump voters, as well as citizens paying only marginal attention, that removal from office is simply too dramatic a move.
These defenses will include any number of arguments ranging from the whole "perfect call" routine to sure, he did it, but it isn't worthy of removal. After all, all presidents do this kind of thing. That denials that he did it are utterly contradictory to the notion that what he did doesn't rise to the level of removal are logically incompatible will be of no consequence. What matters is that Senators (and TV producers, editors, Tweeters, and the like) can choose their own adventure when defending Trump.
The strong such soundbite will be something along the lines of the following by Trump attorney Pat Cipollone from his opening argument:
They're asking you not only to overturn the results of the last election, but as I've said before, they're asking you to remove president Trump from the ballot in an election that's occurring in approximately nine months. They're asking you to tear up all of the ballots across this country on your own initiative. Take that decision away from the American people.

[…]

It would violate our constitution, it would violate our history, it would violate our obligations to the future, and most importantly, it would violate the sacred trust that the American people have placed in you and have placed in them. The American people decide elections. They have one coming up in nine months. So we will be very efficient. We will begin our presentation today. We will show you a lot of evidence that they should have showed you and we will finish efficiently and quickly so that we can all go have an election. Thank you. 
On the one hand, if one is looking for a quick and easy response to the process, pointing to the fact that there is an election coming up is the easiest. "Let the people decide!" is the easiest dodge any member of the Senate can make. It lets them off the hook and flatters the wisdom of their supporters.
On the other hand, the notion that there should not be an impeachment because an election is coming and the American people can then decide undercuts the very idea of impeachment itself. It would mean, in the post XX Amendment world that a first term president should never be impeached because, after all, an election is coming.
I would note along those lines that since there were no term limits for president when the Constitution was written that the argument that "an election is coming" would have always been true (and therefore, based on this argument, mean that impeachment should never happen).
Worse, of course, is the argument that a plainly constitutional process (it is like written in the Constitution and everything) "violate[s] the constitution." That statement is a remarkable non sequitur.
This defense is also incredibly brazen, since it is an attempt to turn charges of attempted election interference by Trump into election interference by his accusers. The entire purpose of Trump's Ukraine operation was to get Ukraine to act in ways that would influence the 2020 campaign.
Indeed, those actions make impeaching and removing Trump before the 2020 elections more imperative in the face of a pending election, not less.
A truly significant element of this argument, and really the Trump defense in general, is that presidents should not be held accountable by the Congress at all (and we already know that standing DoJ policy is that law enforcement cannot hold the president accountable).
I am not surprised by the partisan impulse to protect their own (and the electoral calculus GOP Senators are entering into, not to mention a great deal of rationalization), but if Trump is not removed (which is as near to a certainty as a future event can be) and is reelected (a real possibility), then his abuses on power in a second term (if not in the next nine months) will be significant and will further erode accountability in our government.
"A dependence on the people is, no doubt, the primary control on the government; but experience has taught mankind the necessity of auxiliary precautions"-James Madison, Federalist 51.
Sigh.
I would feel a lot better about relying on the people, via the electoral process, to deal with Trump's malfeasance if we had a system of election that did not provide a very real possibility of minority rule.