The Threat of Political Violence
Separating rhetoric from action.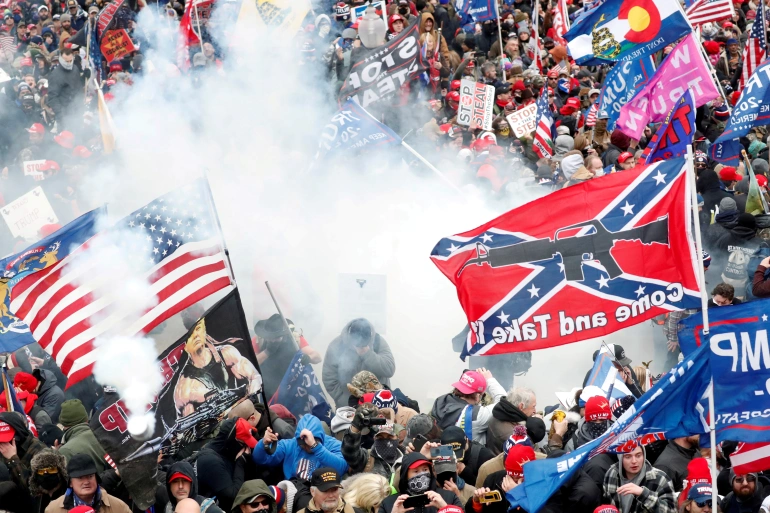 Two related stories showing at memeorandum.
Kira Lerner, The Guardian ("12m Americans believe violence is justified to restore Trump to power"):
Two and a half years after the January 6 attack on the Capitol, an estimated 12 million American adults, or 4.4% of the adult population, believe violence is justified to restore Donald Trump to the White House.

Though the number of adults who believe this has declined since the insurrection, recent survey data from the University of Chicago reveal alarming and dangerous levels of support for political violence and conspiracy theories across the United States.

The university's Chicago Project on Security & Threats (CPOST) research center has been conducting Dangers to Democracy surveys of American adults on political violence and attitudes towards democracy since shortly after the January 6 attacks. In new data from April shared exclusively with the Guardian, researchers found a continued support for violence to achieve various political goals on both sides of the aisle, and a general distrust for democracy.

[…]

"We're heading into an extremely tumultuous election season," said Robert Pape, a professor at the University of Chicago who directs CPOST. "What's happening in the United States is political violence is going from the fringe to the mainstream."

The most recent survey from April 2023 found that an estimated 142 million Americans believe that elections won't solve America's most fundamental problems – up from 111 million last September. And one in five American adults still believe that the 2020 election was stolen from Trump, representing very little change from 2021.

"What you're seeing is really disturbing levels of distrust in American democracy, support for dangerous conspiracy theories, and support for political violence itself," Pape said.

Pape said it was important to track sentiments about political violence, comparing it to the kindling for a wildfire. Though many were unaware that the events on January 6 would turn violent, research shows that public support for violence was widespread, so the attacks themselves should not have come as a surprise.

"Once you have support for violence in the mainstream, those are the raw ingredients or the raw combustible material and then speeches, typically by politicians, can set them off," he said. "Or if they get going, speeches can encourage them to go further."

[…]

The survey found that almost 14% – a minority of Americans, but still a significant number – believe the use of force is justified to "achieve political goals that I support". More specifically, 12.4% believe it's justified to restore the federal right to abortion, 8.4% believe it's justified to ensure members of Congress and other government officials do the right thing, 6.3% think it's justified to preserve the rights of white Americans, and 6.1% believe it's justified to prevent the prosecution of Trump.

Peter Feaver, a political science professor at Duke University and the author of a forthcoming book on public trust in the military, said that while public support for political violence might seem extreme, a confluence of factors is necessary for actual violence to occur – which is still rare. On January 6, there was a time-sensitive action, an already existing rally, and inciters including Trump who encouraged others to commit violence.

"You needed all of that at the same time to turn what would have been latent sentiment of the sort that this survey captures into actual violence," he said.

In addition to wide support for Trump's big lie about the 2020 election, the survey also found that significant numbers of American adults believe conspiracy theories about the US government, and the number of believers has remained steady over almost two years. For example, 10% of American adults in April said they believe the government is run by Satan-worshipping pedophiles.

"The survey confirms what we already knew, which is that rhetoric is really hyperbolic in American political life," Feaver said. "You can get folks to express support for pretty extreme statements."

An even greater percentage of American adults said they believe in the "great replacement" theory, a white nationalist conspiracy theory that holds there is an active effort to replace white people with non-white populations, including immigrants and other people of color, in white-majority countries.

While much of the survey reveals an alarming level of political polarization in the United States, there are areas where the majority of people do agree. Almost 55% of American adults feel like elections won't solve our most fundamental political and social problems, and close to 50% believe political elites on both sides of the aisle are the most corrupt people in America.

Perhaps more optimistically, the largest share of Americans believe in a potential solution to political violence. More than 77% think Republicans and Democrats in Congress should make a joint statement condemning any political violence.
Here's the key graphic from the article: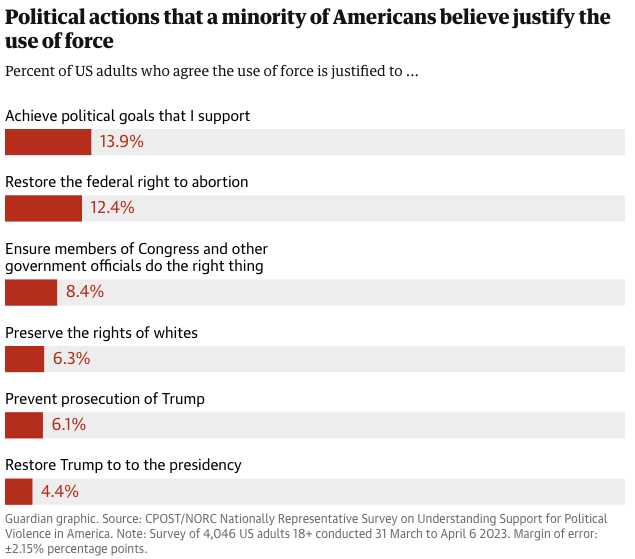 Unfortunately, the CPOST website isn't well organized or up to date. The poll itself is not posted there.
The findings are obviously disturbing on their face but Feaver has a point: some sizable number of Americans will say they believe pretty much any damn fool thing they're asked in a survey. And, hell, in the right context, I would support violence to achieve political goals I support, preserve the rights of whites, or ensure government officials do the right thing. I just don't think that context currently exists. Support for violence to achieve fundamental rights is literally the founding ethos of the country.
Further, because the survey was initiated in response to the January 6, 2021 attacks, we don't have much of a baseline. That is: What's the normal level of support for political violence? It's surely not zero.
While the focus is rightly on right-wing violence, note that support for violence to restore the right to abortion is more than triple that to restore Trump to the presidency and roughly double that to prevent the prosecution of Trump or preserve the rights of whites. So far as I know, this hasn't manifested in leftist radicals storming statehouses or courts. Presumably, then, most of those who "support" violence are either speaking theoretically or simply spouting off.
All that said, though, even independent of this polling, I agree with Pape that the conditions are ripe for Trump or other influential figures to spark violence. We've seen it happen. Which makes the other report more alarming.
David Gilbert, Vice News ("'We Need to Start Killing': Trump's Far-Right Supporters Are Threatening Civil War"):
In what is becoming a now all-too-familiar trend, former President Donald Trump's far-right supporters have threatened civil war after news broke Thursday that the former president was indicted for allegedly taking classified documents from the White House without permission.

"We need to start killing these traitorous fuckstains," wrote one Trump supporter on The Donald, a rabidly pro-Trump message board that played a key role in planning the January 6 attack on the Capitol. Another user added: "It's not gonna stop until bodies start stacking up. We are not civilly represented anymore and they'll come for us next. Some of us, they already have."

[…]

Trump announced the news himself on Truth Social, writing that he had been indicted in the "Boxes Hoax" case, as he put it, and said he would be arraigned on Tuesday at Florida Southern District Courthouse in Miami. Within minutes, his supporters lit up social media platforms with violent threats and calls for civil war, according to research from VICE News and Advance Democracy, a nonpartisan think tank that tracks online extremism.

Trump supporters are making specific threats too. In one post on The Donald titled, "A little bit about Merrick Garland, his wife, his daughters," a user shared a link to an article about the attorney general's children.

Under the post, another user replied: "His children are fair game as far as I'm concerned."

In a post about the special counsel conducting the probe, one user on The Donald wrote: "Jack Smith should be arrested the minute he steps foot in the red state of Florida."

In addition to threats of violence against lawmakers and politicians, many were also calling for a civil war.

"Perhaps it's time for that Civil War that the damn DemoKKKrats have been trying to start for years now," a member of The Donald wrote. Another, referencing former President Barack Obama and former secretary of State Hillary Clinton, said: "FACT: OUR FOREFATHERS WOULD HAVE HUNG THESE TWO FOR TREASON…"

Others on similar social media platforms made general calls for an armed uprising. "The entire Republican Party should flood the courthouse and demand real justice here," one supporter wrote on Truth Social. It wasn't just anonymous users saying this, however: Right-wing talk show host Charlie Kirk called on all Trump supporters to descend on Miami on Tuesday to protest the indictment.

"This is the JFK assassinaton all over again," right-wing personality and Pizzagate promoter Michael Cernovich wrote, claiming that the "deep state" had killed JFK and were now using the Justice Department to take down Trump.

Other right-wing lawmakers and commentators also pushed the idea that this was a politically-motivated prosecution ordered by Joe Biden. Republican Speaker of the House Kevin McCarthy echoed Trump's own words, calling Thursday "a dark day for the United States of America." In a statement, he also claimed that Biden was directly behind the indictment of Trump in a bid to remove the leading GOP candidate for the 2024 election.

On right-wing media, hosts echoed the messages posted on social media, boosting the same baseless claims while using war-related language and providing no evidence to back up their allegations.

Fox News host Sean Hannity, for example, told his viewers that the U.S. justice system has "been weaponized beyond belief" and that the country is "in serious trouble," while former Trump aide Stephen Miller appeared on Fox News and said he hoped the "whole of the Republican party, the whole of the conservative movement, the whole of the country that cares about the rule of law coalesces around President Trump."
Absent the context of January 6 and some smaller-scale violence, I wouldn't take a bunch of losers ranting on a message board all that seriously. In almost all instances, it's empty bravado or simple venting.
McCarthy's spinelessness and Hannity's rabble-rousing is much more concerning. They're considerably more influential than message board randos and are contributing to a divisive atmosphere that's ripe for violence.
While I'm quite sure a minuscule fraction of those saying they support violence to re-install Trump or whathaveyou are actually serious threats to do so, January 6 showed us that it doesn't take huge numbers. A few thousand folks showed up to Trump's rally and a few hundred of them marched on the Capitol. Fewer still stormed in ready to commit violence.