The Triumph Of Clarence Thomas
A new look at Clarence Thomas's 20 years on the Supreme Court, from a critic, is surprisingly positive.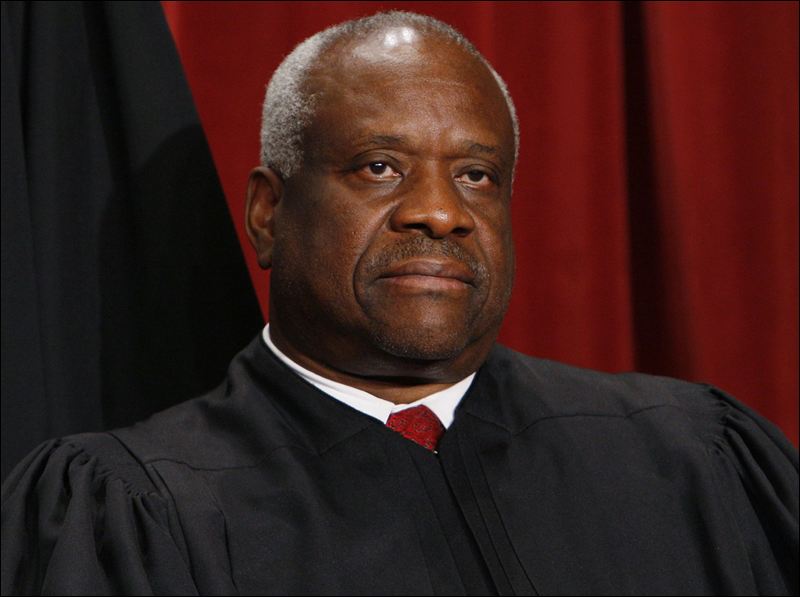 Jeffrey Toobin is out with a fascinating, must-read, piece on Clarence Thomas in The New Yorker that is drawing attention because of it's reappraisal of Thomas's jurisprudence. In it Toobin, who clearly disagrees with Thomas in many respects, concludes that the Justice has had a profound influence on the Court's direction in the past 20 years, and that he's not the intellectual dunce that his critics on the left have characterized him ever since the Anita Hill hearings came to an end:
These tempests obscure a larger truth about Thomas: that this year has also been, for him, a moment of triumph. In several of the most important areas of constitutional law, Thomas has emerged as an intellectual leader of the Supreme Court. Since the arrival of Chief Justice John G. Roberts, Jr., in 2005, and Justice Samuel A. Alito, Jr., in 2006, the Court has moved to the right when it comes to the free-speech rights of corporations, the rights of gun owners, and, potentially, the powers of the federal government; in each of these areas, the majority has followed where Thomas has been leading for a decade or more. Rarely has a Supreme Court Justice enjoyed such broad or significant vindication….

The implications of Thomas's leadership for the Court, and for the country, are profound. Thomas is probably the most conservative Justice to serve on the Court since the nineteen-thirties. More than virtually any of his colleagues, he has a fully wrought judicial philosophy that, if realized, would transform much of American government and society. Thomas's views both reflect and inspire the Tea Party movement, which his wife has helped lead almost since its inception. The Tea Party is a diffuse operation, and it can be difficult to pin down its stand on any given issue. Still, the Tea Party is unusual among American political movements in its commitment to a specific view of the Constitution—one that accords, with great precision, with Thomas's own approach. For decades, various branches of the conservative movement have called for a reduction in the size of the federal government, but for the Tea Party, and for Thomas, small government is a constitutional command.
As just one example of how Thomas has influenced the direction of the law in the United States, even in dissent, Toobin cites a part of the Constitution that, up until very recently, was largely moribund and forgotten. It starts with the 1997 case Printz v. United States in which the Supreme Court struck down certain provision of the Brady Handgun Control Act of 1993. Thomas joined Justice Scalia in the majority opinion in that case, but also filed a concurring opinion where he said this:
The Second Amendment similarly appears to contain an express limitation on the government's authority. That Amendment provides: "[a] well regulated Militia, being necessary to the security of a free State, the right of the people to keep and bear arms, shall not be infringed." This Court has not had recent occasion to consider the nature of the substantive right safeguarded by the Second Amendment. If, however, the Second Amendment is read to confer a personal right to "keep and bear arms," a colorable argument exists that the Federal Government's regulatory scheme, at least as it pertains to the purely intrastate sale or possession of firearms, runs afoul of that Amendment's protections.
Since the Plaintiff's in Printz had not raised the Second Amendment in their arguments, largely because it had long been considered a dead letter in the law, the Court didn't rule on it. Nonetheless, as Toobin notes, Thomas's short concurrence did gain the attention of some people:
The Brady bill also made it a crime for an individual who was covered by a domestic-violence protection order to possess a firearm. In 1999, Timothy Emerson, a doctor in Green County, Texas, who was involved in a messy divorce, challenged the constitutionality of that law, on the ground that it violated the Second Amendment. A federal district court, relying heavily on Thomas's concurring opinion in Printz, concluded that the Second Amendment did confer an individual right to bear arms and threw out the indictment. In 2001, the Fifth Circuit Court of Appeals reinstated Emerson's indictment, but again cited Thomas's opinion in calling for a new understanding of the Second Amendment.

Thomas's opinion also drew the attention of Clark Neily III and Steve Simpson, two libertarian lawyers who wanted to bring a test case to the Supreme Court. They approached Robert Levy, a software and financial entrepreneur with libertarian views who in his fifties had sold his company and gone to law school. "There was an outpouring of scholarship, including from liberals, indicating that the Second Amendment secured an individual right," Levy told me. "You had the Bush Administration taking that position. And you had the Emerson decision, citing Thomas's Printz opinion." Levy agreed to underwrite the costs, and he hired Alan Gura, a young lawyer from Virginia, to argue the case.
That case was District of Columbia v. Heller, and the Supreme Court ultimately ruled that the District of Columbia's total ban on handgun ownership by citizens was unconstitutional. More importantly, though, the Court essentially adopted the argument that Thomas made in his Printz concurrence that the Second Amendment was a personal right, not a collective one. Last year, in McDonald v. Chicago, the Court held that the Second Amendment applied to the states under the doctrine of incorporation, a decision that actually reversed a decision from the late 19th Century. Now, Federal Courts at all levels are dealing with the question of just how far the Second Amendment goes in protecting an individual's right to keep and bear arms, and it all started with one paragraph in a two page concurrence by a Supreme Court Justice that most people on the left have dismissed, incorrectly, as a dim-witted fool.
Walter Russell Mead, whose own piece is also highly recommended as a companion to Toobin's, is among those on the left who seem to have been blown away by Toobin's work, and seems to have come to realize that he and many others on the left have underestimated Thomas significantly:
There are few articles of faith as firmly fixed in the liberal canon as the belief that Clarence Thomas is, to put it as bluntly as many liberals do, a dunce and a worm. Twenty years of married life have not erased the conventional liberal view of his character etched by Anita Hill's testimony at his confirmation hearings. Not only does the liberal mind perceive him as a disgusting lump of ungoverned sexual impulse; he is seen as an intellectual cipher. Thomas' silence during oral argument before the Supreme Court is taken as obvious evidence that he has nothing to say and is perhaps a bit intimidated by the verbal fireworks exchanged by the high profile lawyers and his more, ahem, 'qualified' colleagues.

At most liberals have long seen Thomas as the Sancho Panza to Justice Antonin Scalia's Don Quixote, Tonto to his Lone Ranger. No, says Toobin: the intellectual influence runs the other way. Thomas is the consistently clear and purposeful theorist that history will remember as an intellectual pioneer; Scalia the less clear-minded colleague who is gradually following in Thomas' tracks.

If Toobin's revionist take is correct, (and I defer to his knowledge of the direction of modern constitutional thought) it means that liberal America has spent a generation mocking a Black man as an ignorant fool, even as constitutional scholars stand in growing amazement at the intellectual audacity, philosophical coherence and historical reflection embedded in his judicial work.
Both Toobin and Mead point out that Thomas has been playing the same "voice in the wilderness" role with respect to the Tenth Amendment and the Commerce Clause that he once did with the Second Amendment. As we've seen in several of the rulings on the constitutionality of the Affordable Care Act, his interpretation of a limited Congressional commerce power and a more expansive Tenth Amendment are no longer outside the judicial mainstream. As Mead notes, with obvious disdain, acceptance of Thomas's view on these Constitutional provisions have the potential to be far reaching:
Taken seriously today, that approach to the Constitution would change the way Washington does business. Radically. The list of enumerated powers is short and does not include, for example, health care, education, agricultural subsidies, assistance to the hungry or old age pensions. Most of the New Deal and Great Society (with the interesting exception of civil rights laws which enforce the Civil War era amendments) would be struck down. Whole cabinet departments would close.

The federal government would not wither away completely; even on a narrow reading of the commerce clause (the clause that places the regulation of interstate commerce among Congress' enumerated powers), Washington would exercise considerable authority over the national economy. But the balance between the states and the feds would change, and among other things, our federal tax burdens would fall, but the costs of state government would rise.
Even relatively minor changes in these areas of the law — more restrictions of the power of Congress, and greater freedom for the states under the 10th Amendment — would have a potentially far-reaching impact. Absent the ability to cobble together the supermajority required to amend the Constitution, the left (and some on the right) would be required to accept the fact that they just won't be able to accomplish some of the things they'd like to, at least not on the Federal level. Potentially, it would lead to a re-invigoration of politics at the state level as people come to realize that it is there that the real battles will have to be fought. Most of all, though, it would put America on a different road than the one we've been on over the past 75 years or so.
Toobin's article isn't all about the law, though, he touches on the Anita Hill case, of course, and Thomas's wife Virginia's involvement in the Tea Party movement. But he also provides a glimpse into Thomas the man, such as here where he talks about why Thomas is largely alone among the Justice in singling out non-Ivy League law students as his Law Clerks:
"We talk about diversity. The real problem of our Court is that it's all Ivy League," Thomas said. Currently, all nine Justices attended law school at either Harvard or Yale. "Correct me if I'm wrong, but I think there are other law schools out there," he said. Alone among his colleagues, Thomas usually selects at least some of his law clerks from less prominent schools. In recent years, his clerks have included graduates of the law schools of Creighton University, in Nebraska; Rutgers; George Mason; and the University of Utah.

"I grew up with maids, and janitors, and yard people," he told the students at Stetson. "It gives you a perspective on society. You're looking from the bottom up, and how people see it from that direction. . . . You understand why people are angry or upset. You understand why they become rich soil for class envy and class hatred, or class warfare. You see how they become easy pickings for people who have snake-oil merchants for solving all their problems. But you develop a respect for them without condescension. You develop an attitude that we are all inherently equal regardless of who went to school and who did not—that there can be smart people who did not have any book learning and never had a chance."

Thomas continued, "There's a difference between being poor and being stupid. And you're stupid for thinking that they're stupid. As my granddaddy would say, you're just an educated fool. . . . I am passionate about preserving liberty so that people can rise from that to go to the Supreme Court."
This isn't the Clarence Thomas that most people know, and it's certainly not the one created by the prejudices of the left. It's man who revealed himself in his autobiography, My Grandfather's Son.
Clarence Thomas's story is one that should be an inspiration to all Americans regardless of race, religion, or gender. Here is a man, a black man, who was born in the poorest part of Georgia in an era when Jim Crow still reigned supreme. He was born into a single-parent family — his father having abandoned his mother early on — and lived for a time in some of the most excruciating, heart-wrenching, conditions of poverty conceivable in modern America. And yet he succeeded. He excelled in high school, graduated college, and graduated from one of the most prominent law schools in the country. Eventually he went on to a well-regarded career in the government and then found himself standing next to the President of the United States on a summer day in 1991 being nominated to the Supreme Court of the United States.
That's the kind of story that anyone should appreciate and, yet, until Toobin's reappraisal, the common opinion of Thomas was that he was a lazy dolt. It's nice to see someone finally correcting that particular slander.