The Trouble With Trump's Pardons For War Criminals
Donald Trump's pardons of soldiers convicted of war crimes sends the wrong message to the military, to our allies, and to the world.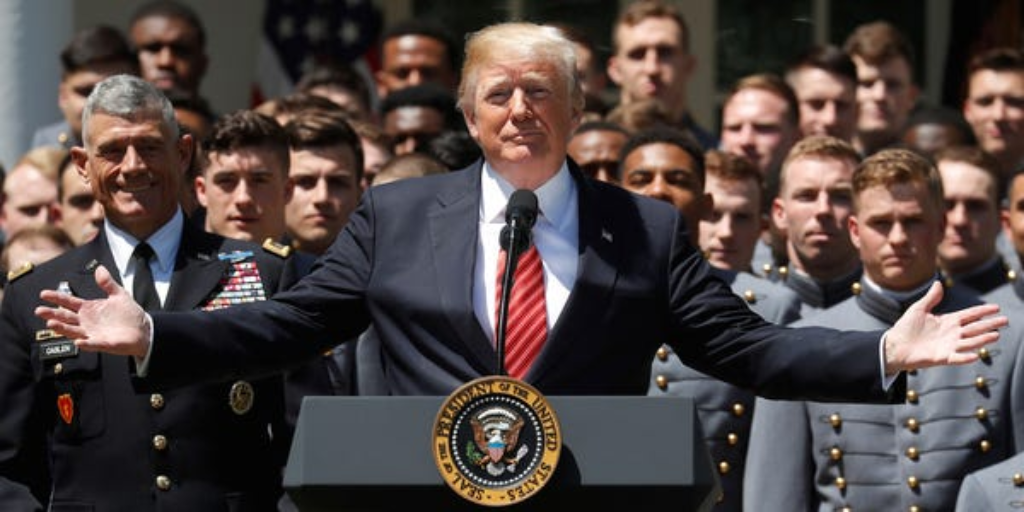 Former Secretary of the Navy Richard Spencer is speaking up about the circumstances that led to his dismissal, and it now seems clear that it was rooted in his objections to President Trump's decision to intervene in the discipline being imposed on a Navy SEAL accused of what amounted to war crimes:
In an interview with CBS Evening News' David Martin, Gallagher, [Spencer] unpoetically, claimed that Trump's action sends a message to members of the Armed Forces "that you can get away with things."

Martin: What were the ramifications of intervening in that review process?

Spencer: Right now, we're not going to [demote Gallagher] is what Secretary Esper says. What message does that send to the troops?

Martin: Well, what message does it send?

Spencer: That you can get away with things. We have to have good order and discipline. It's the backbone of what we do. 
Here's the video of Spencer's comments:
At the very least this would confirm the reports that the reason that Spencer walked away was due to the fact that he rightfully objected to the President's decision to intervene in the Gallagher case as well as the other cases involving special forces operators who were convicted of war crimes in Iraq and Afghanistan. As Daniel Larison notes in his post on this, that puts Spencer in the same league with several top Pentagon officials, active duty and civilian, who were opposed to the President's intervention. The primary reasons for this opposition, of course, is because it sends precisely the wrong signal to members of the military, to American allies, and to potential adversaries on the battlefield.
Faced with the facts in these cases, any other President would likely have denied the pardons that President Trump issued in these cases. Pardoning men who have been convicted of war crimes while wearing an American uniform sends precisely the wrong message to the world. To our adversaries, it sends the message that our rhetoric about a commitment to the Rule of Law and justice are mere words without any meaning. It sends the same message to the general population around the world who may have once looked to the United States as a beacon of human rights and justice in a grim world where the violation of rights and the commission of what amount to war crimes is a common occurrence. What the President has done sends the message that these are mere words, and makes it far more difficult for the United States to criticize any other nation that lets its military get away with similar actions.
Any other President would also consider the impact that a decision like this might have on nations currently hosting American troops, or that might be asked to do so in the future, and on our alliances generally, There have already been situations over the years regarding the treatment of Americans who commit crimes in allied nations hosting American troops, most notably in Japan where a case involving a U.S. Navy sailor and two Marines stationed on Okinawa where charged with raping a 12-year-old female civilian. The incident itself led to widespread protests even though the servicemen were tried and convicted in a Japanese court pursuant to the agreement between the U.S. and Japan. While an incident such as that would not be within the power of a U.S. President to pardon, pardoning these war criminals sends a message to our allies that wrongdoing by American forces may be seen as excusable by the civilians in Washington in charge of the military.
Of course, it's clear that these types of concerns don't matter to President Trump. He has abandoned even the pretense of a foreign policy based on the promotion of human rights and has looked the other way as allegations have been leveled against nations such as Russia, Egypt, Saudi Arabia, China, North Korea, and The Philippines. Additionally, the fact that pardons such as this could damage our alliances doesn't matter to him either given the fact that he has done everything he can to drive a wedge between America and our closest allies, as I have documented here, here, and here among other places.
Indeed, the main reason that the President did this is because it plays well with his base, a fact made clear by the fact that he apparently wants at least one of the men to campaign with him. As if to prove that assertion, Trump went on an extended riff about these cases at a political rally in Florida last night:
President Donald Trump touted his move to intervene in the cases of three service members accused of war crimes at a campaign rally on Tuesday, framing the objections he faced from senior Pentagon officials as coming from the "deep state."
"Just this week I stuck up for three great warriors against the deep state. You know what I'm talking about," Trump said. "And so many people said, 'Sir, I don't think you should do that.' "

(…)

The move — along with Trump's pardons of Lt. Clint Lorance and Maj. Matthew Golsteyn, who had also faced war crimes allegations — came despite objections from the Pentagon. Military leaders, including Defense Secretary Mark Esper, had warned Trump that intervening in the cases could potentially damage the integrity of the military justice system.

But during his rally in Florida on Tuesday, Trump argued that "people have to be able to fight."

"They can't think, 'Gee whiz, if I make a mistake' … they wanted to put them in jail for 25 years," the President said."I will always stick up for our great fighters. People can sit there in air conditioned offices and complain, but it doesn't matter to me whatsoever," he said.
Here's the video:
The first thing that stands out about these comments is that the President of the United States is calling the uniformed and civilian leadership of the military to be part of the "deep state," a moniker he has used for the F.B.I., the intelligence community, and other segments of government that dare to voice objections to his policies. Given his supposed love for the military, this is an extraordinary but not surprising statement given the fact that we're talking about Donald Trump.
As Greg Sargent notes, this tells us more about Donald Trump:
It's eerie how perfectly these Spencer quotes overlap, in reverse, on top of the message that Trump has blared about his whole presidency from Day One. In every conceivable way, Trump has proclaimed that he and his loyalists will not be held to any standards of any kind in public service — and will not hold themselves to any such standards, either.

In a narrow sense, Trump is quite explicitly declaring that the standards for "our war fighters" should be far more lax than they are. This is exactly what makes his decision so destructive.

(…)

The Daily Beast reports that Trump hopes to campaign with Gallagher and two other service members he recently pardoned, including one convicted of murdering two civilians. Trump has apparently mused about appearing with them at rallies.

In so doing, Trump would be proclaiming to his supporters that these men are his people, or their people, and that he used his power to absolve them from accepted standards and procedures designed to impose accountability for severe, murderous misconduct.

It's often said Trump is making himself into the "ultimate arbiter of military justice." But this gets it subtly wrong: There is no chance Trump is operating out of any meaningful sense of justice that would dictate to him that these men were treated unfairly.

Instead, the whole point is to declare the power to obliterate obligation to any meaningful codes or standards — and to do so arbitrarily, and not on the basis of any set of values, on behalf of whomever has been designated as one of his people.
As Sargent goes on to note, this is yet another example of Trump acting with impunity and contrary to established norms. It's also an example of how the "respect" for the military we see from many on the right is actually part of a perverse bloodlust that has nothing to do with the actual mission of the U.S. military or the manner in which American soldiers are supposed to act. Going forward, of course, the danger in the President's actions here is the signal it sends to rank-and-file members of the military, a message that is far different from the manner in which they've been trained. The President's actions also undermine the chain of command and the effort to maintain order and discipline in the ranks. What impact all of this has on the field of battle in the future is unclear, but I don't think it will be positive.