The Trump Administration Has Killed Human Rights Diplomacy
Under the Trump Administration, the American commitment to human rights around the world is basically dead.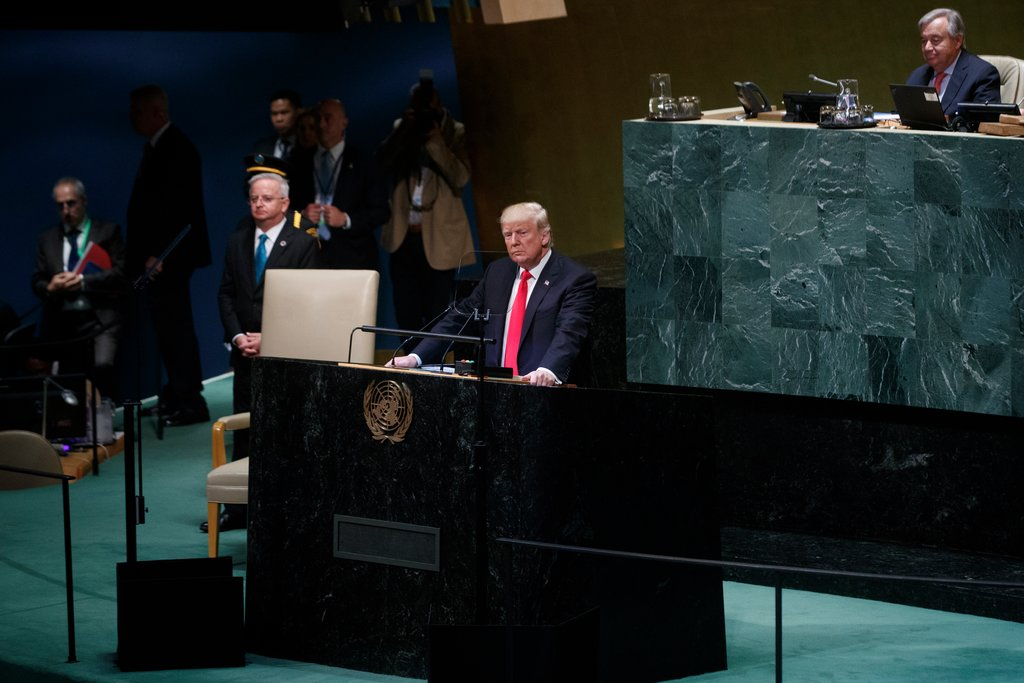 President Trump may be conducting a trade war against China, and he has spoken out many times about what he contends is China's unfair trade policies and its alleged currency manipulation, but there's one area where he has been silent:
In the past week, President Donald Trump has described China's trade practices as "an anchor on us," saying Beijing is "killing us" and wants to "hurt" U.S. jobs.

Yet as Chinese officials increasingly hint at a potentially violent crackdown on pro-democracy demonstrators in Hong Kong, Trump has remained largely silent.

he bifurcated approach is just the latest example of what former U.S. officials and analysts say are Trump's transactional approach to foreign policy and comfort with authoritarian rule. Even though the president's own aides are sending a more forceful message on situations like the Hong Kong protests, they add, it's a message that will inevitably get lost amid Trump's comments — or lack thereof.

"Trump is telling [Chinese President] Xi Jinping very clearly: 'Do whatever you want in Hong Kong. All I care about is a trade deal,'" argued Michael Fuchs, a former State Department official in the Obama administration. What Trump aides say means "nothing when the president is making his own position very clear again and again and again."

Trump's defenders argue his comments are either misinterpreted or not considered in full.

His supporters point out that Trump, when asked about Hong Kong in early July, said the protesters are "looking for democracy. And I think most people want democracy."

But Trump later drew flak for saying Xi had "acted responsibly" in handling the protests, for calling the demonstrations "riots" and for saying the issue is "between Hong Kong and China." While Trump's supporters said the president was trying to praise Xi for not yet cracking down on the protesters, while also implying the movement won't succeed if it turns violent, China's state-run media hyped up his description of the Hong Kong protests as "riots."

(…)

House Speaker Nancy Pelosi issued a statement praising the protesters, saying their "dreams of freedom, justice and democracy can never be extinguished by injustice and intimidation." The California Democrat also promised congressional action on legislation aimed at penalizing Chinese officials who infringe on Hong Kong's autonomy.
Trump didn't comment.

It's unclear whether Trump would support the proposed legislation, which has bipartisan support. It could all depend on where things stand with the trade deal, the topic that animates Trump most when it comes to China. According to the Financial Times, Trump has told Xi, whom he frequently praises in public, that his administration would limit its commentary on Hong Kong to push forward the trade talks.

"It's just hard to escape a core element of the president's foreign policy is transactions, and if something isn't part of what he wants, he's willing to sacrifice it," said Scott Kennedy, a China specialist with the Center for Strategic and International Studies.

All of this is largely consistent with Trump Administration foreign policy since he the beginning of his Administration. With the exception of Iran and Venezuela, the Administration has been remarkably quiet in the face of rampant human rights violations by some of the most repressive regimes in the world. Russia's Vladimir Putin arrests and murders dissidents and reporters and the Trump Administration says nothing while Trump dismisses the charges as irrelevant. Egypt's Mohammed al-Sisi does the same and the Trump Administration says nothing. Saudi Arabia conducts genocide in Yemen and murders a Permanent Resident American reporter and Saudi dissident in its consulate in Istanbul and the Trump Administration says nothing. China represses the Uyghur Muslims and the Trump Administration says nothing. North Korea Kim Jong Un represses a nation of tens of millions, murders political opponents in the most gruesome ways possible, and tortures an American citizen to the point where he ends up in an irreversible coma before inevitably dying and the Trump Administration says nothing while the President himself dismisses any talk of Kim's human rights abuses.
This is a marked deterioration from previous American foreign policy which placed as much importance on human rights issues as it did on advancing and protecting American national interests. Granted, we weren't always consistent in this regard, especially during the Cold War when the competition with the Soviet Union all too often overshadowed human rights concerns and caused us to look the other way while leaders in places like Central America, Iran, and elsewhere repressed their citizens. By and large, though, the American commitment to human rights and the Rule of Law gave us a moral authority that allowed us to call the Soviets out for their mistreatment of dissidents and Soviet Jews and to criticize other nations around the world when they deserve to be criticized.
Over the course of fewer than three years, the Trump Administration has effectively destroyed that credibility. The main reason for that is that it is clear that the President himself largely doesn't care about human rights issues except to the extent that it works to target regimes that the President doesn't like. If you aren't on that list, something that is largely true of the nations that happen to be among the worst human rights violators in the world, then the President and his Administration are more than happy to give you a pass. The next President, whether they take office in 2021 or 2025, is going to have their work cut out for them if they want to restore American credibility in this area and it's unclear if they'll be able to repair all of the damage that this President has done to American credibility in this area.