The Unseriousness Of Herman Cain's Campaign For The Presidency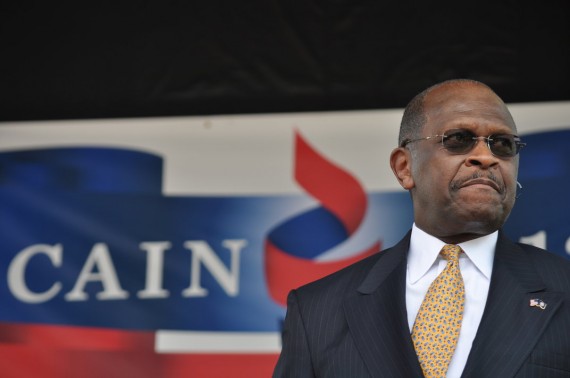 There are two newspaper articles out today picking up on a theme I noted yesterday, that Herman Cain isn't really situated to capitalize on his rise in the polls because he isn't running a serious campaign for the White House.
First, The New York Times takes not of the fact that Cain's "unconventional" campaign is in no way operating in a manner that is designed to actually win anything:
On a whirlwind trip through New York City this week that marked the beginning of a nearly monthlong book tour, Herman Cain chatted with the hosts of ABC's "The View," promoted his new memoir on Fox News, met local titans like Donald Trump, shared ideas with former Mayor Edward I. Koch and enjoyed power lunching in Midtown.

Mr. Cain, a contender for the Republican presidential nomination, did all but one thing — campaign. Not in the traditional meet-the-public and kiss-the-babies sense, anyway.

And according to his public campaign calendar of events, where 19 of the 31 days of October are blank, there will not be much glad-handing in the immediate future. That is just fine with Mr. Cain, a former business executive who has recently surged to the top tier of candidates in early polls. The latest Quinnipiac University poll, released Wednesday, found Mitt Romney and Mr. Cain essentially tied within the poll's margin of sampling error.

"I'm trying to run this campaign like a start-up business, which means lean and mean," Mr. Cain said in an interview on Tuesday, wearing his signature black cowboy hat. "There's a new sheriff in town."

(…)

It is not clear that Mr. Cain, 65, has any particular plan to seize this moment, beyond using the attention to sell books. Like the other candidates vying to become credible alternatives to Mr. Romney and Mr. Perry, Mr. Cain is operating on a shoestring. He raised $2 million last spring. More money is coming in, he said, and he has 40 staff members, mostly in Southern states. Still, an adviser to the campaign said the campaign had only four people working in Iowa, and there is no plan to change strategy.

Many Republicans doubt this will be enough to launch Mr. Cain in the crucial early states, especially if he decides to avoid retail politics.

"No candidate can afford to spend two or three weeks not being in New Hampshire this year," said Steve Duprey, a Republican National Committee member from the state. "He has not made as much progress organizing in New Hampshire as he could have, but there's time."

When asked why he would launch a book tour while running for the presidential nomination, Mr. Cain said that "the two complement one another" and that the benefits go beyond raising his name recognition among voters — one of his main goals.

"It was a gamble on the part of Simon & Schuster," he said. "They get kudos for believing in me and this campaign. Now they're going to cash in. That's the way it works."

The publishing house is not the only beneficiary, of course. So is Mr. Cain, whose most recent occupation is that of professional keynote speaker. His fee is $25,000 a speech. He also runs his own leadership consulting company. The two roles continue to play a large part in his daily schedule, which is why his October campaign plans seem so spare, he explained. Mr. Cain said there was also a good bit of fund-raising happening behind the scenes.

Mr. Cain rejected the suggestion that he was not taking the early primary states seriously enough, saying he had made 28 trips to Iowa since the beginning of the year. "We have a strong base there and will be going back," he said. "We didn't have a front-loaded Iowa-New Hampshire strategy. No, we've got a multistate strategy, so we'll get back to Iowa in due time."
And the Wall Street Journal continues on the organizational theme:
Some former Cain campaign staffers say Mr. Cain appears to lack organizational focus. His campaign has no regular conference calls or team meetings, and it has lacked a campaign manager for much of his bid. …

"Organization was a real challenge," [former Cain adviser Matt] Murphy said. "New Hampshire is an ideal state for a candidate like him without a lot of name recognition or money for advertising. But his strategy has seemed more like a national campaign than a targeted, state-by-state local one."

Mr. Cain's latest book tour has raised those fears anew because it includes stops in states that don't vote early, like his coming visit to a Costco in suburban Virginia.
Add in to all of this the appearance of Mark Block, Cain's Campaign Manager and Chief of Staff on MSNBC's Daily Rundown
Visit msnbc.com for breaking news, world news, and news about the economy
Watching that video, it strikes me that Block has no realistic plan for capitalizing on this poll bump, and no idea of how to go about creating one. With someone like that running his campaign, it's pretty clear Herman Cain really isn't taking this campaign seriously.