The Vast Majority Of Americans Don't Own A Gun
Some interesting statistics.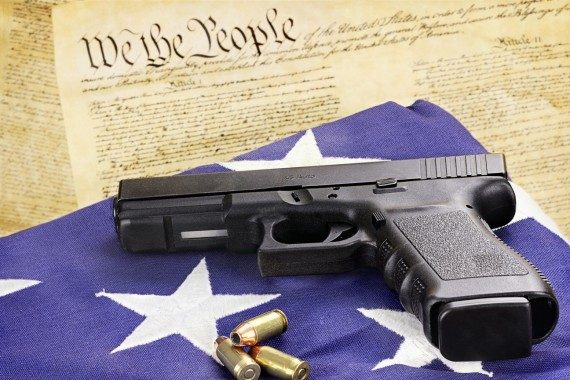 While there are nearly as many guns as people in the United States, the actual distribution of those weapons is surprisingly limited:
Just 3 percent of American adults own half of the nation's firearms, according to the results of a Harvard-Northeastern survey of 4,000 gun owners.

The survey's findings support other research showing that as overall rates of gun ownership has declined, the number of firearms in circulation has skyrocketed. The implication is that there are more guns in fewer hands than ever before. The top 3 percent of American adults own, on average, 17 guns apiece, according to the survey's estimates.

The survey is particularly useful to researchers because it asked respondents not just whether they own guns, but how many and what types of guns they own. This makes for one of the clearest pictures yet of American gun ownership, showing the concentration of most guns in the hands of a small fraction of American adults.

The study found that 22 percent of American adults say they personally own a firearm. This is lower than the percentages reported in some other recent surveys, such as those by the Pew Research Center (31 percent) and Gallup (28 percent).
It's worth noting that this survey is just over a year old, it arguably undercuts arguments that both sides of the gun control debate make.
For the gun control crowd, it undercuts the notion that guns are so widespread that they have become an unreasonable problem that needs to be brought under immediate control. In fact, the fact that the majority of guns in the country are owned by a minority of Americans, combined with the fact that the vast majority of those people are ordinary Americans with no criminal record who have never committed a crime or misused their weapons suggests that most of the gun control measures that are batted about in the wake of tragedies like what happened in Las Vegas on Sunday night aren't nearly as necessary as they claim them to be. Notwithstanding the fact that there are a large amount of guns in the country and the fact that they are owned by a minority of the public, the fact remains that the vast majority of those guns are used legally if they are used at all and that most people who own guns are not criminals and not likely to become criminals.
For strong Second Amendment advocates, it undercuts the argument that gun ownership is something that is universal and all-American. This, combined with the fact that there is strong public support for at least some forms of gun control, such as expanding background checks, suggests that moving toward enacting some of these measures isn't necessarily as difficult as it might seem to be. The so-called "gun lobby," in other words, doesn't represent a majority of Americans in either its opposition to something like expanded background checks and it doesn't represent a majority of Americans in the sense that most Americans don't even own a gun to begin with.
The caveat here, of course, is one that I've pointed out before. Specifically, the fact that polls show that Americans support at least some forms of gun control doesn't mean that it would be politically easy to enact such legislation:
The full story is more complicated than that, I think. After all, if these gun control measures really are as popular as the polls seem to indicate, then it would logically seem to be the case that the political power of groups like the NRA would be far less than it seems to be. The key lies in understanding the difference between what voters think about a particular issue and how important they consider it when making a decision at the ballot box. If there is high public support for a particular issue and a high sense among voters that it is an important issue to them, then that issue is going to play a large role in how they make their voting decisions. Conversely, an issue where there is high public support  that voters place a low lever of importance upon is unlikely to have a significant influence on who they decided to vote for. As it turns out, that's exactly the situation with gun control:

PRINCETON, NJ — Few Americans mention guns or immigration as the most important problems facing the nation today, despite the current attention lawmakers in Washington are giving to these issues. The economy still dominates as the top concern, followed by jobs and dissatisfaction with the general way in which Congress and the government work.

These data, from an April 4-7 survey, underscore the prominence of economic issues in Americans' minds, even as the economy continues its recovery from the recessionary depths of 2008.

In terms of specific economic issues, Americans most frequently name the economy in general (24%), jobs/unemployment (18%), and the deficit (11%). The percentage mentioning each of these economic issues is in the same broad range as has been the case each month this year so far, although a higher 20% mentioned the deficit as the nation's top problem in January.

(…)

This isn't the first indication that gun control is a low intensity issue among American voters.  Back in January, just one month after Newtown, a similar Gallup poll showed the same results that we see in this month's release. At that time, I predicted that it would be difficult for gun control advocates to get the most ambitious parts of their agenda through even the Senate, but I thought at the time that at least something would be passed. In part, I thought this because it seemed as though the post-Newtown attention paid to the issue was going to make it inevitable and that a low-priority issue like background checks would be something that Congress could pass to make it appear that they're doing something, even though in reality the Manchin/Toomey bill would have done little to stop the massacres that have garnered much attention over the years. As it turned out, the politics of the issue were far more complicated, and public intensity on the issue of gun control was far less than many thought it might be after the events of Newtown.
In other words, even in cases where a majority of Americans might support a gun control proposal, for most voters, it is not a high priority issue and unlikely to be one that will have much of an impact on the outcome of an election. This has proven to be consistent across multiple elections and after multiple mass shooting incidents over the past decade or more. By way of contrast, these issues are a high priority issue for gun owners and strong advocates of Second Amendment rights and their votes have often been shown to make a difference in elections at the state and Congressional District level and in Republican primaries for a wide variety of offices. Because of this, the odds of Congress or a state legislature acting even in situations where there is overwhelming public support for a gun control measure.