The Virginia Primary Ballot and the Absurdity of the System
Several candidates did not submit a completed application on time to qualify for Virginia's Republican primary ballot.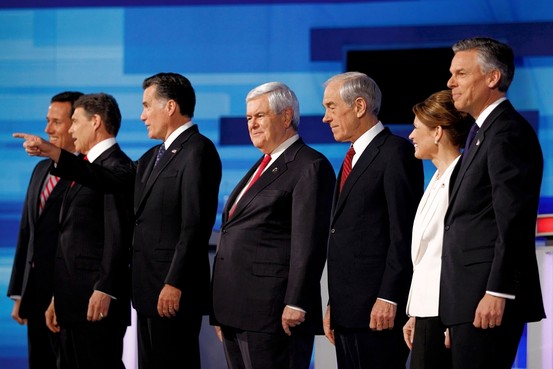 As Doug noted earlier this morning, several candidates did not submit a completed application on time to qualify for Virginia's Republican primary ballot.
Richmond Times-Dispatch ("Bachmann, Huntsman, Santorum not on Va. primary ballot"):
Four Republican presidential candidates – Mitt Romney, Newt Gingrich, Rick Perry and Ron Paul — submitted paper work in time to qualify for Virginia's March 6 primary ballot.

No other GOP contender will be on the Virginia ballot. Rep. Michele Bachmann, former Sen. Rick Santorum and former Utah Gov. Jon Huntsman did not submit signatures with Virginia's State Board of Elections by today's 5 p.m. deadline.

Those who submitted the required signatures must clear another hurdle. The Republican Party of Virginia has until Tuesday to certify which candidates qualify.

Romney was the first Republican presidential candidate to file his petitions. His Virginia campaign chairman, Lt. Gov. Bill Bolling, delivered them on Tuesday. President Barack Obama's re-election campaign filed earlier this month.
The most obvious point here is that Romney, Gingrich, Perry, and Paul would seem to have better campaign organizations than the other candidates. Even Gingrich, whose ability to get on the ballot in several states had been in question, managed to pull this off. (Although, as Doug also noted, Gingrich and Perry could still be disqualified.)
The more interesting and important point, though, is the absurdity of the process.
It's a core teaching of American Politics 101 classes that there are no national elections in the United States. President of the United States and Vice President of the United States are national offices but we elect our presidents and vice presidents via 51 state elections (counting DC, per the 23rd Amendment), each of which (as we learned quite painfully following the 2000 election) have their own rules.
The primaries are even more bizarre. Despite the fact that we're choosing candidates for a national office, we have an arcane process wherein the two major parties set rules and then try to enforce them on 50-plus states, districts, and territories–often without much success. The various states and other delegate-awarding entities are in competition with each other for influence on the process. Those entities must contend with the traditions that put Iowa and New Hampshire in an absurdly favorable position and where South Carolina thinks it's next in line. And, inexplicably, each of the entities sets conditions for ballot access that seem quite whimsical and have little relation to the national race and on timetables that have no real relation to the increasingly fluid primary calendar.
That the two major political parties don't control the primary calendar for nominating their candidates is beyond silly. Worse, however, is the fact that they don't even control who's on the ballot for their highest office. In a rational system, candidates would simply have to qualify one time to get on the Republican presidential ballot. Instead, candidates have to spend an absurd amount of time and money getting petitions signed and jumping through other hoops set by states and other delegate-awarding entities.
It's madness.